USB meter: Juwei J7-B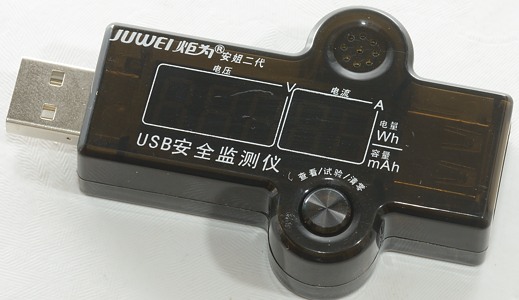 Official specifications:
USB safety monitor,protect your valuable electronic products from charging damage
With mode key, short press to change display mode
Long press to reset all the data
Built-in 18 bit micro processor,automatic cutout when meet high volatage, low voltage
With warning speaker
Net weight: 30 g / 1.06 oz
Size: 77 x 45 x 16 mm / 3.03 x 1.77 x 0.63 inch
Input voltage: DC3.5-7.4V
Current test range: 0-3A
Voltage: 3.5-7.4V
Electric quantity: 0-99999mAH
Voltage resolution: 0.1V
Current resolution: 0.01A
Power: <20mW
Consumed current: <0.02A
Over-current warning: Yes
Over-voltage warning: Yes
Low-power warning: Yes
Low-voltage warming: Yes
Leakage warning: Yes
I found this unit on Ebay at a dealer called directlinkz.

The above unit is supposed to have 3 current digit and 2 voltage digit, but the one I got had 3 voltage digit and 2 current digit.





How does it look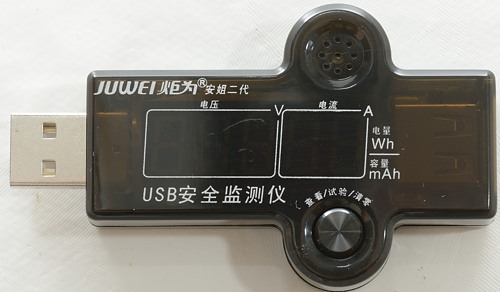 This meter looks rather fancy.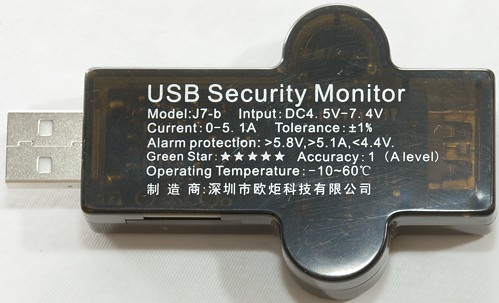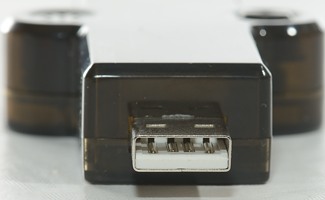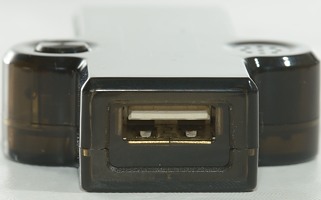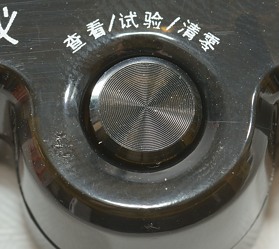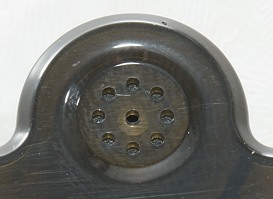 The meter has a button to select between the 3 displays and a buzzer for alarm conditions.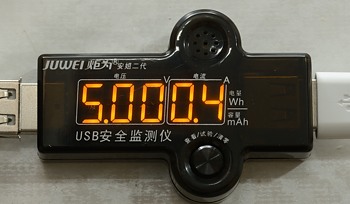 Main display with voltage and current, my version has 3 voltage digits and 2 current digits.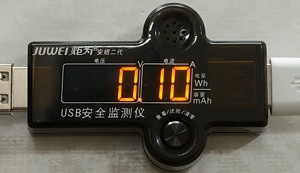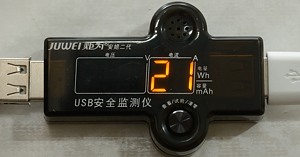 The Wh and Ah display, there is no indication of what display is shown, this must be deduced from the reading or the number of presses on the button.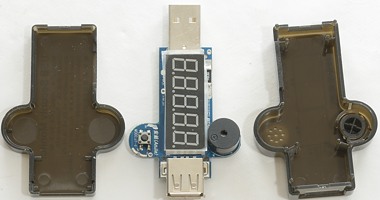 I could just pry the box open.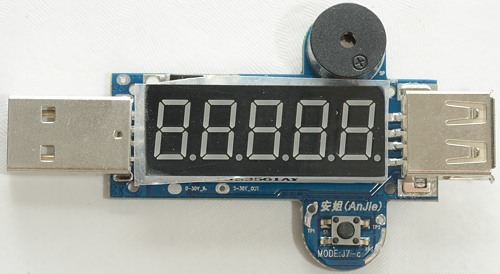 On the topside we have the buzzer, the switch, the display and the 50mOhm resistor.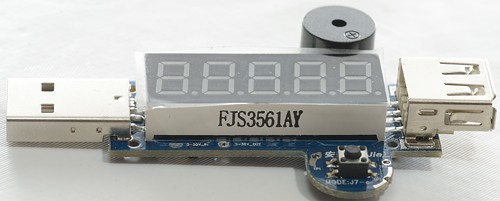 The resistor is much easier to see here.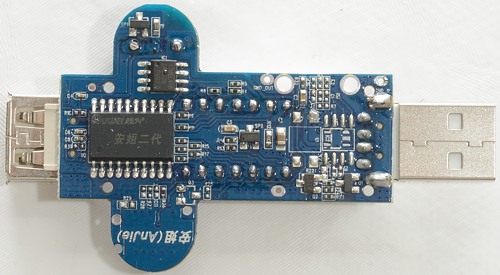 On the bottom side there is a memory chip (Atmel 2402) to remember the readings and Q1/Q2 is probably the switch that is used to disconnect the output and also the reason that the device get hot and has a large resistance.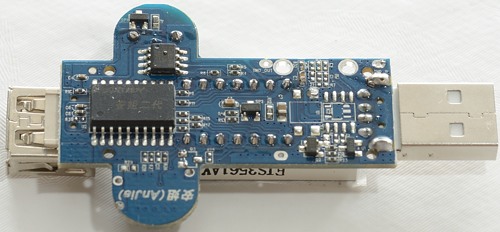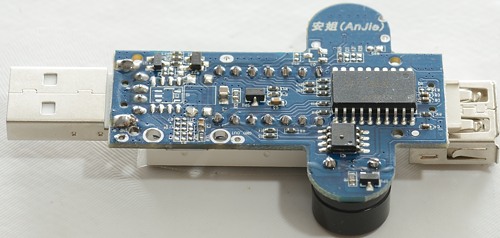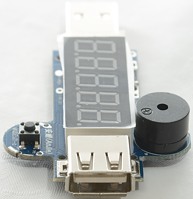 Measurements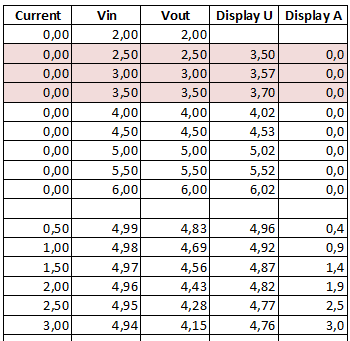 This device is very critial with voltage and will disconnect output when it is outside 4.4 to 5.8 volt range. For this reason I have not included the current measurements at different voltages.

Own current consumption is 30mA
Internal resistance is about 0.27ohm including connection resistance.
Remembers Wh and Ah when power is off
Voltage display is within 0.02 volt in the 4.0 to 6.0 volt range.
Current display is within 0.1 ampere in the 0 to 3.0 ampere range with 5 volt supply.
Over current alarm is at 4.9A
Over voltage alarm is at 5.8 volt
Under voltage alarm is at 4.4 volt
USB data works fine.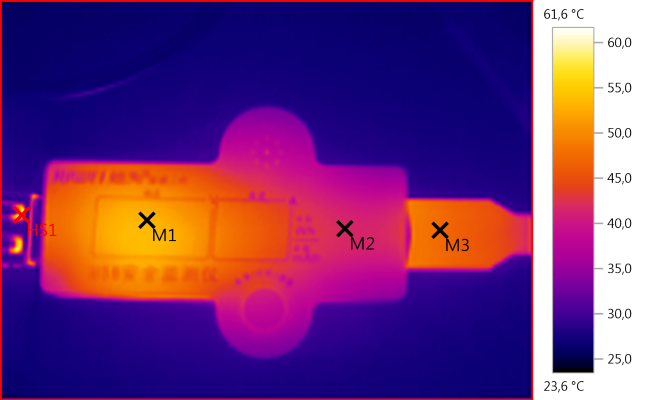 M1: 53,1°C, M2: 41,7°C, M3: 47,4°C, HS1: 61,6°C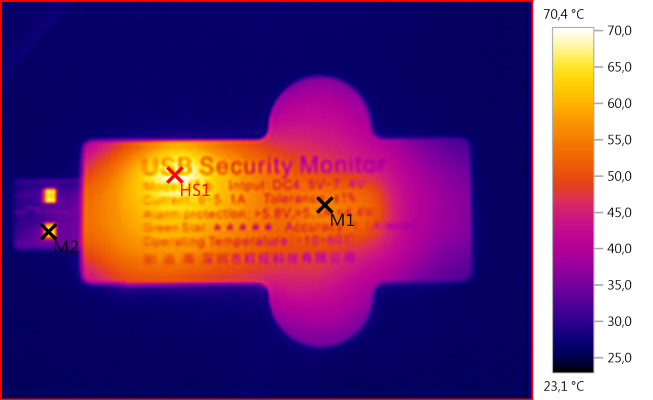 M1: 55,7°C, M2: 66,2°C, HS1: 70,4°C
It get rather hot





Conclusion



With the ability to remember Ah and Wh this device can be used to check capacity of power banks. The safety cutoff can also be useful, but I would have liked a wider input voltage range.
The fairly high internal resistance limits its usefulness at high current, it is best used at 0.5A.
With a total of 5 digits, either current or voltage is limited to 1 decimal.

Due to the high resistance, problems at low voltages and the limit on decimals, I will only call it acceptable.





Notes



How do I make the test