USB meter: Matek USB power monitor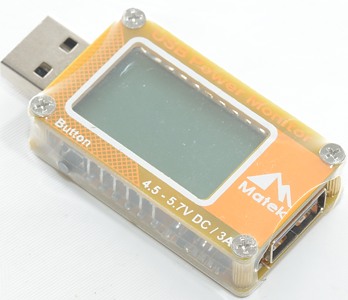 Official specifications:
Use low-power single-chip 10bit ADC SCM
LCD screen can display various data clearly and accurately
Six kinds of real-time display mode, the voltage, current, power, the capacity of a single charge, total charge capacity, the charging time.
Full charge off automatically, to avoid overcharging
Ultra-low current-sense resistor effectively reduce the pressure drop
Overvoltage protection and alarm (Max 5.7V)
Overcurrent protection (Max.3A)
Operating voltage range: 4.5 - 5.7V DC
Operating current range: 0 - 3A
Voltage detection accuracy: + / -0.5%, resolution: 0.01V
Current detection accuracy: + / -1%, resolution: 0.01A
Sense resistor: 10mOhm
Static power consumption: 20mA
Dimensions: 43x25x11mm
I found this unit on Ebay at a dealer called 2012moon816





How does it look






The device included a manual that explains how to use all the functions.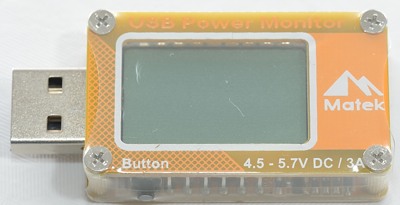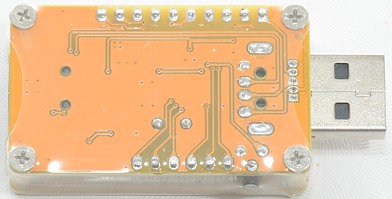 The device is two circuit board with screws between. To make a mostly closed box some clear heatshrink is used around it.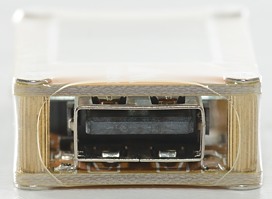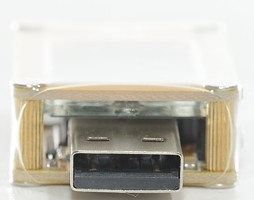 The heatshrink does not close the inside completely around the connectors.





From the side it can be seen that the display is soldered over the components. The button to select display is also visible.
Somewhere inside there is a buzzer.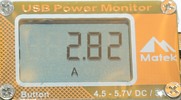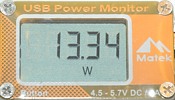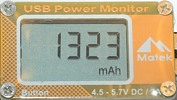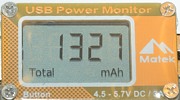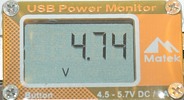 The different displays.





Measurements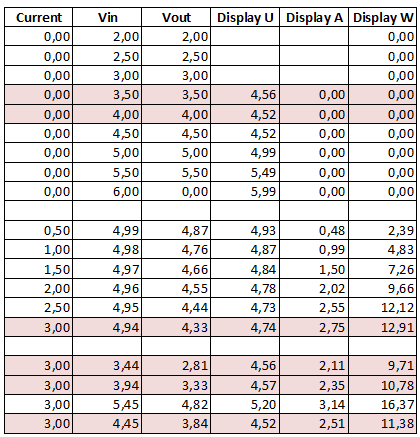 The device needs 4.5 volt before the values are shown correctly.
The watt display is not U*I, but slightly below, this may be due to rounding. Also be aware that the voltage is somewhere between Vin and Vout, i.e. the power is neither input or output power, but something in between.


This device can disconnect its output!
Display: Volt, current, watt, mAh, Total mAh, time
The button is used to step between values
When load is removed for 10 seconds it will beep a couple of times and show a flashing "End" on the display.
After showing "End", the mAh and time will be start from zero, next time current is drawn, until then they will keep the old value.
A blue led shows when power is connected and output is active.
The buzzer sounds when power is connected, when load is applied, when load is removed and when voltage is to high or low.
When input voltage is above 5.7 volt the output will be turned off.
A long press on the button will activate setting of the end timer, i.e. how long the current has to be zero before "End" is shown, but this does not work, it is always 10 seconds or off.
Own current consumption is 14mA
Voltage display is within 0.02 volt in the 4.5 to 6.0 volt range.
Current display is within 0.02 ampere in the 0 to 2.0 ampere range.
USB data works fine.
Internal resistance is about 0.20ohm including connection resistance.
All capacity displays are zeroed when power is disconnected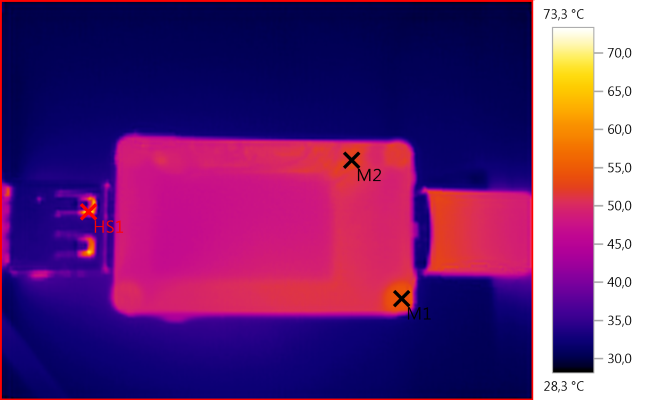 M1: 54,0°C, M2: 52,1°C, HS1: 73,3°C

Both the device and the connector get hot.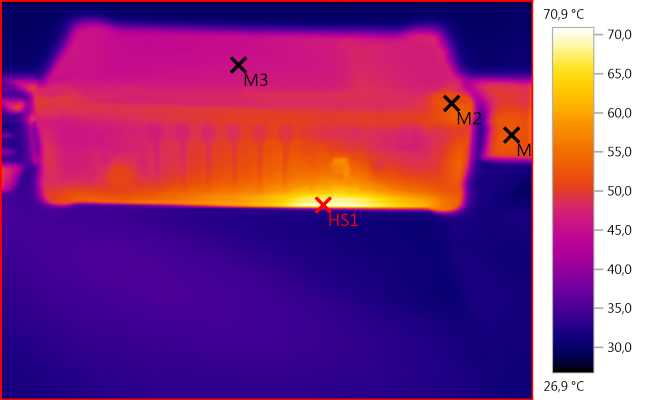 M1: 52,5°C, M2: 51,9°C, M3: 45,7°C, HS1: 70,9°C

The transistor to turn output on/off gets rather hot.





Conclusion



This device has some interesting function with mAh and disconnect of output, but 3A is to high a rating for it, the meter will show wrong values.
The voltage range is fairly limited, down to 3.5 volt would have been much better. The software bug with the "end timer" is not a big deal, but it is bad quality control.

The device is accetable and the mAh can be useful, but only if you stay above 4.5 volt and below 2.0A.





Notes



How do I make the test