RD USB Meter AT35


Official specifications:
Product Model: AT35
Display screen: 0.96 Inch color LCD display
Voltage measurement range: 3.700 - 30.000V
Voltage measurement resolution: 0.001V
Current measurement range: 0 - 4.0000A
Current measurement resolution: 0.0001A
Capacity accumulation range: 0 - 99999mAh
Voltage measurement accuracy: ±(0.1% + 2 digits)
Energy accumulation range: 0 - 99999mWh 999.99W
Current measurement accuracy: ±(0.2% + 4 digits, under 25°C)
Load impedance range: 1ohm- 9999.9ohm
Power measurement range: 0 - 120W
Temperature range: -0°C ~ 80°C / 32°F ~ 176°F
Temperature measurement error: ±3°C / ±6°F
Working temperature range: 0°C ~ 45°C
Product size: 64mmx22mmx12mm
Refresh rate: 0.5Hz
Quick charge recognition mode: QC2.0, QC3.0, APPLE 2.4A/2.1A/ 1A/0.5A, Android DCP, SAMSUNG

This is a USB meter with color display and fast charge protocol information.




I got the meter in a plastic box, it did not include a manual, but a link and QR code where to download it.




There is a single push button on the bottom of the tester.





Display and functions







The main screen with voltage, current, capacity, energy, power, temperature, bank and load equivalent resistance. The temperature is the internal temperature of the tester. There is two banks to store data in.
The icons on the right are different functions, when the button is held down a marker will slowly move down the list, release button to activate that function.
The functions are: Display off, Temperature in °C or °F, change bank, clear bank (Bank 0 is auto reset), flip display.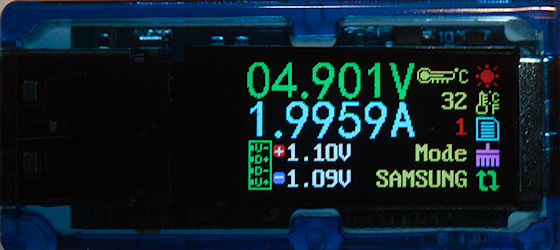 A fast press on the button will change between the two screens, this is the protocol screen with data line voltage and a guess about the used protocol.





Measurements
The usb meter uses about 16mA and 6mA with display off.
The internal resistance is about 0.2ohm (This includes both connectors).
Can only measure current in one direction.
Usb meter will remember measured values when power is removed.
Bank 0 will show remembered value, but automatic reset when drawing current after a power break.
Voltage display is within 0.005V when no current is flowing.
Current display is within 0.005A.
Software in tester is V1.7


The voltage display has good precision with no current flowing.




The current display is also precise.




M1: 52.2°C, HS1: 54.1°C
After 30 minutes with 4A current.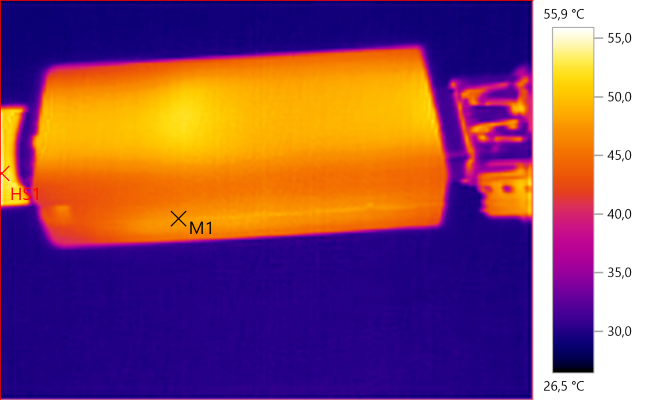 M1: 47.6°C, HS1: 55.9°C





Tear down






There is no screws, I could just pull it apart.




On this side is the button and a memory IC (HT24LC64).




Here is a voltage regulator (M5333B) and a microprocessor (N76E003AT20: 8051 based 18KB flash, 1KB RAM)




One chip is probably a MUX (U6) and the other a ADC (U2).








Conclusion



This is a small compact usb meter, with easy readable color display, saved Ah & Wh and protocol information. This makes it a very versatile meter with good precision.





Notes



For these USB meters I used precise equipment (Keithley: DMM7510, 2280S, Keysight: 34470A).

How do I make the test