USB meter: Online Test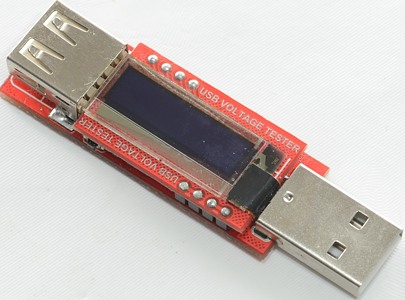 Official specifications:
White OLED display
Input voltage: 3V-10V (precision 1%)
Voltage Resolution: 0.01V
Test current: 0.A-3.3A
Current Resolution: 0.01A (precision 0.4%)
Capacity range :0-19999mAH
Accuracy: ± 1%
Test content: Capacity power Current Voltage
Sampling resistance :50mOhm
I found this unit on Ebay at a dealer called hylbuy





How does it look







The small display is a graphic OLED display.





Because the two circuit boards are soldered together it is a bit difficult to see the electronic.






Here is a look between the two circuit boards. There is a small button on the bottom circuit board, it is used to flip the display around.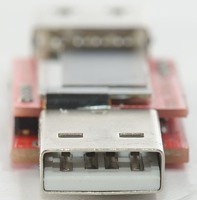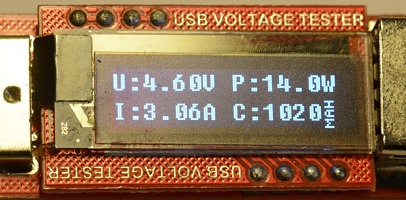 Everything is shown at once





Measurements






The watt display is not U*I, but slightly above, this may be due to rounding. Also be aware that the voltage is somewhere between Vin and Vout, i.e. the power is neither input or output power, but something in-between.

Switch will turn display up/down.
Own current consumption is 7.3mA
USB data works fine.
Capacity display are zeroed when power is disconnected.
Internal resistance is about 0.12ohm including connection resistance.
Voltage display is within 0.03 volt in the 3.5 to 6.0 volt range.
Current display is within 0.06 ampere in the 0 to 3.0 ampere range and better at lower current.
Text on display is small, numbers are maybe 2mm high.


M1: 38,5°C, M2: 47,0°C, HS1: 57,7°C
The bottom circuit board gets fairly warm when running at 3A.




Conclusion



Fairly low resistance, good precision, works from 3.5 volt for voltage, but more than 4 volt for current, capacity and power display, but the display is fairly small.
This is a good usb meter when measuring at 5 volt, but I would have like it in a box, not as a loose circuit board.





Notes



How do I make the test