Charger and power bank Miller ML202 V4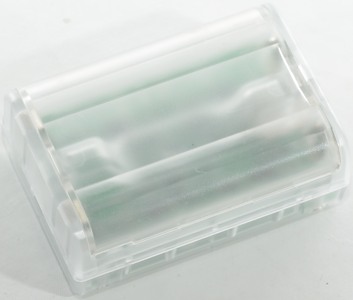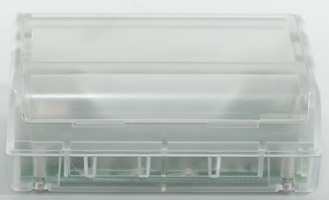 Miller is mostly know for the ML102 charger (V9, V8, V7, Old ), but they have a few other products. This here is basically a dual slot version of the ML102 with both charger and usb output.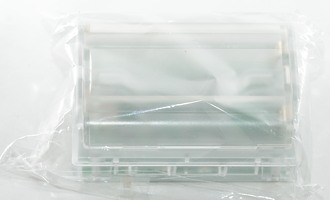 The actual packing of the ML202 is only a plastic bag without any accessories.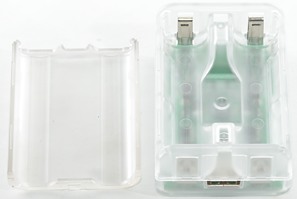 The charger/power bank is a closed box. The cover is locked in position, but it is easy to remove it.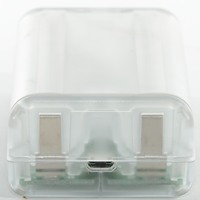 The charger has a micro usb power input for charging current.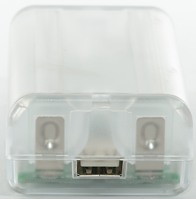 And a large usb connector for usb power output.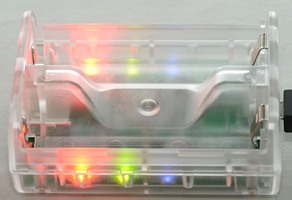 The charger has a couple of leds inside the transparant box:
Red: Charging
Green: Battery full
Blue: Usb output is on.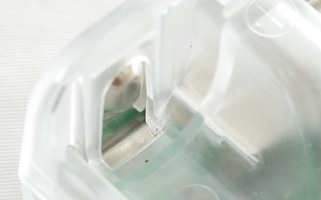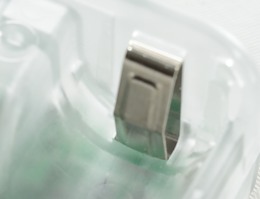 The charger will only fit one battery length and that is 65mm, i.e. unprotected 18650 cell, it is possible to use both flattops and some buttom tops.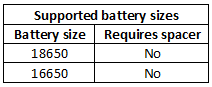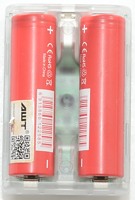 The charger can only handle unprotected flat top cells.





Measurements



Will discharge a battery with 1mA to 2.5mA when not powered.
When overdischarge protection trips the discharge current is below 0.03mA
Below 0.5 volt the charge current is uA.
Between 0.5V and 1.8V the charge current will is in the mA range (See curve).
Above 1.8 volt full charge current is used.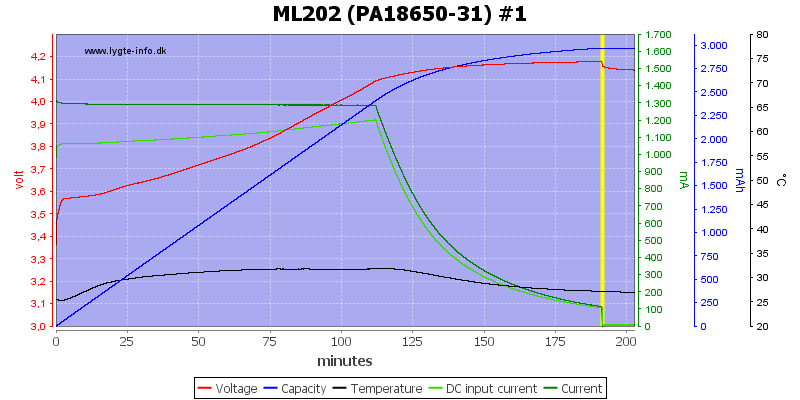 This is a nice charge curve, charge current is 1.3A and termination current is 0.1A with a good CC/CV charge profile.




The other slot looks the same.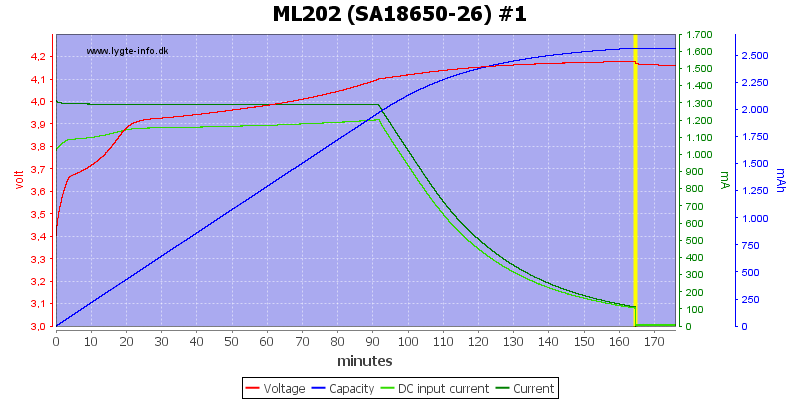 A 2600mAh cell is also charged fine.




There is no problem running two cell at a time, but the usb charger/power supply must be able to supply 2.5A to maintain full charge speed.




Adding a resistor in series with the power supply to simulate a weak usb charger will reduce the charge current, but it do also interfere with the termination. The charger terminates to early.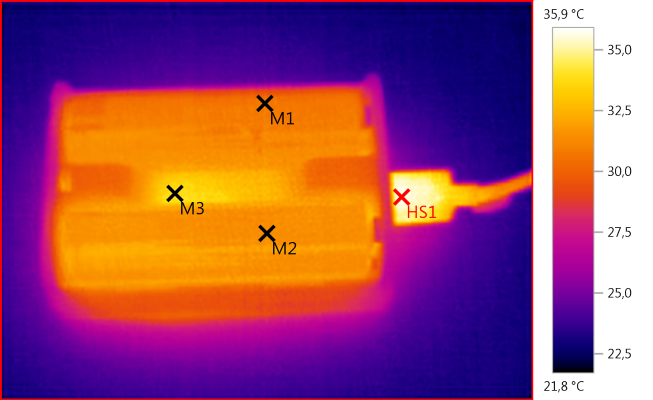 M1: 30,9°C, M2: 31,6°C, M3: 33,8°C, HS1: 35,9°C
It stays very cool during charge.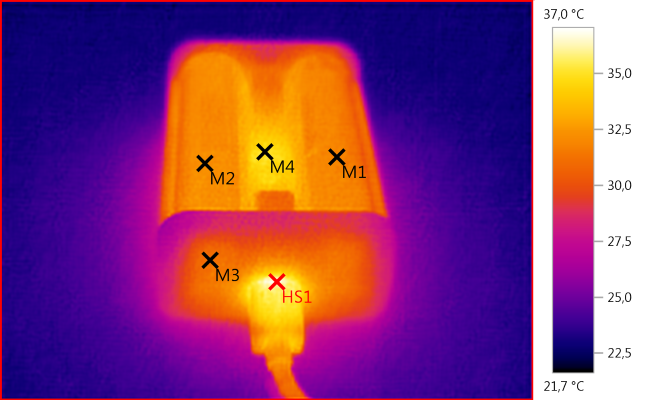 M1: 31,8°C, M2: 32,3°C, M3: 31,2°C, M4: 34,9°C, HS1: 37,0°C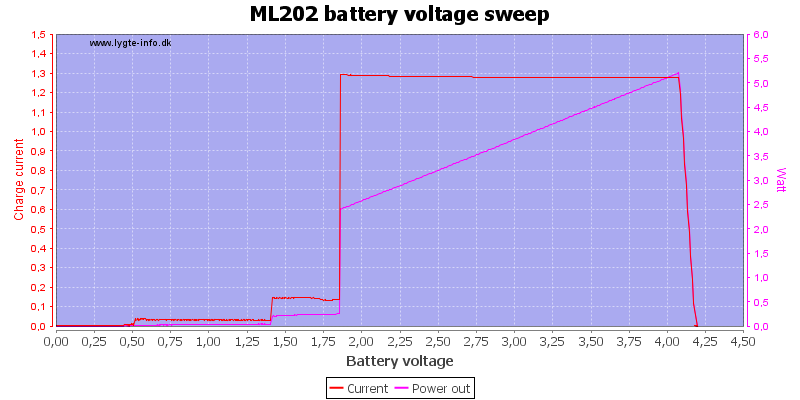 Here is a look at the charge current at different voltages.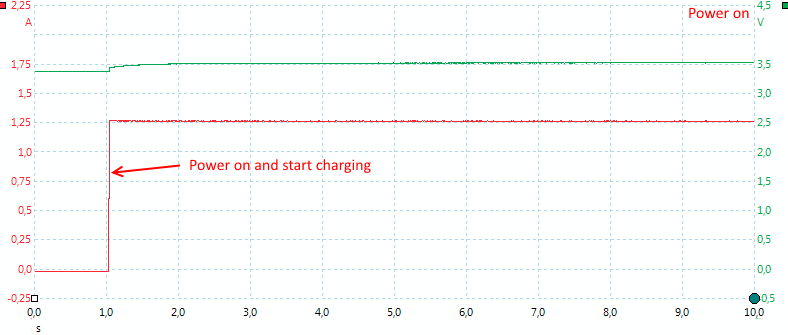 The charger do not have any computer chip inside, this makes it start immediately.





USB output
Can be used as UPS, will draw more power from the usb input.
Will discharge a battery with 1mA to 2.5mA when not powered.
When overdischarge protection trips the discharge current is below 0.03mA
When drawing usb power while charging, the power is taken from the usb input.
Usb output is coded as USB charger (DCP)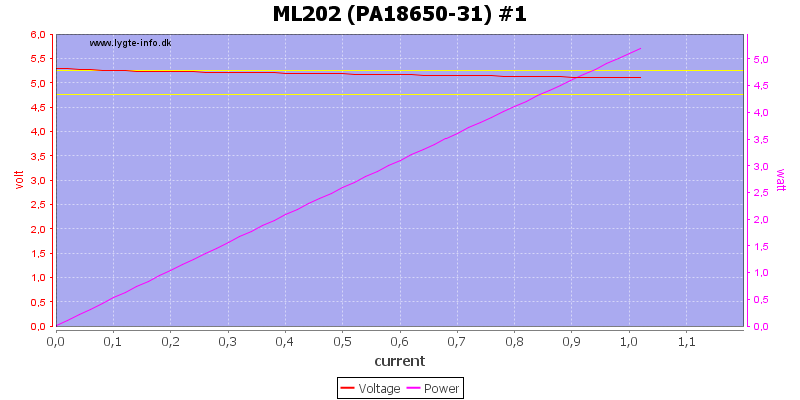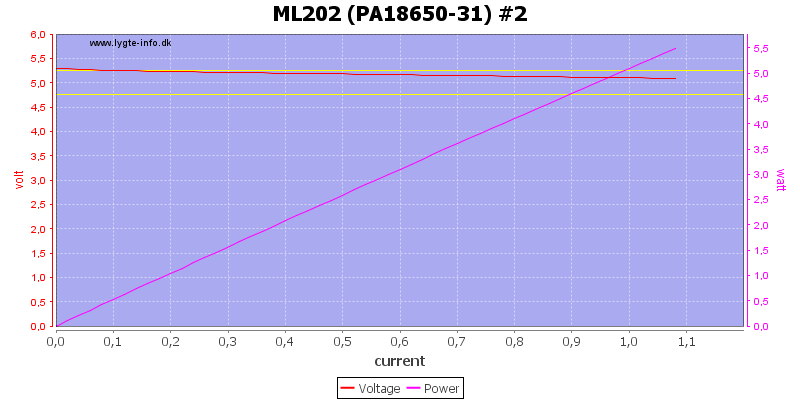 With one battery it can supply 1A output current, but as can be seen below not for long.




With two batt the current can reach 1.25A, but it will not terminate on overload anymore.




The usb output will also work when usb input power is connected and it maintains full usb output voltage.





There is 17mV rms and 156mVpp noise. This is very good values.





There is 30mV rms and 220mVpp noise.





There is 24mV rms and 170mVpp noise. Using two batteries will reduce the noise slight.





Tear down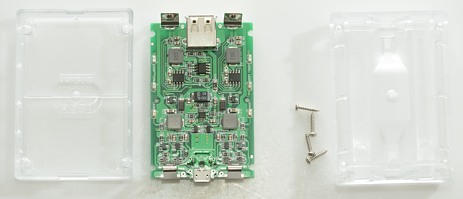 To look inside the box four screws must be removed.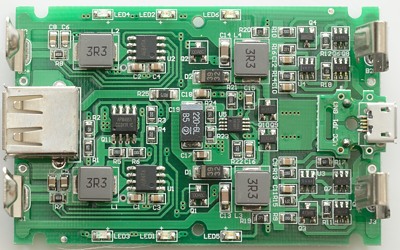 It looks very symmetrical, but each channels is not completely separate. The usb output is controlled from U5, it handles two inductors, but is a single channel boost controller.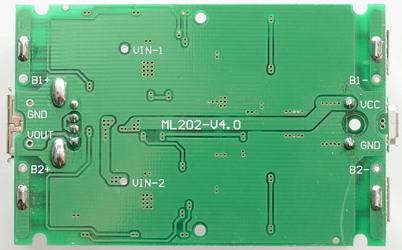 There is nothing on this side of the circuit board.





Conclusion



The design makes it fairly handy for a power bank (Dedicated power banks is usual smaller) and it can also easily be used as a 18650 charger.
It works fairly well, but as my test shows there are a few details that could be better.





Notes




The charger was supplied by Gearbest for a review.

Here is an explanation on how I did the above charge curves: How do I test a charger
Read more about how I test USB power supplies/charger