Discharge protection test


There is frequently asked some question about the discharge protection in batteries:
Does it work at low current?
At what voltage does it work?
How to reset it?
How much extra capacity is there at low voltage?
In this article I will try to answer these questions.

I will look at a couple of batteries in detail (i.e. with lots of curves). The batteries used are not new batteries, they are from the batteries I have reviewed over the last few years.





Keeppower 18650 3400mAh (Black)







I selected this battery as the first one to test. The 3400mAh cell is very common today.
The cell can be discharged down to 2.50 volt according to the datasheet.
This battery uses a protection circuit with hysteresis.




The protection trips at about 2.50 volt and when I apply the charge pulse it is reset again and the battery recovers up to 3.25 volt.




Here I have zoomed in on the trip point. I apply a current pulse after 30 second and reset the protection.




With 0.3A discharge there was 17 minutes (85mAh) more in the battery.




But to reset the protection the battery needed two pulses.




Going down to 0.1A I can get another 22 minutes (40mAh) runtime.
Again the protection trips at 2.50 volt, but the pulse does not reset the protection. I have to use many pulses before the battery has high enough voltage to reset. I looks like the protection need 2.9 volt on the battery before it will reset.
I have added a dark red line with the estimated battery voltage during this charge.




Here my charge pulses can be seen, each pulse is 10 seconds with 10mA, then I wait 20 seconds, before trying again. This makes the average charge current about 3mA. Using a more powerful charge pulse will, of course, reset the battery much faster than the 1 hour I used.




With 30mA load I do get about 27 minutes (14mAh) more, but the battery need more charging before it will reset the protection.




The protection does still trip at 10mAh load, resetting it requires some charging.




The extra runtime with 3mA is not real, a lot of it is due to charging above to reset the protection.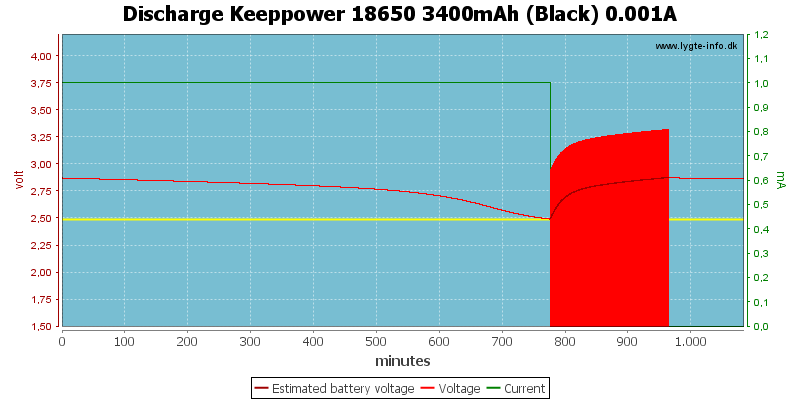 The 0.1mA or 100uA trace did take a long time to test, 6500 minutes is about 4½ day.
But as can be seen the protection works perfectly, it still trips at 2.5 volt.

After this test, where the battery has been at around 2.5 volt for days, I did a final capacity measurement and it showed that the battery had lost 10mAh in capacity. On average the battery is supposed to lose about 2mAh for a charge cycle (30% capacity loss during 500 cycles), i.e. the battery may have been damaged slightly, but nothing to worry about.




Here I have collected the different discharge segments in a table.

For this battery the protection works fine at any current and gives protection from over discharge.




Enerpower+ 18650 2900mAh (Blue)







A slightly older Panasonic cell, but it is still rated for 2.5 volt discharge.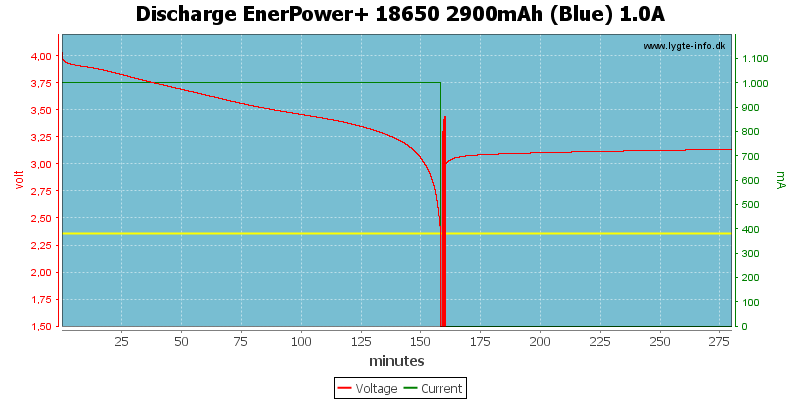 The protection trips at around 2.3 volt and it looks like there is some hysteresis, before it can be enabled again at 3 volt.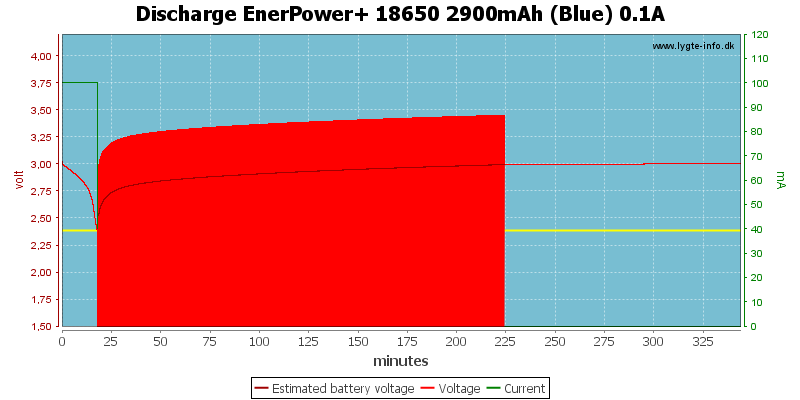 Discharging with lower current makes it much more obvious. The battery must be charged to 3 volt before it will be enabled again.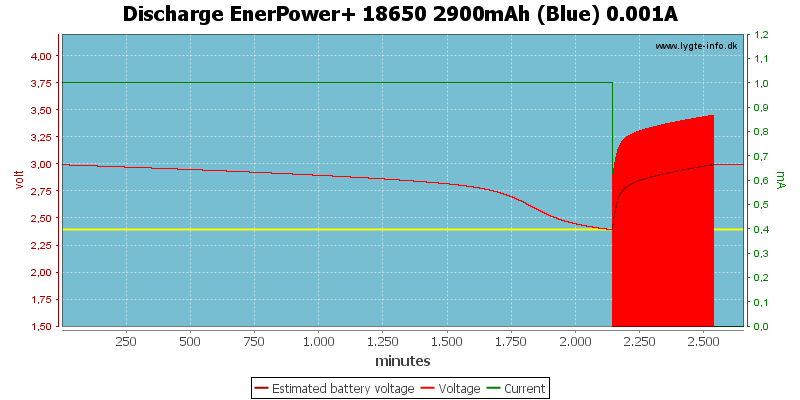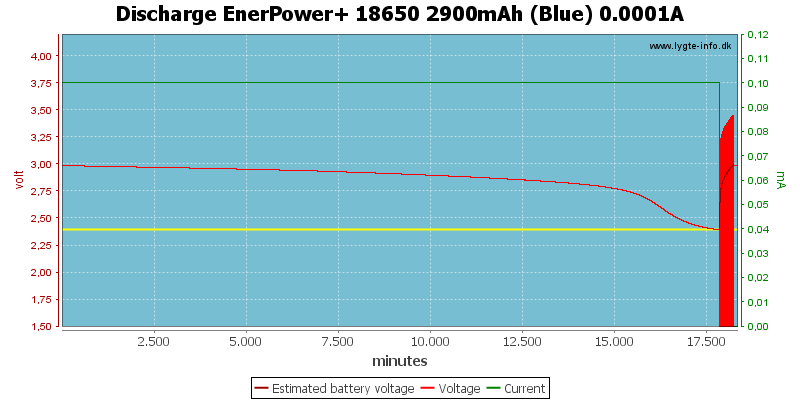 My longest test. The protection did trip, even with a 0.1mA load.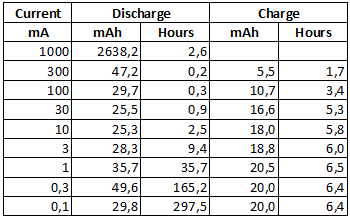 It is very little energy that is left after the first time the protection trips, but with low enough current draw it can last a long time.





Xtar 18700 2600mAh (Black)






Next battery is a 2600mAh battery, these battery usual has a lower voltage or 3.0 volt or 2.75 volt (Xtar does not specify minimum voltage for this battery).




The protection has a rather low trip voltage of 2.40 volt.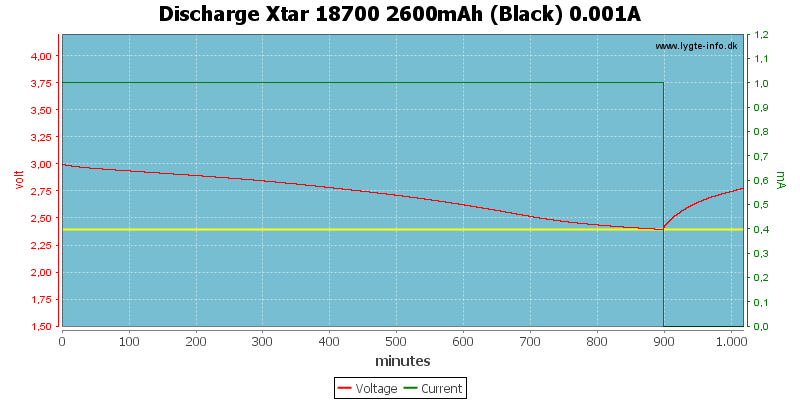 At 1mA it does still trip perfectly at 2.40 volt and does only need one pulse to reset the protection.




Interesting curve, the battery is still recovering when I apply the load again. It continuous recovering for about 10 hours.
This time it was a bit harder to reset the protection, two pulses was needed.




This time it recovers for 3½ day with the 100uA load applied, before the voltage starts dropping. It takes nearly 10 days, before the protection trips at 2.40 volt.


TrustFire TF18650 3000mAh (Flame)



How does the protection work on a cheap battery. For this I have used a Trustfire battery, it is rated as a 3000mAh battery, but the real capacity is around 2600mAh.




The protection trips at 2.50 volt and a single pulse resets the protection.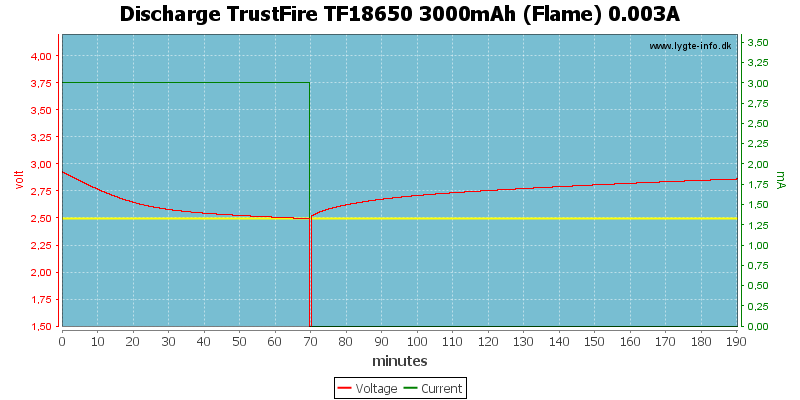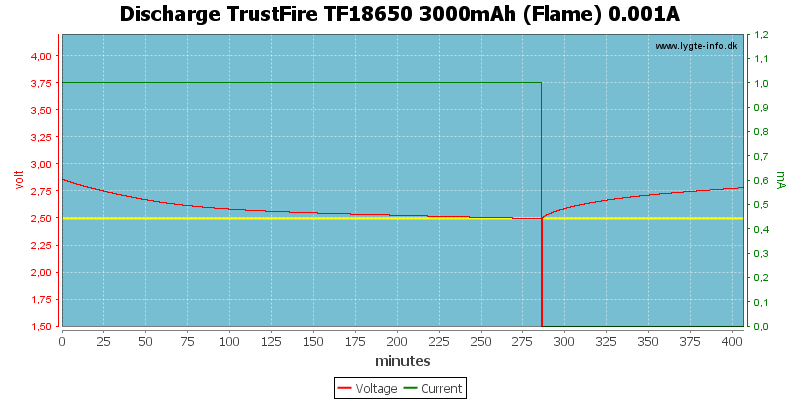 Here the protection is a bit slow to reset.




A close look shows that after a few seconds (6 seconds) with the charge pulse, the protection resets.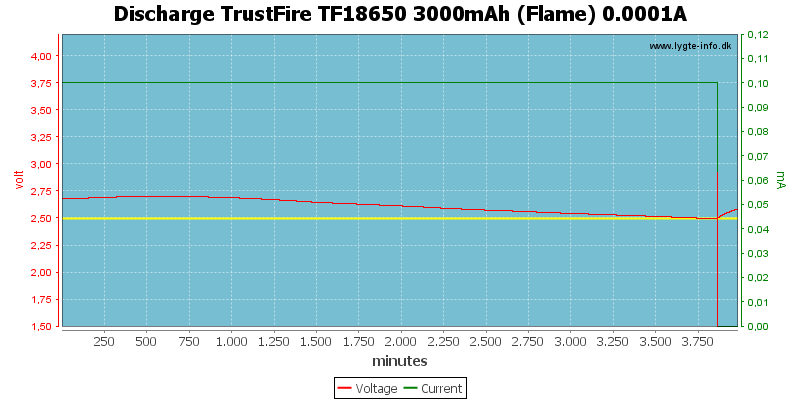 Even at 100uA the protection works fine.


Sibeile IMR18650 2600mAh (Black)



Next battery is another 2600mAh, but this time I will only do a few tests.




I did only test down to 0.1A, but that protection is at a very low voltage.




The battery did not loose any capacity during this test.





Fenix 18650 ARB-L2 2600mAh (Black)






Just a check of protection voltage at 1A.




The protection kicks in at 2.50 volt.








Resetting protection



Many chargers can do it, if I specify that the charger will charge with at 1mA at 0 volt, it will reset protection (Lower currents will probably also do it).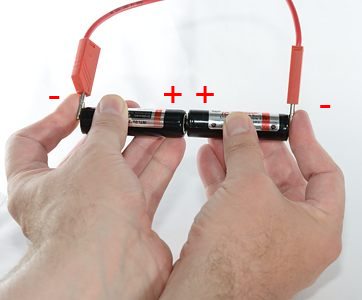 If the charger cannot reset the protection, it can be reset with another battery. It is best to use partial charged battery, but a fully charged can also be used. Connect them as the photo shows. Depending on how much hysteresis the protection has, the needed time can be below a second to a minute or two.





Test setup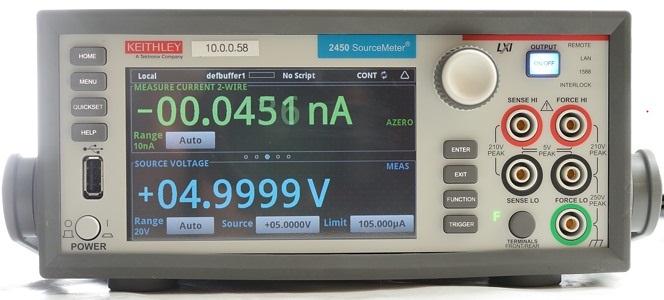 The test setup is fairly simple, I uses a electronic load to discharge the battery until the protection trips. Then I wait 30 seconds, before applying a 10 second charge pulse with 10mA to reset the protection. I do keep the charge current fairly low, to avoid charging the battery.

Because this setup is mostly for low current test I have not used 4 terminal connections, this means that I will have some (small) error in voltage at 1A.





Conclusion



It looks like 2.0 volt to 2.5 volt is very common for under voltage protection, independent of the specified minimum voltage for the battery.
The protection works both at high and low currents, but on some batteries it is more difficult to reset the protection when it is tripped, especially at low currents.
When the protection has tripped there is very little energy left in the battery.




Notes



Do hold these result against any specific brands. I have only tested a couple of brands, but I will expect that all brands works the same way.

How to see if a battery is protected