DMM Bside ADMS6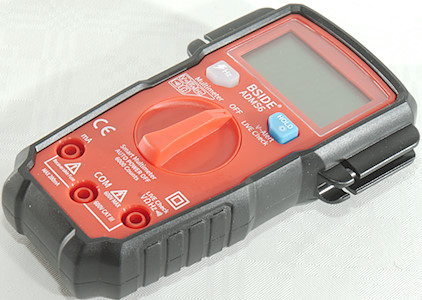 This meter is a very simple meter with most functions automatic.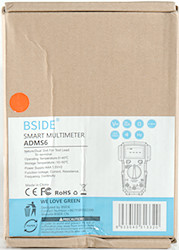 I got it in a brown neutral cardboard box with some stickers on.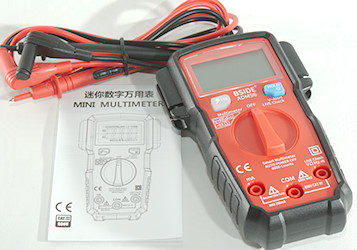 It included the DMM and a instruction sheet.








Probes are branded with BSide and has removable tip covers.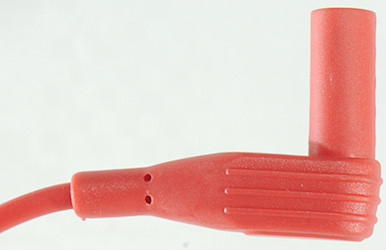 The plug is shrouded.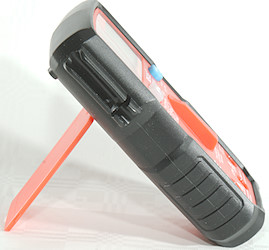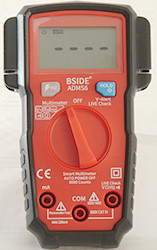 The range switch turns easy enough to change it with one hand when on the tilting bale.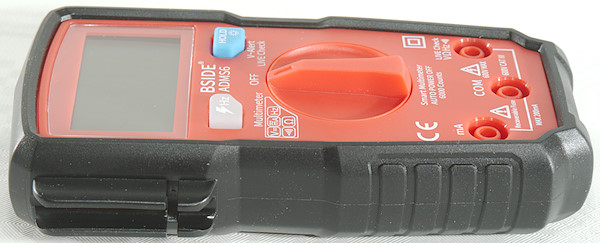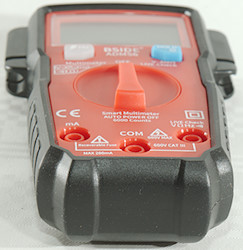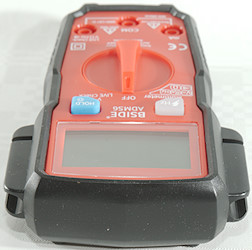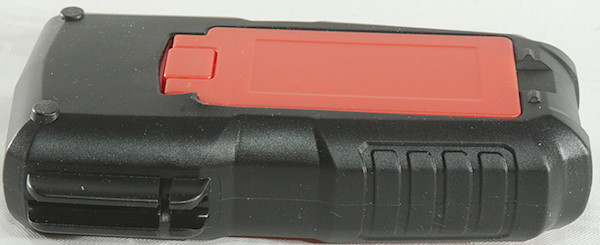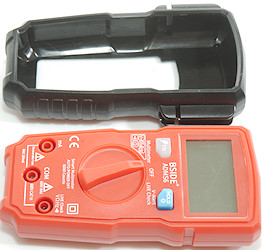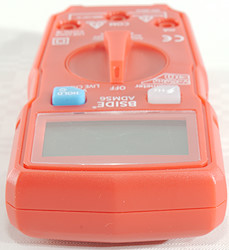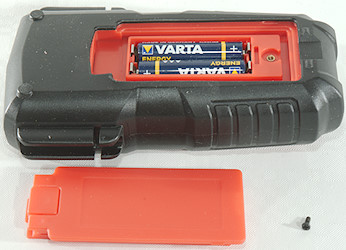 Display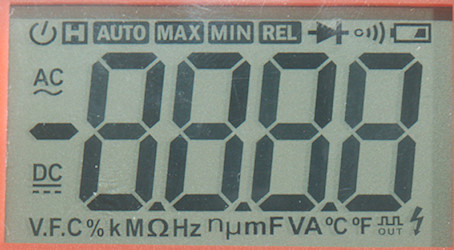 The above picture shows all the segments on the display, not all are used.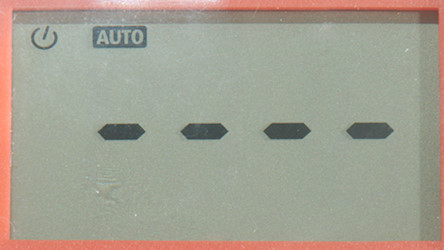 Display when idle, it will show four dashes in both positions of the range switch.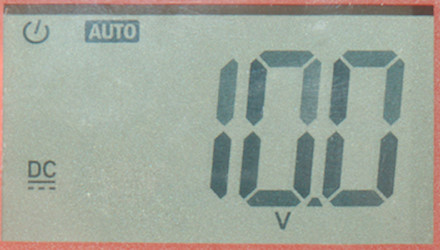 When measuring voltage or ohms it will show the value and the range.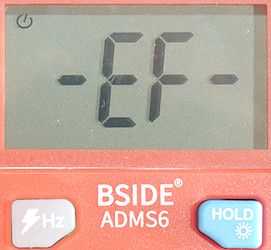 In the NCV (Electric field) mode it will show -EF- and the Hz button will flash green for low field or red for high electric field. The buzzer will also sound.
The green Hz lamp is also used on continuity mode.





Functions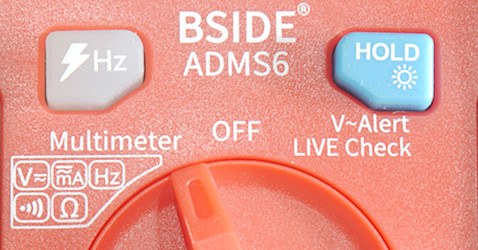 Buttons:
Hz: A press on this button when showing a AC voltage will switch to frequency. The button has a green and a red led build in, the green is used in continuity and both in NCV mode.
Hold: Freezes the display, hold down for backlight.
Input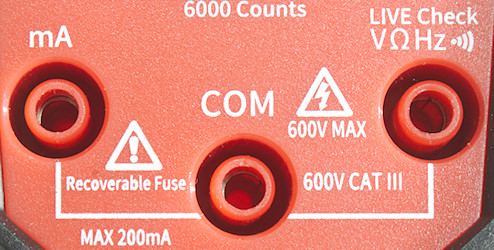 mA: The 200mA current range.
COM: The common terminal for all ranges.
xxx: All other ranges.
Measurements
Volt and frequency

Frequency counter do not require a zero crossing.
At 1Vrms frequency counter is from 35Hz to 900Hz
At 7Vrms frequency counter is from 36Hz to 999Hz
Frequency counter will drop back to volt/auto when no AC voltage is present.
7 VAC is 5% down at 0.5kHz (RMS will not work at the frequency).
A combined AC+DC voltage is listed correctly as RMS of AC+DC, display shows the AC indicator.
Input impedance is 1Mohm on DC and AC
Meter will measure DC voltage above 0.4 volt positive and negative values
Meter will measure AC voltage above 0.8 volt and be very confused below.
Rated overload protection is 600V DC or AC

Current

The 200mA current range is protected by a PTC

Ohm, continuity, diode and capacitance

Ohm needs about 0.8s to measure 100ohm
Ohm/Continuity is -1V open with -2V spikes and -5.0mA shorted
Continuity is very slow (About 600ms).
Continuity beeps when resistance is below 30ohm
Rated overload protection is 600V DC or AC

Miscellaneous

Current consumption of the meter is 5mA with backlight it is 8.6mA
Meter works down to 1.8V where it shows wrong values, it turns off at about 1.8V, battery symbol show at 2.4V.
Meter readings are stable until 1.8V
Flashlight fades with voltage and is very dim at 2.5V
The meter shows final value in one or two updates.
Viewing angle is good
Display updates around 2 times/sec
Backlight turn off after about 70 seconds.
Will automatic turn power off in about 12 minutes.
Weight is 172g without accessories, but with sleeve and batteries.
Size is 138 x 82.3 x 34mm.

Probes

Probe resistance 185mOhm for one.
Probe wire is 79cm long.



The sense voltage when checking for resistance.




When supplying a external DC voltage it will turn the checking voltage off above 0.4V and show a DC voltage.
The input resistance is 1Mohm




The 1Mohm is the same all the way to 100V.




The 1Mohm input impedance is close to being a Low-Z function.





Tear down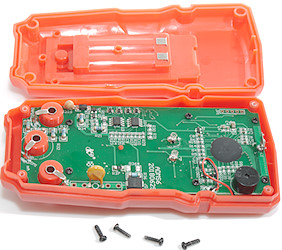 I had to remove four screws before I could open the meter.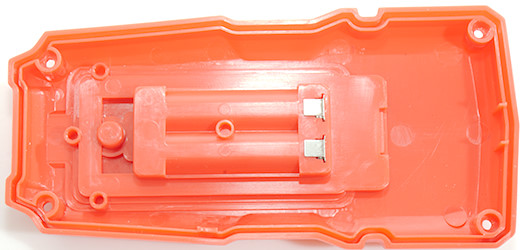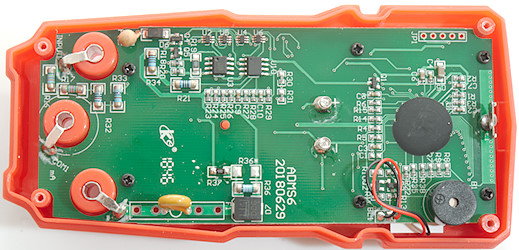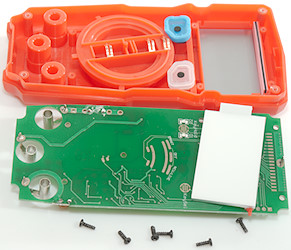 And 6 more screws to get the circuit board out.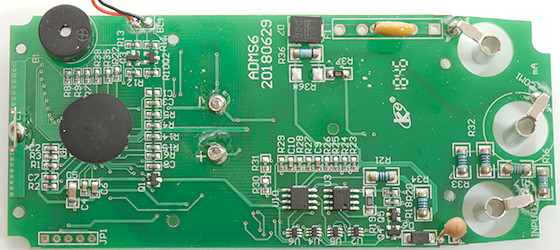 The 200mA current input uses a PTC for fuse (F1: W250 200: probably 250V peak and 200mA), followed by a resistor (R36: 1ohm) parallel with a TVS diode (D7), the sense voltage goes to the meter through a resistor (R37: 47kOhm).
The voltage input uses a resistor chain (R16, R17, R32, R33: 547kOhm, 352kOhm, 90kOhm and 9kOhm -> 998kOhm). The area with one OpAmps (U3: Probably LMV358), one unknown, that may also be an OpAmp (U10: Marked AG21X / G57U) and four muxes (U2, U4, U5, U6: Probably SN74LVC1G3157) handles the automatic range switching, where the PTC is used for ohm current output. The circuit is a bit special with only two transistors (Q4 & Q5) and a resistor (R19: 1kOhm) between input voltage and ohm output.
At the front is a NCV antenna, both as trace and as a small rectangle.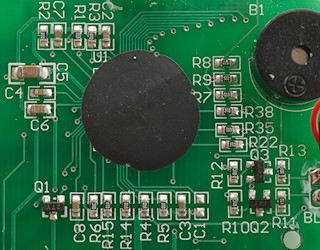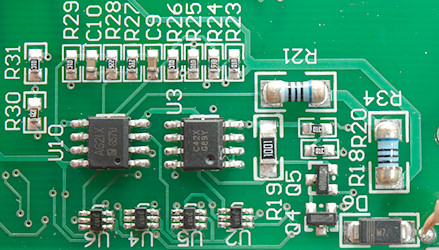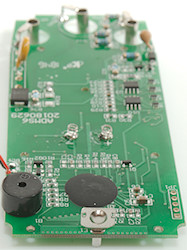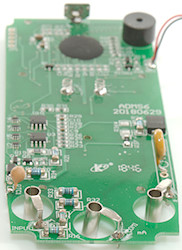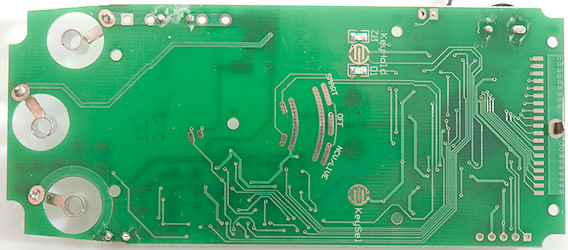 This side of the circuit board only has the pads for the range switch, the buttons and the LCD.









Conclusion



As usual the safety is on the low side

This is a very simple meter without ranges, it works and may be fine for for a rough and simple check, but that is about it. Because it only has one range for each function (Volt, current, frequency, ohm), it only has decent resolution in a fairly limited range of values.





Notes



How do I review a DMM
More DMM reviews
About thermocouplers