DMM Bside ADM92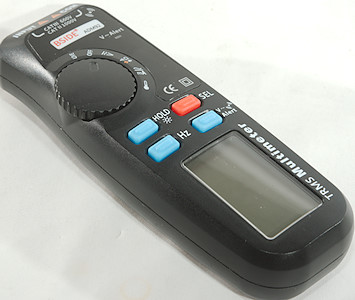 This meter has the shape of a clamp meter, but it a normal multimeter, that can also work as a pen meter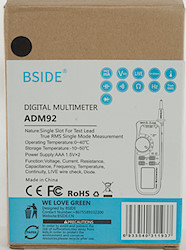 The meter is in a brown cardboard box with a label that shows the model and a few specifications.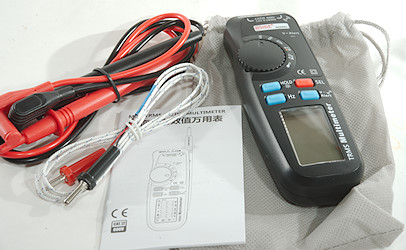 It included the DMM, a pouch, a pair of probes, a thermocouples and a instruction manual.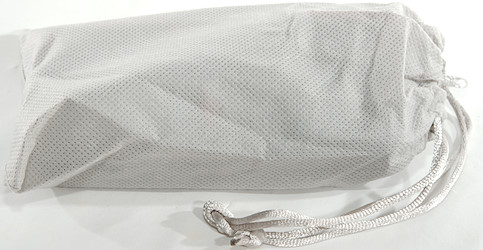 Everything could fit in the supplied pouch.






The thermocoupler is standard cheap K type with lose banana plugs.







Probes are branded with BSide and has removable tip covers. There is a CAT III 1000V rating on the cover, but none on probe.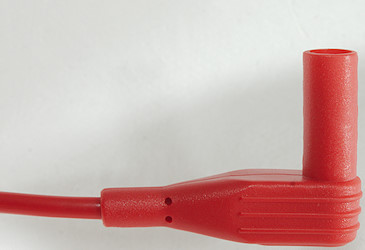 The plug is fully shrouded and very close standard probe shroud size.








The slot at the side of the meter can hold one probe and the the meter works as a pen type meter.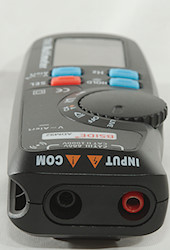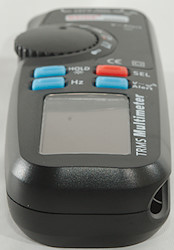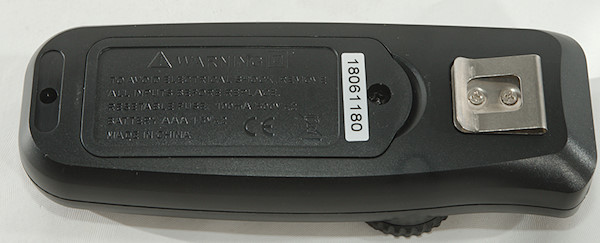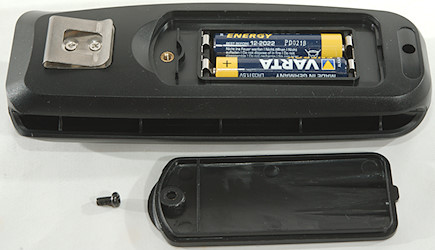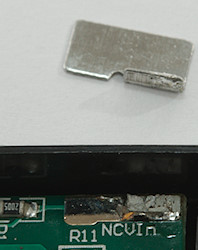 When I got the meter something was rattling inside it, it was the NCV antenna. I soldered it back in place before doing any testing.
It was probably not soldered good enough and fall off due to a bump during shipping.






Display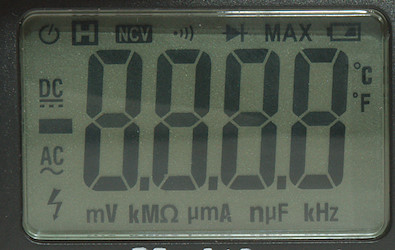 The above picture shows all the segments on the display, not all are used.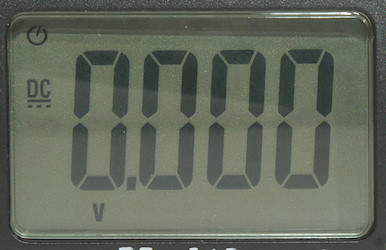 Typical display during usage, it will show the main number and what measurement is selected.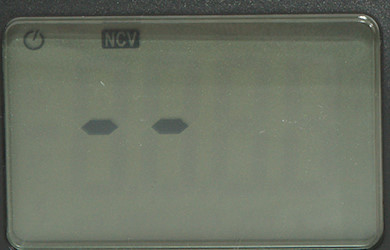 NCV has the usual bars on the display, together with a red led and the buzzer.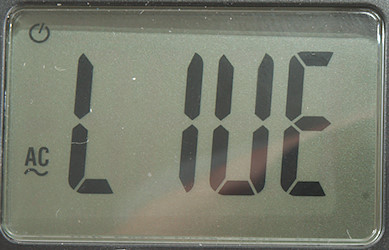 The LIVE function requires one probe, shows 4 bars when not connected and LIVE when touching a live wire. Buzzer and led is also used for this function.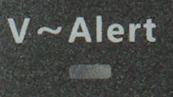 The led for LIVE and NCV function is here.






Functions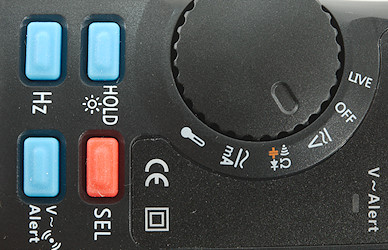 Buttons:
Hold: Freezes the display, hold down for backlight.
Hz: Will change to frequency in AC ranges.
SEL: Select between DC and AC and ohm, continuity, diode and capacitance. For temperature is will select between C and F.
V Alert: Activates the NCV mode, works on any rotary switch position except off. Pressing again or turning the rotary switch will exit NCV mode.
Rotary switch:
Live: Detect a live wire with one probe.
Off: Meter is turned off
V: Show DC or AC voltage.
: Resistance, continuity, diode and capacitance.
mA: The two mA current ranges.
: Temperature.
Input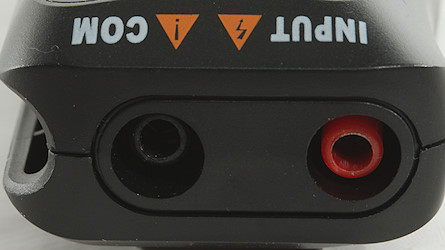 With only two input terminals all measuring functions are done with these.
For LIVE only the red is used.





Measurements
Volt and frequency

Frequency counter is only available on AC ranges
Frequency input requires a zero crossing
At 0.1Vrms input frequency range is from 10Hz to 5.6kHz
At 1Vrms input frequency range is from 1Hz to 45kHz
1 VAC is 5% down at 2.3kHz (RMS will not work at the frequency).
Input impedance is 10-11Mohm on DC and AC
Rated overload protection is 1000VDC and 750VAC
Frequency input resistance is same as voltage, except at very low voltages where it is high

Current

mA do not have a fuse but uses some PTC's
Will show OL above 200mA

Ohm, continuity, diode and capacitance

Ohm needs about 2.8s to measure 100ohm
Ohm is -1.1V open and -0.3mA shorted
Continuity is quick (About 15ms).
Continuity beeps when resistance is below 50ohm
Continuity is -2.1V open and -0.3mA shorted
Diode range uses 4.0V, max. display is 3.300V at 0.36mA, max. current is 2.1mA shorted
10uF takes about 2 seconds to measure.
9900uF takes about 9 seconds to measure.
Rated overload protection is 600V DC or AC

Miscellaneous

Current consumption of meter is 1.5mA to 1.7mA, with backlight it is 5.2mA
Meter works down to 2.2V where it turns off, battery symbol show at 2.3V.
Meter readings are stable until it turns off.
Backlight fades with voltage and is very dim at 2.5V
The meter usual show correct reading on first or second display update.
Viewing angle is good, except from top
Display updates around 3 times/sec
Backlight turn off after about 30 seconds.
Will automatic turn power off in about 16 minutes.
Banana plugs and standard probes fits nicely.
Weight is 118g without accessories, but with batteries.
Size is 140 x 49 x 33mm.

Probes

Probe resistance 185mOhm for one.
Probe wire is 78cm long.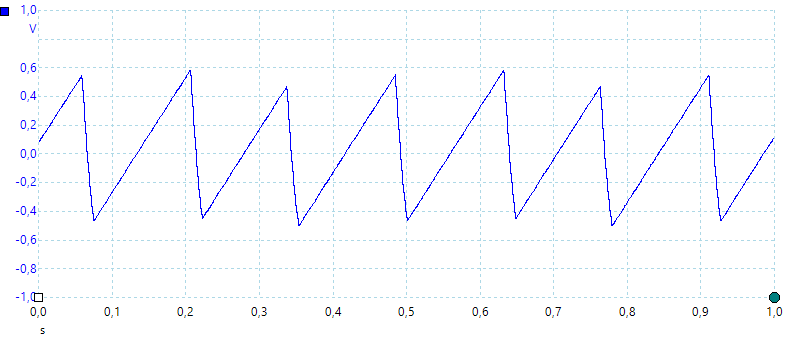 A look at the capacitance measurement waveform when measuring 1uF.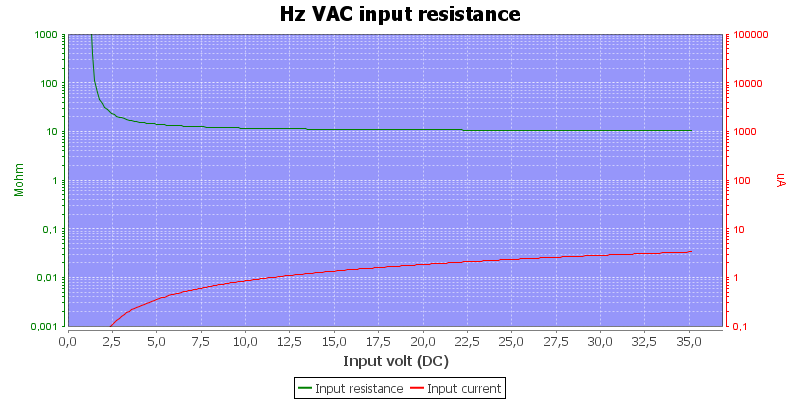 Frequency input resistance.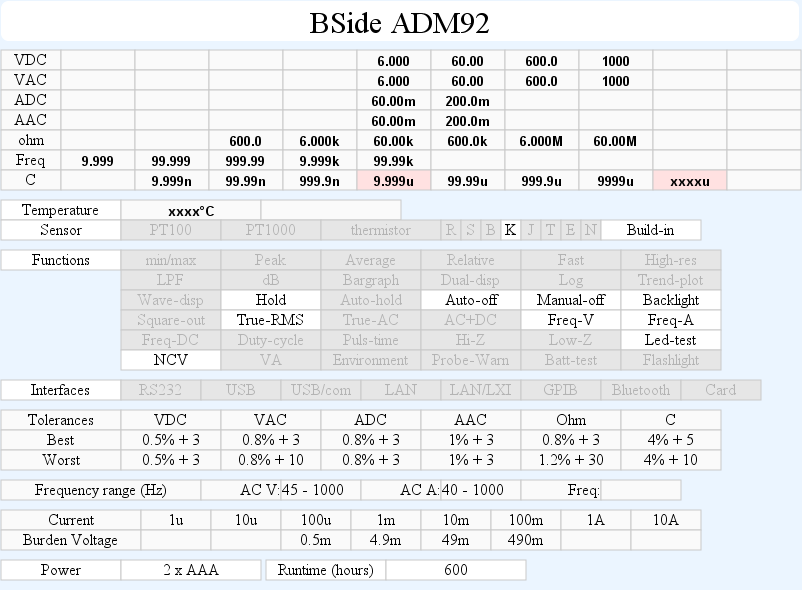 The 9.999uF range jumps up/down at the high end, but is within the 4% tolerance.
My 11000uF capacitor measures as 1134uF, i.e. 10 times below actual value.
High DC voltage will block for AC readings.




Tear down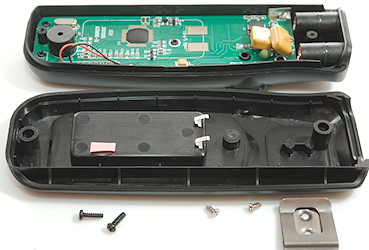 To open the meter two screws must be removed, but one of the screws are behind the belt clip, this add two more screws for a total of four screws.






As usual the circuit board is shaped to fill the enclosure.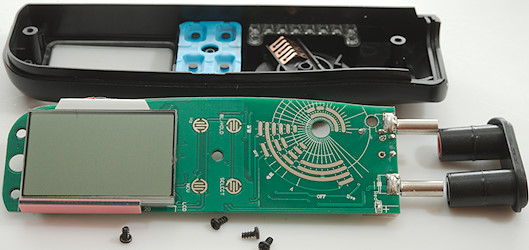 To get the circuit board out I had to remove four more screws.





It looks like this enclosure is also used for meters with considerable more leds, when looking at the number of light pipes above the rotary switchs.





Current input uses the two PTC's (F1 & F2) and a one ohm resistor with a TVS diode across. Voltage input uses two resistors (R4A & R4B: 2x5Mohm). Ohm output uses the green PTC (R10) and a transistor pair (Q1 & Q2) for protection. The ohm sense input is 3 resistors (R15A, R15B, R15C: 300k, 300k, 390k). Temperature uses same configuration as ohms.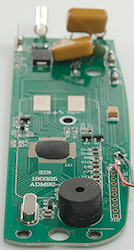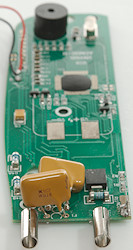 On this side is the pads for the buttons, the rotary switch and lcd in addition to the NCV led.










Conclusion



The meter has the normal functions, except current is a bit limited with only mA ranges. The shape is probably great when using the meter handheld, but on a table it is not as good.





Notes



The meter was supplied by BSide for review.

How do I review a DMM
More DMM reviews
About thermocouplers