Dlyfull T5 Test Charger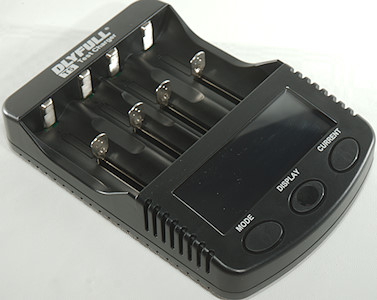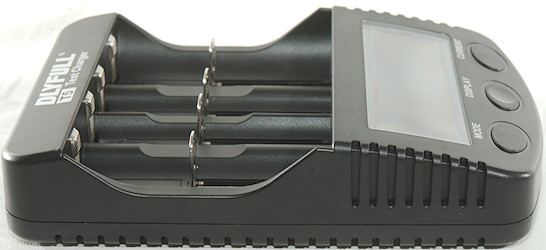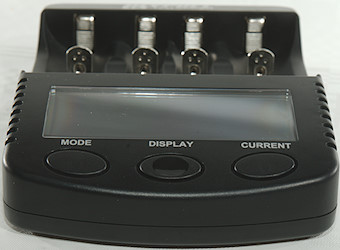 This is analyzing charger from Dlyfull that can charge/discharge LiIon and NiMH batteries.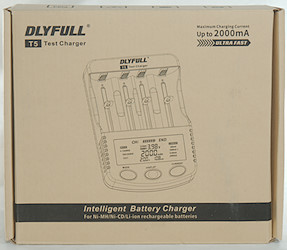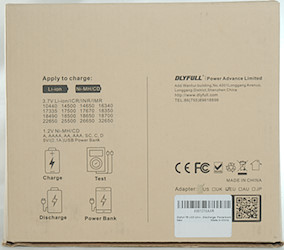 The charger arrived in a brown cardboard box without much information on it.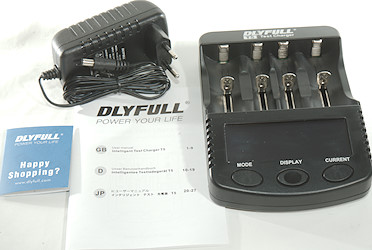 The box included the charger, a 12V power supply and a manual.





The charger is powered from a 12V supply and can also work as a power bank.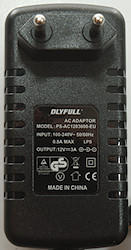 The power adapter is rated for 12V 3A.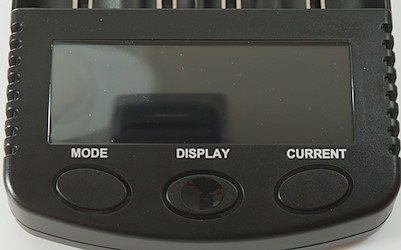 The user interface contains 3 buttons and a LCD display.
Mode and current must be selected before the charging/discharging starts.
Holding down MODE during operation allows reselection of mode and current and will reset counters.
DISPLAY is used to select battery.





All segments on the display.





No batteries in the chargers





Charging a LiIon battery in slot #2, the battery symbol is animated.
The other slot may or may not be in use.





Discharging a LiIon battery, the battery symbol is animated. Only 500mA is available as current.





Charging a NiMH battery.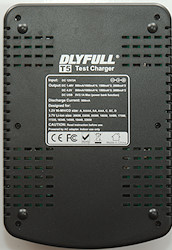 The back has the usual specifications in a easy readable white print.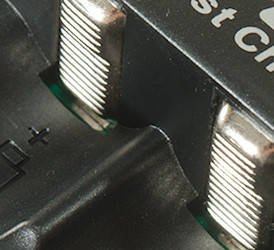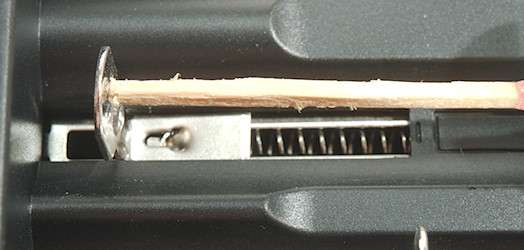 The connection are the common slider style that can handle from 32.5mm to 71mm, this works fine for xx650 and xx700 unprotected batteries, but xx700 button top and/or protected batteries will not fit.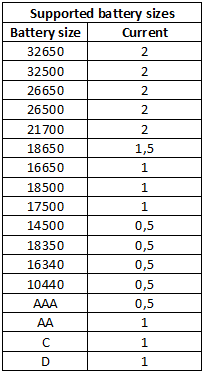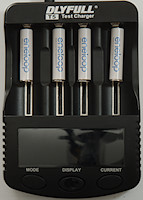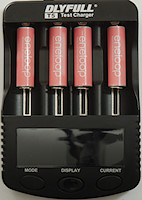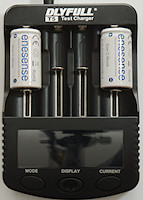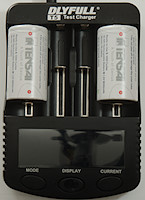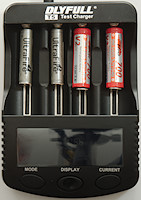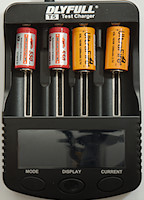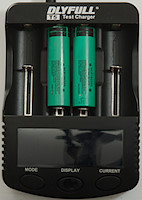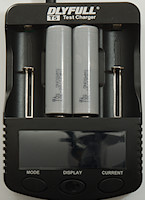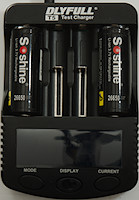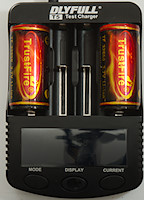 Measurements charger
Charging LiIon
Charging NiMH
Discharging LiIon
Discharging NiMH
Testing LiIon/NiMH
Internal resistance (RI) LiIon/NiMH
USB output (Power bank)
When not powered it will discharge a LiIon battery with about 4mA (1mA for NiMH)
When powered the charge will charge with about 0.5mA when finished.
Below 0.2V the charger will not register a battery.
Between 0.2V and 1.5V the battery is assumed to be NiMH.
Above 2.2V the battery is assumed to be LiIon.
Charger will not restart if battery voltage drops.
Charge current is limited to 2x2A, 3x1.5A or 4x1A for both LiIon and NiMH
Voltmeter has a minimum reading of 0.9V anything below will be shows as 0.9V.
Voltmeter is within 0.02V when in range.
Background light will reduce brightness when no buttons are used, but display is still readable.
Power consumption when idle is 0.35 watt (Power supply is 0.07 watt)
Charging LiIon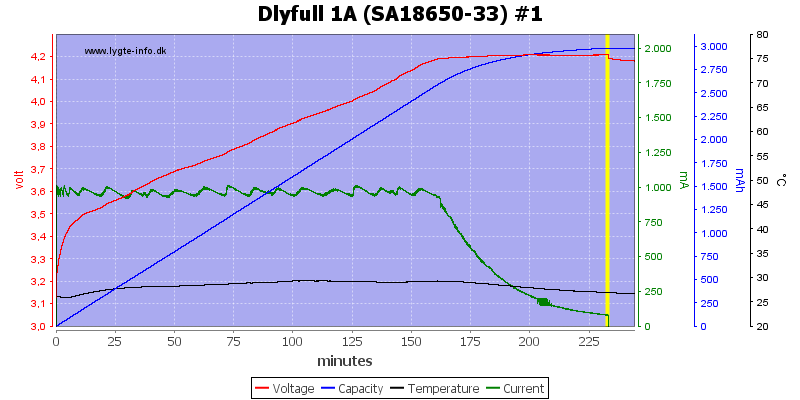 A fairly standard CC/CV charge curve with about 100mA termination
Display shows 3388mAh 39mOhm 3:51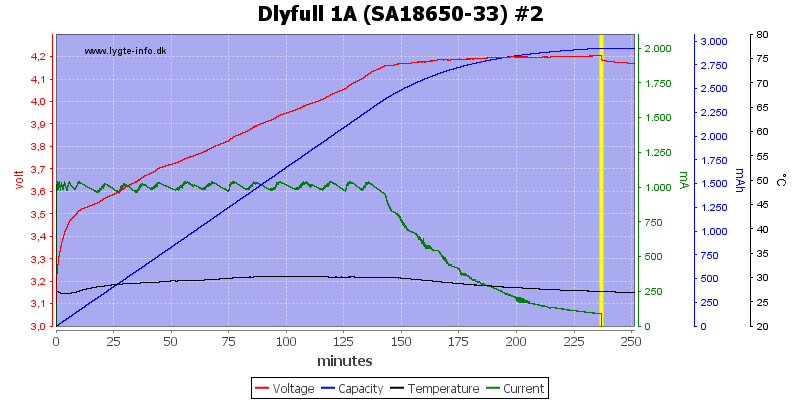 Display shows 2912mAh 67mOhm 3:54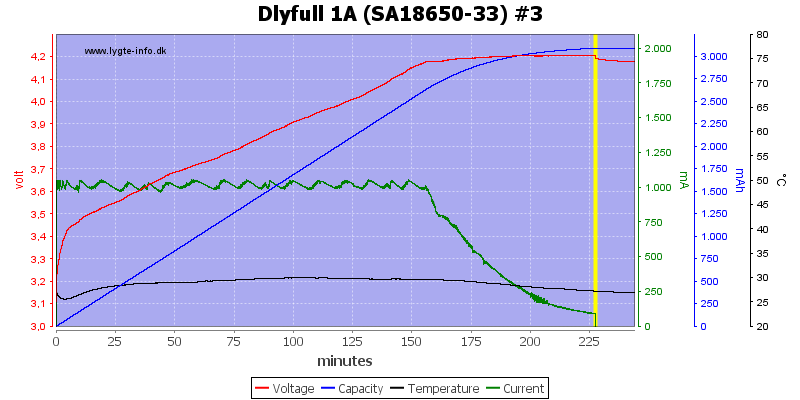 Display shows 3188mAh 63mOhm 3:46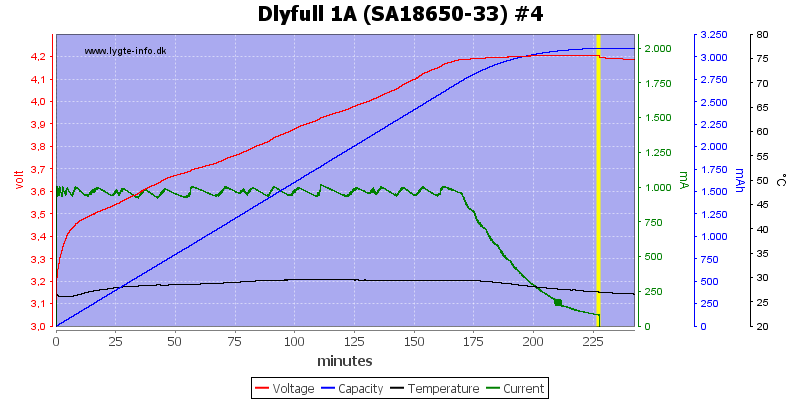 The other slots are fairly similar.
Display shows 3524mAh 45mOhm 3:46




Display shows 2791mAh 56mOhm 3:09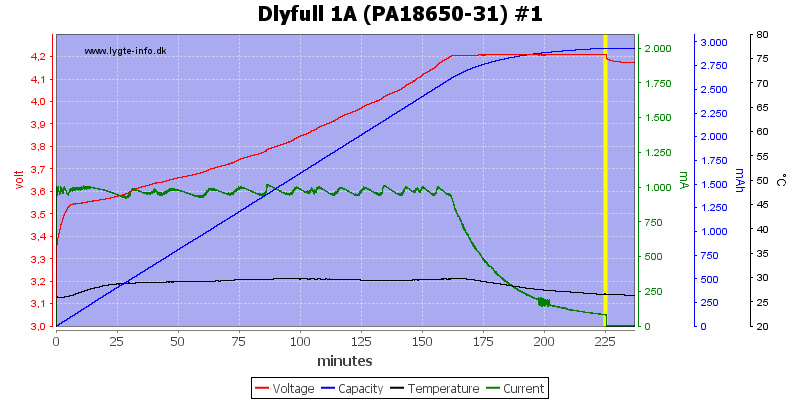 The other capacities are also fine.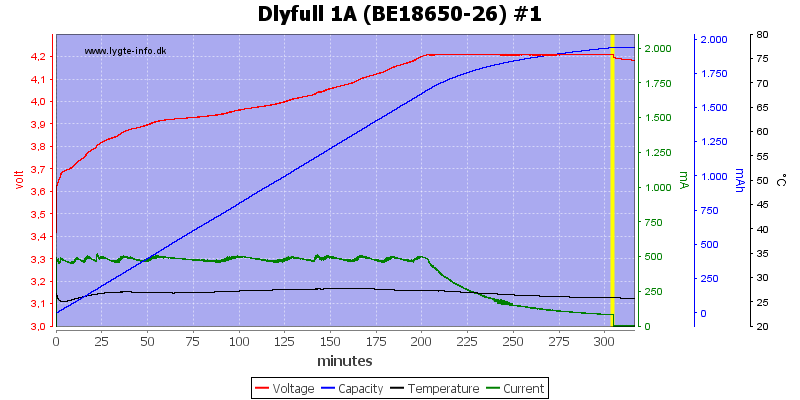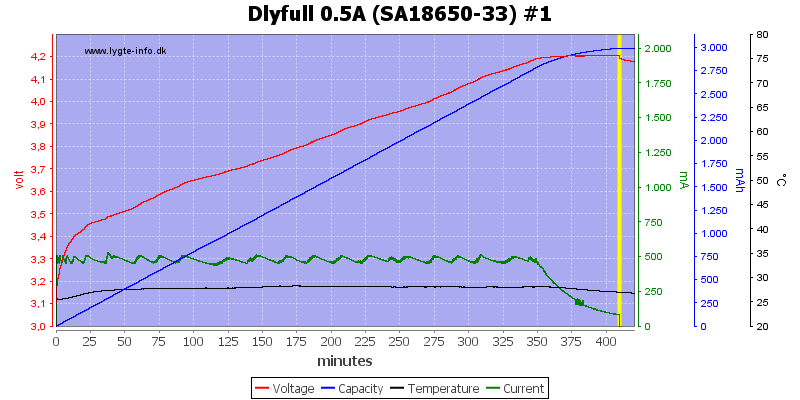 I did this older cell at 0.5A it is charged nicely.
Display shows 3371mAh 44mOhm 6:47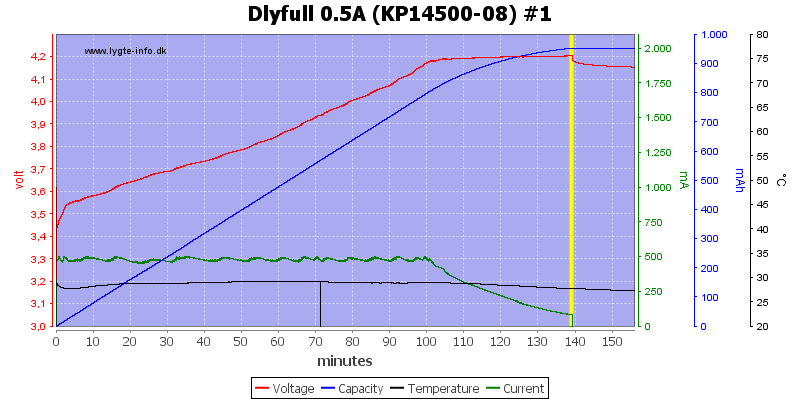 Display shows 1070mAh 155mOhm 2:18




There is not much capacity left in this old cell, but the charger handles it fine.
Display shows 68mAh 155mOhm 0:26




At 2A current the charger first changed to the CV phase well above 4.1V, this improves the charge speed.
Display shows 3495mAh 71mOhm 2:48




Display shows 3295mAh 24mOhm 1:43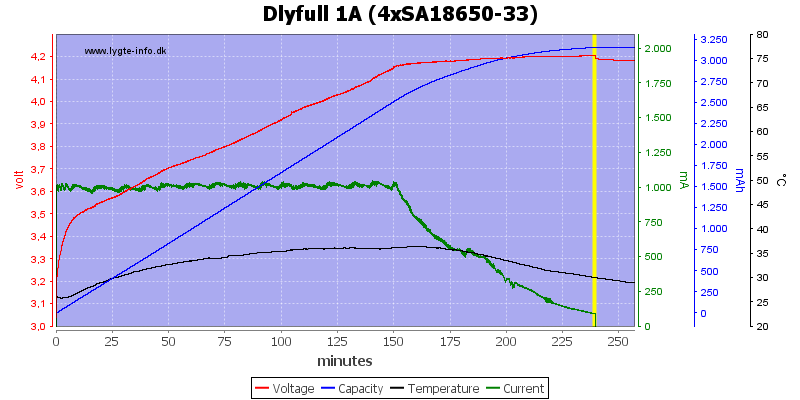 The charger can charge 4 batteries at 1A.
Display shows 3523mAh 34mOhm 3:42
Display shows 3175mAh 114mOhm 3:55
Display shows 2994mAh 39mOhm 3:32
Display shows 3439mAh 41mOhm 3:44
The four capacity readouts also shows that the slots do not match, in all my tests slot #1 & #4 shows higher capacity than slot #2 & #3.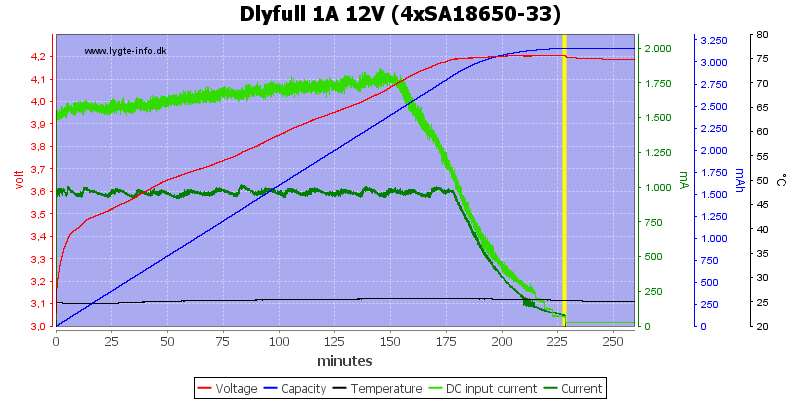 The charger uses early 2A from 12V when charging with 4 times 1A.
Display shows 3577mAh 50mOhm 3:44
Display shows 2986mAh 56mOhm 3:35
Display shows 2946mAh 56mOhm 3:31
Display shows 3397mAh 43mOhm 3:39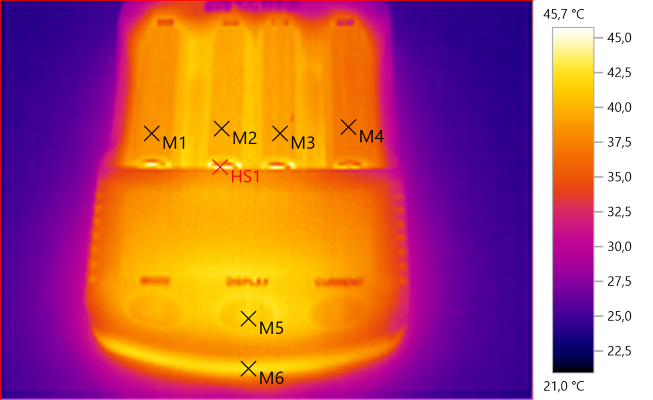 M1: 38.6°C, M2: 39.7°C, M3: 39.2°C, M4: 36.7°C, M5: 42.0°C, M6: 42.6°C, HS1: 45.7°C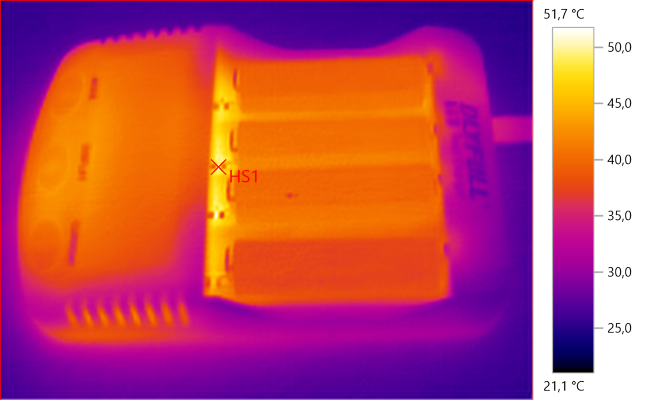 HS1: 51.7°C





The charger needs about 11 seconds to turn on, partly because it waits for user input.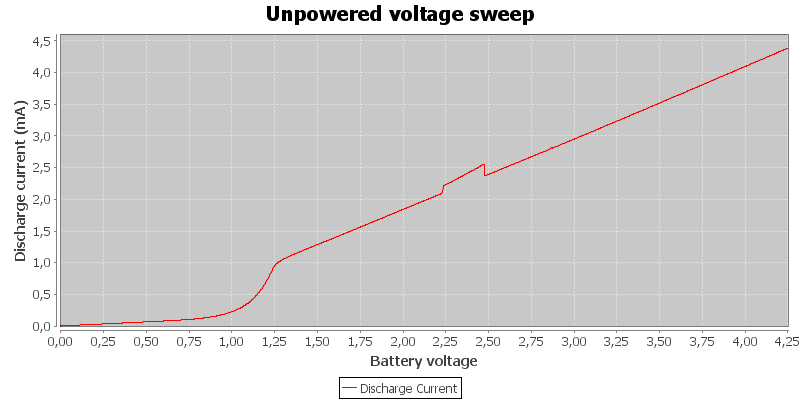 This is how much the charger will discharge a battery left in the charger.



Charging NiMH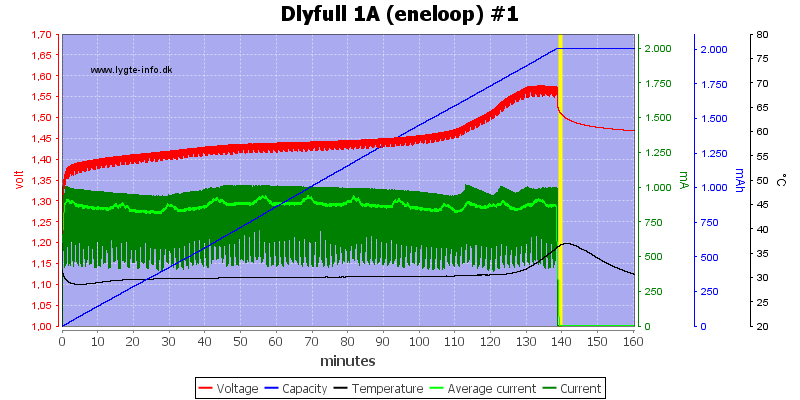 This is a nicely looking -dv/dt charging.
Display shows 1969mAh 51mOhm 2:17




Display shows 1906mAh 51mOhm 2:13




Display shows 1856mAh 48mOhm 2:09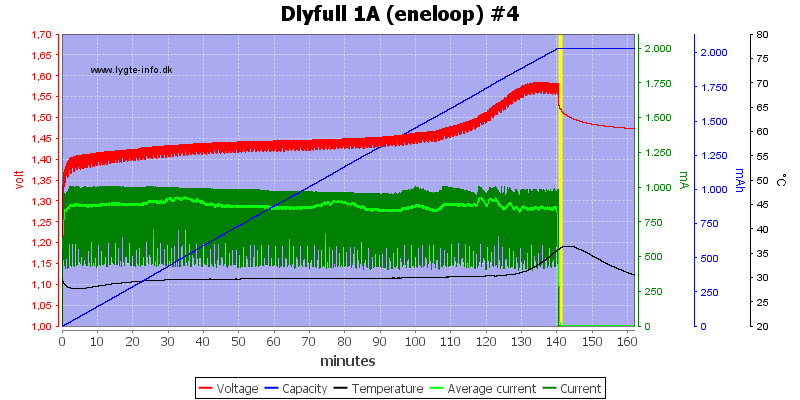 The 3 other slots are similar.
Display shows 1996mAh 60mOhm 2:19




This cell is charged but it do not look to be a -dv/dt algorithm.
Display shows 2666mAh 153mOhm 3:06




Display shows 2529mAh 42mOhm 2:56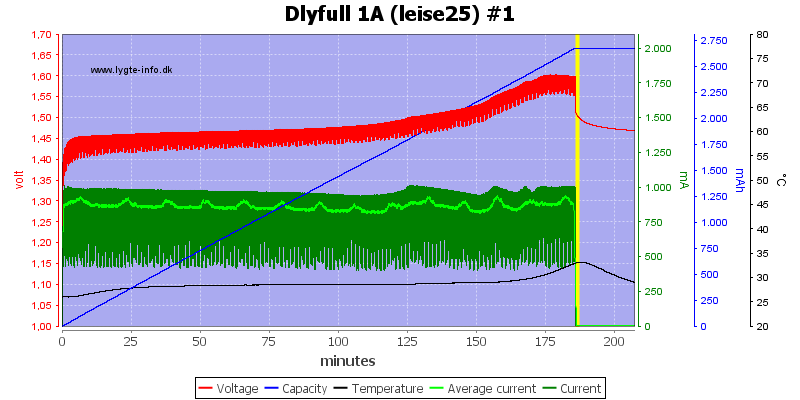 The two other high capacity batteries are not as worn down and is terminated with -dv/dt.
Display shows 2637mAh 39mOhm 3:04




At 0.5A on AA cells it is difficult to use a -dv/dt, maybe it is a 0dv/dt.
Display shows 2108mAh 42mOhm 4:54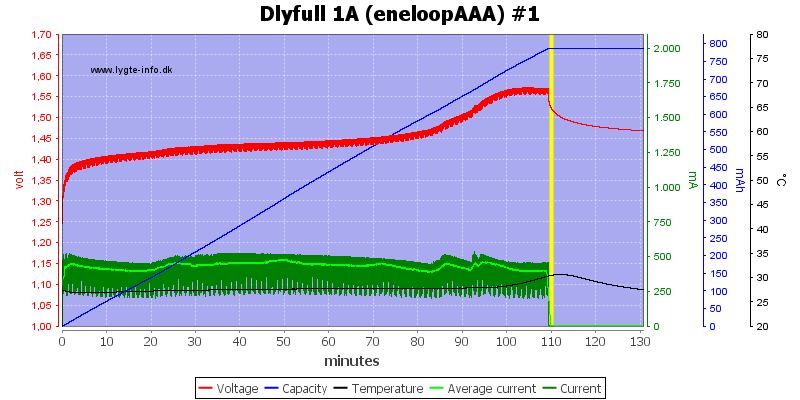 Display shows 777mAh 39mOhm 1:48




This charger can use 2A to charge NiMH cells.
Display shows 2045mAh 51mOhm 1:11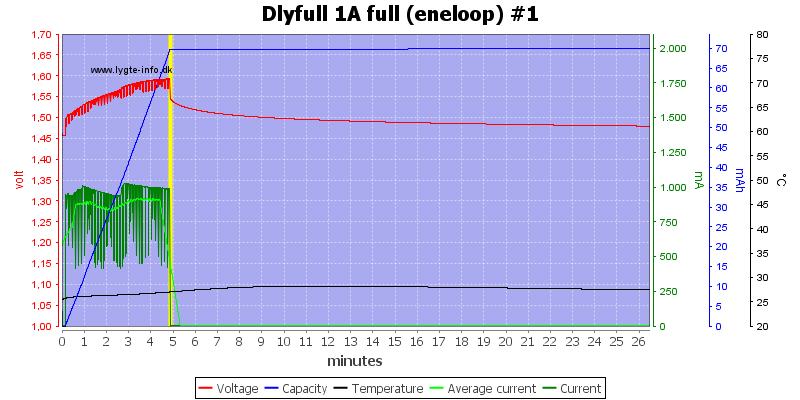 The full cell is detected surprisingly fast.
Display shows 67mAh 33mOhm 0:09




With four batteries the maximum current is 1A.
Display shows 2056mAh 42mOhm 2:23
Display shows 1928mAh 36mOhm 2:14
Display shows 1938mAh 51mOhm 2:15
Display shows 2026mAh 45mOhm 2:21




The charger uses below 1A from 12V for this.
Display shows 2053mAh 30mOhm 2:23
Display shows 1899mAh 45mOhm 2:12
Display shows 1900mAh 48mOhm 2:12
Display shows 1992mAh 45mOhm 2:19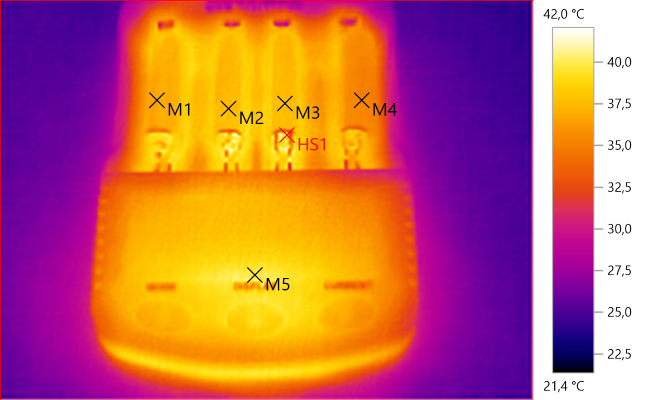 M1: 36.6°C, M2: 37.5°C, M3: 37.5°C, M4: 35.0°C, M5: 40.0°C, HS1: 42.0°C





The start time is the same as LiIon.



Discharging LiIon




The discharge function will discharge a LiIon to about 2.8V, the current is always 0.5A
Display shows 3079mAh 21mOhm 6:26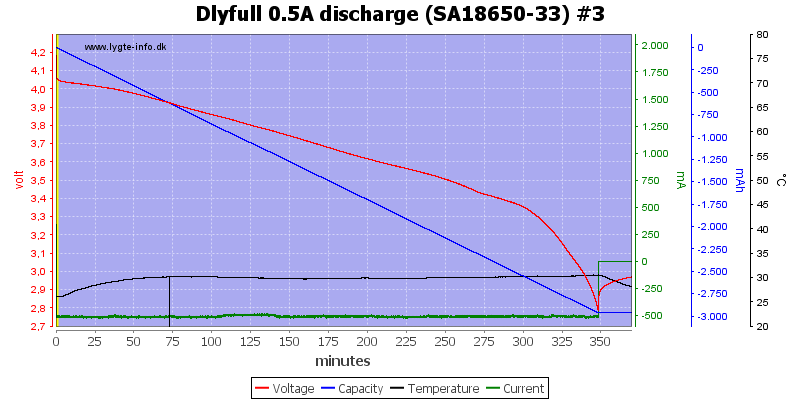 Display shows 2757mAh 58mOhm 5:46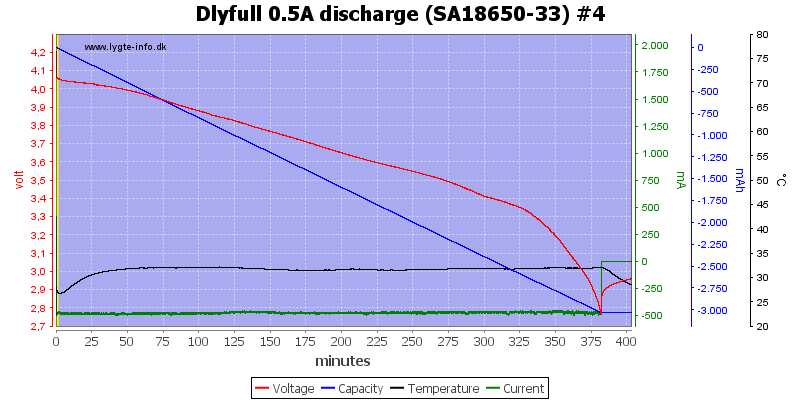 Display shows 3030mAh 56mOhm 6:28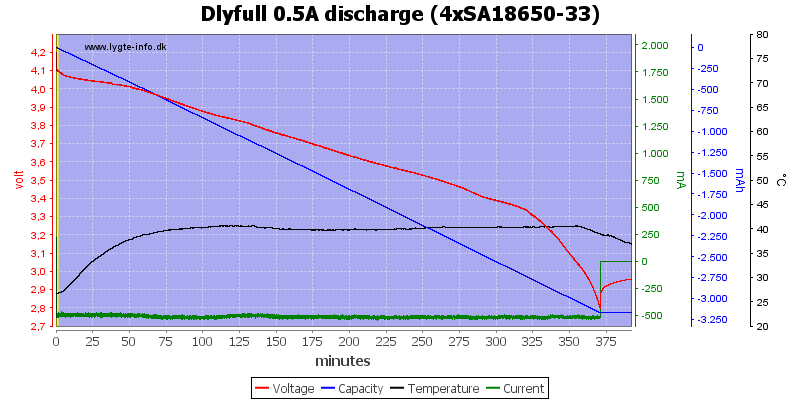 It is possible to discharge four batteries at a time with 0.5A
Display shows 3141mAh 46mOhm 6:34
Display shows 2915mAh 30mOhm 6:05
Display shows 2788mAh 40mOhm 5:49
Display shows 3105mAh 38mOhm 6:29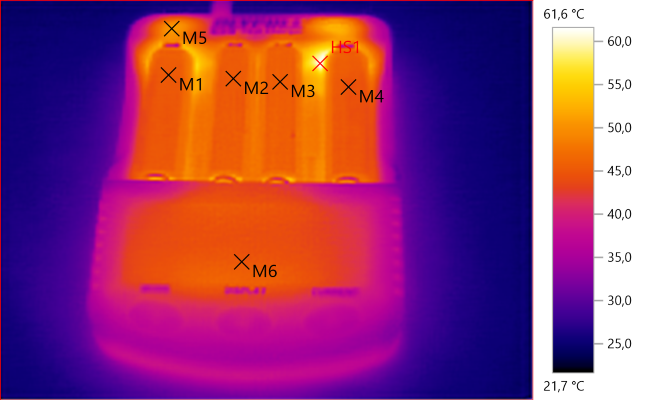 M1: 45.2°C, M2: 45.2°C, M3: 45.5°C, M4: 44.5°C, M5: 50.7°C, M6: 45.0°C, HS1: 61.6°C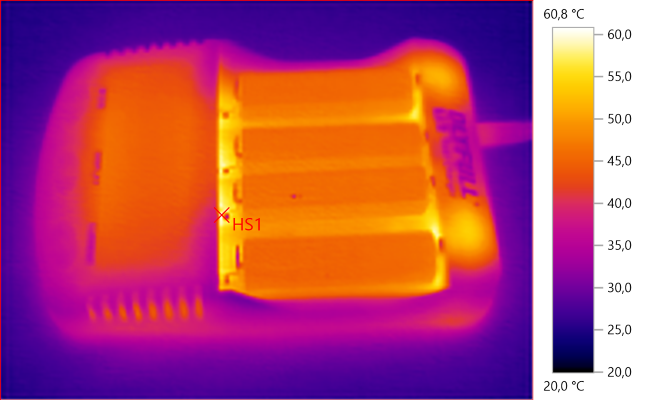 HS1: 60.8°C



Discharging NiMH




NiMH is discharged to about 0.8V with a constant current of 0.5A
Display shows 2023mAh 24mOhm 3:59




Display shows 1869mAh 54mOhm 3:41




Display shows 1844mAh 30mOhm 3:38




Display shows 1925mAh 33mOhm 3:48




With NiMH there is considerable less heat when discharging four cells.
Display shows 2072mAh 21mOhm 4:05
Display shows 1944mAh 27mOhm 3:50
Display shows 1929mAh 24mOhm 3:48
Display shows 2011mAh 21mOhm 3:58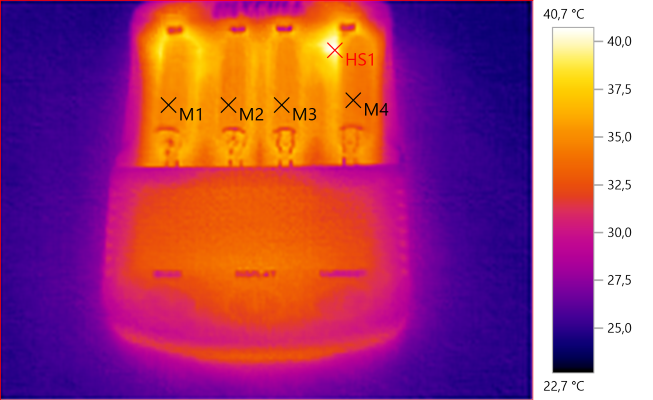 M1: 34.8°C, M2: 34.8°C, M3: 35.2°C, M4: 34.1°C, HS1: 40.7°C




Testing LiIon/NiMH

The test function combines a charge, a discharge and a final charge, showing the result from the discharge.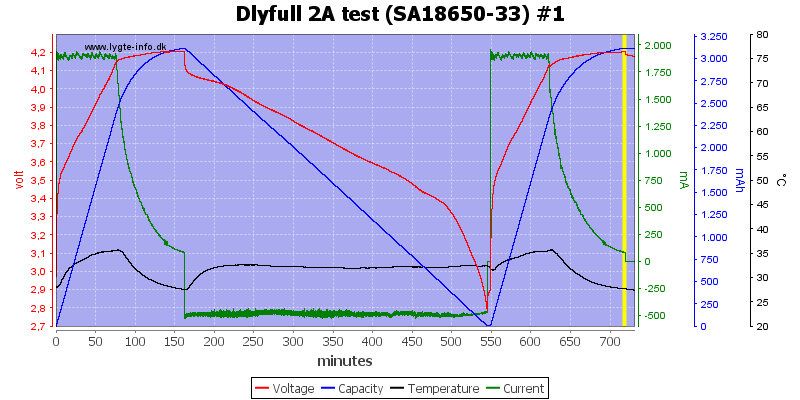 Display shows 3067mAh 54mOhm 6:25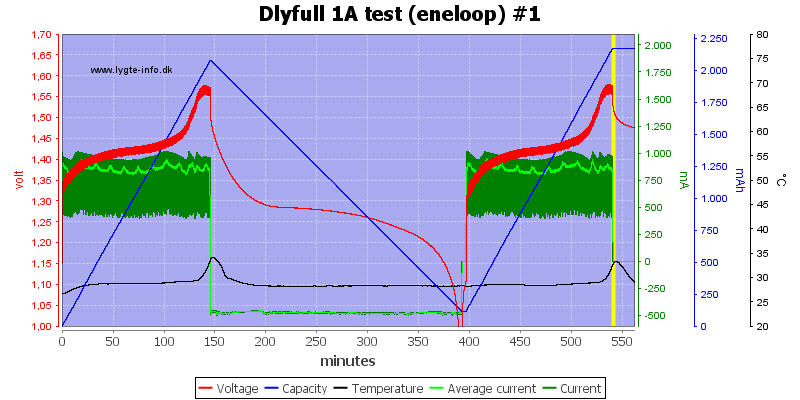 Display shows 2109mAh 48mOhm 4:10



Internal resistance (RI) LiIon/NiMH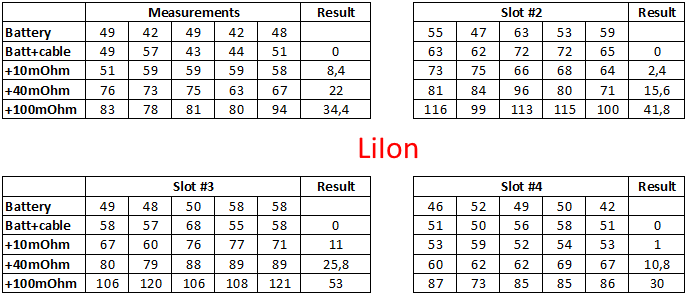 The scale do not really match ohm and there is a large random element in the readings.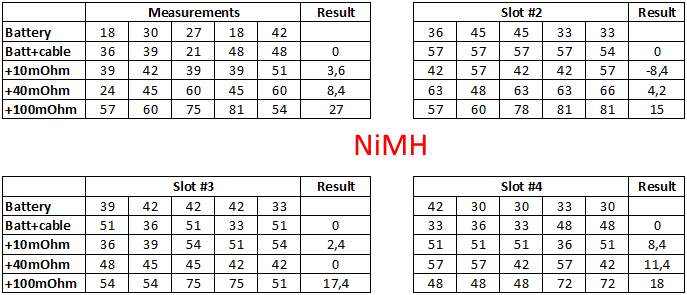 With NiMH it is even worse.

How the above test is done and how to read the schema



USB output (Power bank)

USB output turns off after 20 seconds with below 60mA load.
USB output is coded as Apple 1A.
USB output is turned off while charger is powered.
When not powered it will discharge a LiIon battery with about 4mA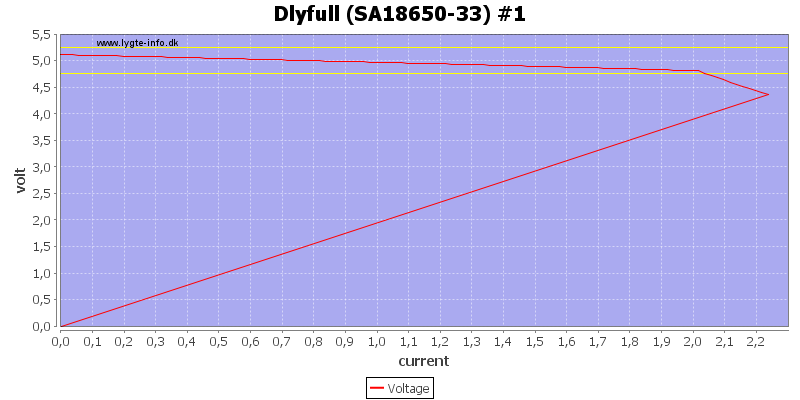 The output can deliver 2A, even with one battery.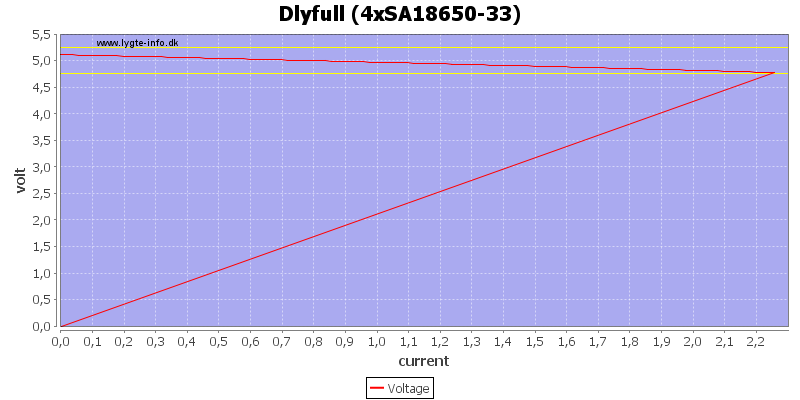 With four batteries it can deliver 2.2A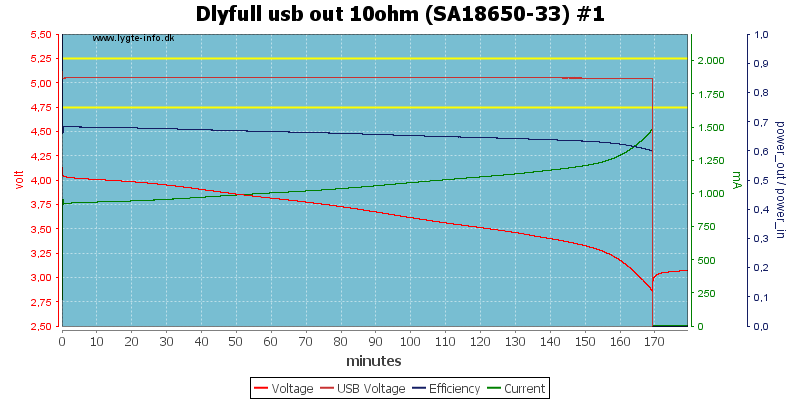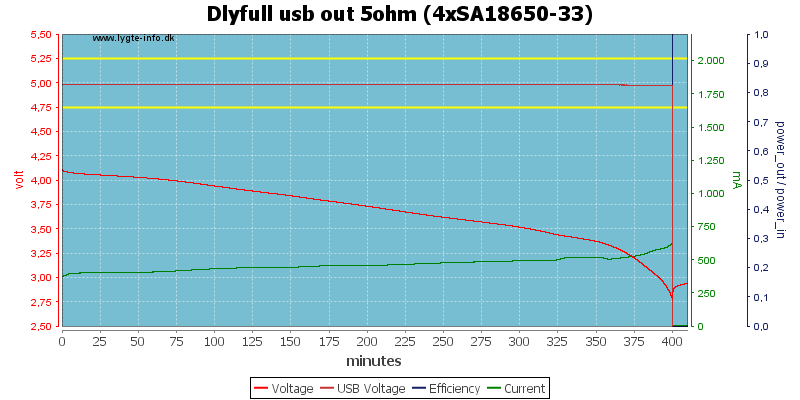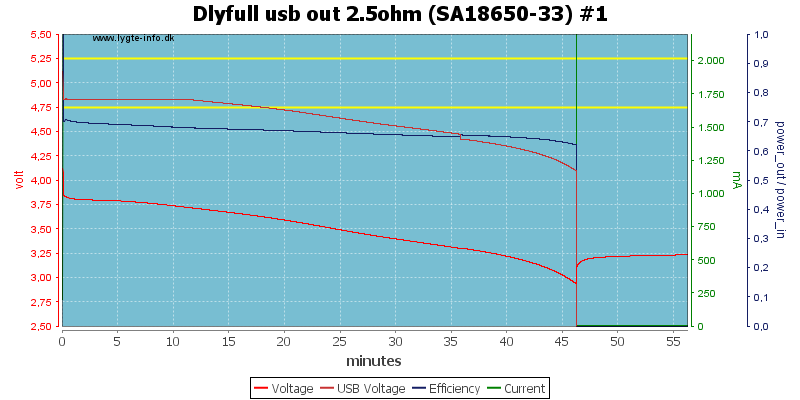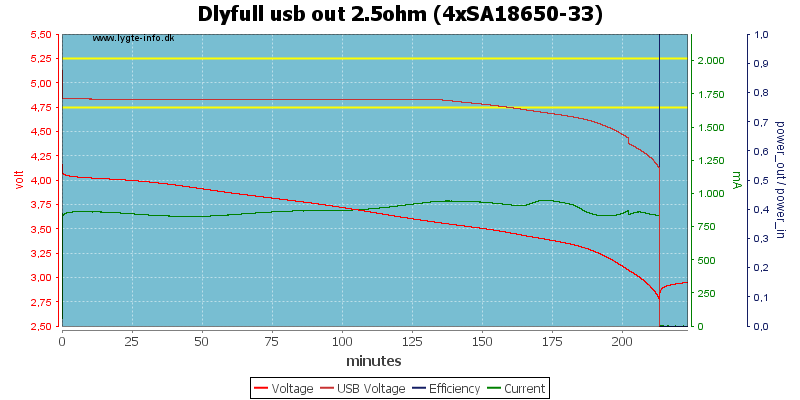 At 2A output the charger has trouble maintaining the output voltage, especially with one cell.





At 0.5A noise is 10mVrms and 78mVpp





At 1A noise is 13mVrms and 92mVpp





At 2A noise is 116mVrms and 370mVpp


Testing with 2830 volt and 4242 volt between mains and low volt side, did not show any safety problems.





Conclusion



As a charger it is good for both LiIon and NiMH and it even have a 2A NiMH mode (Only two cells at a time).
It can also discharge cells nicely, but the measured capacity (Both charge and discharge) depends on what slots are used.
The resistance measurement is mostly useless.
Power bank function works fine, but the coding is rather old and do not match the output rating.

This means it is a good charger and fairly good power bank, but not that precise for analyzing batteries (it is precise enough to show if a battery has lost a lot of capacity.)





Notes



The charger was supplied by a DlyFull for review.

Here is an explanation on how I did the above charge curves: How do I test a charger