Charger Efest LUC Blu6 2017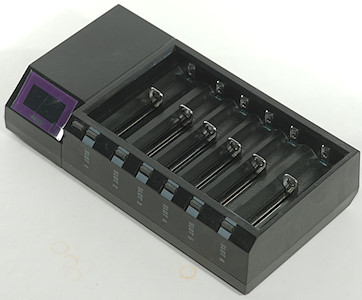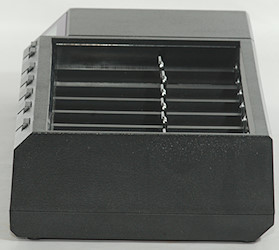 This is one of the larger chargers from Efest with 6 slots and Bluetooth connection.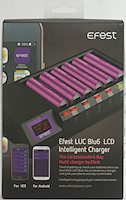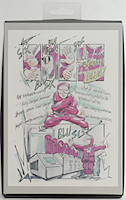 The charger comes in a cardboard box.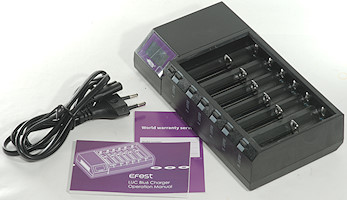 In the box is the charger, a mains cable, a instruction sheet and a warrant card.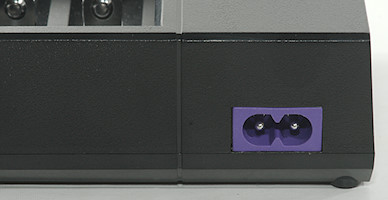 The charger is powered from mains with universal voltage input (100-240VAC 50-60Hz).





The front has the display, a button and 6 slots with a led each. The led is red when charging and green when done. It is off when no battery is in the slot.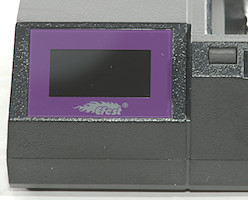 The button can be used to select what slot to display and change between 0.5A, 1A and 2A charging on some slots.
A fast press will change slot, hold down to change current.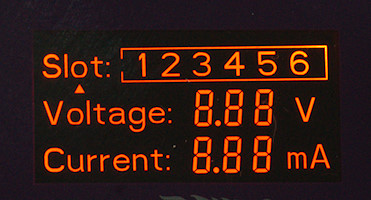 Display during power on with all segments shown.
The display will turn off rather fast, to turn it on again press the button.




0.5A charging is supported on all slots. One slot digit will flash, this is the slot the voltage is shown for.
Current is common for all slots.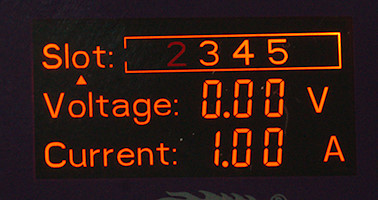 1A current is supported in slot 2-5, the current selected slot do not have a battery in it (Voltage=0).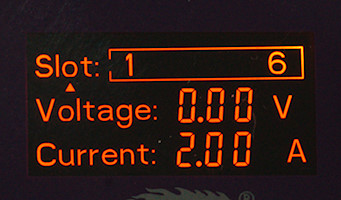 2A current is only supported in slot #1 and #6 (The ones supporting 26650 cells).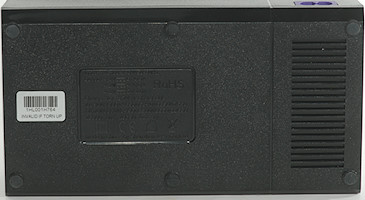 As usual there is some specifications on the back of the charger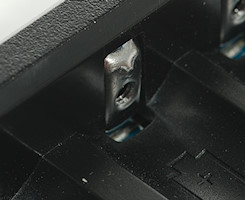 The sliders for the battery work smoothly and can accept batteries from 29mm to 70.5mm. This means the new xx700 batteries will fit, but some long protected xx650 will not.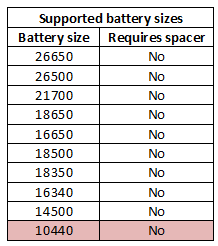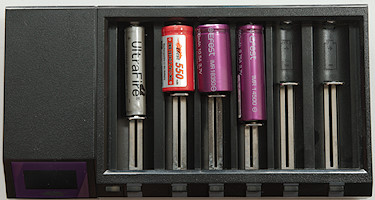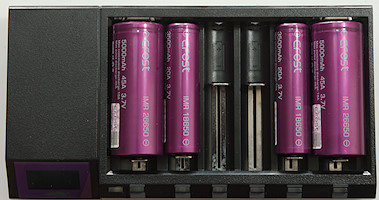 The charger is rated for 10440 batteries, but due to the charger current it is only recommended to charge IMR 10440.





Bluetooth app.



A charger with build in Bluetooth need an app before the Bluetooth is interesting.
I found it in the Google play app. store.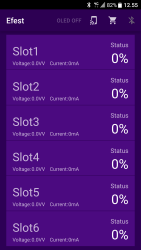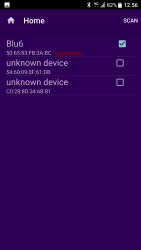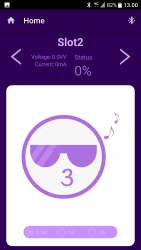 It did connect to the charger and it looks fairly good, but it never shows any data or allow any control of the charger.
I.e. it is NOT WORKING.

Efest has told me this is not the correct app., the correct app. must be downloaded from Efest's website for Android phones (Apples app. store can be used). This app. do not work on my HTC phone, it cannot find any Bluetooth devices.





Measurements



When not connected to power it will discharges with up to 0.08mA.
Power cycling or reinsertion of the battery will restart charging.
At about 0.6 volt the charger will detect a battery and start charging with 50mA
At 3V the charger will apply full charge current.
The charger will silent keep the cell charged.
The voltmeter is limited to 4.2 volt
The voltmeter starts showing a value at about 0.6V, but it shows around 1V
Generally the voltmeter is within 0.3V
Power consumption when idle is 0.4 watt


A nice 0.5A charge curve with a termination around 110mA




Slot #6 did not do as a nice a charge, and stopped too early.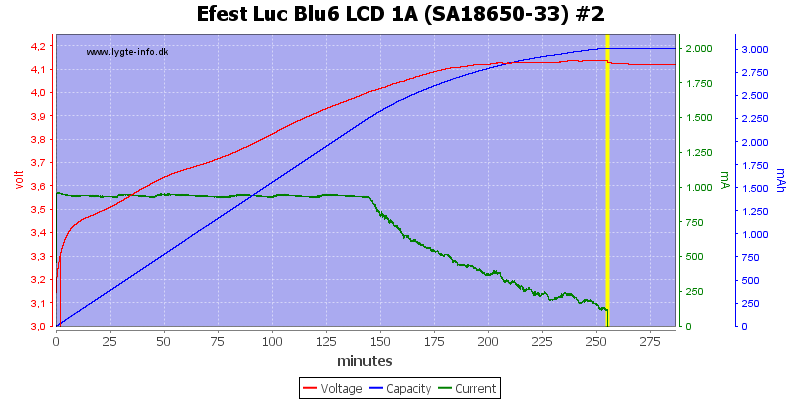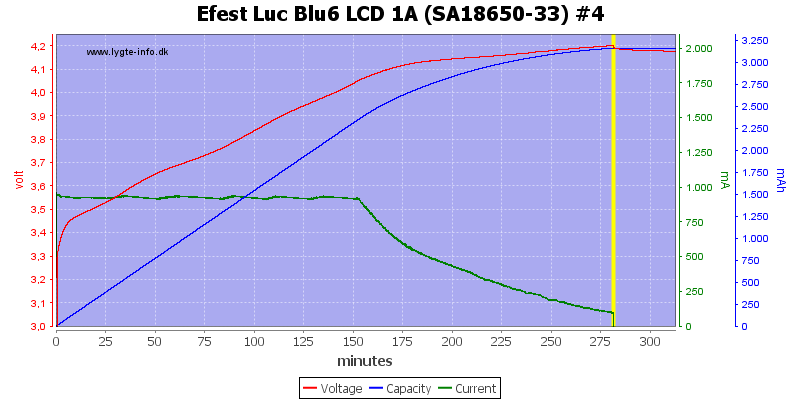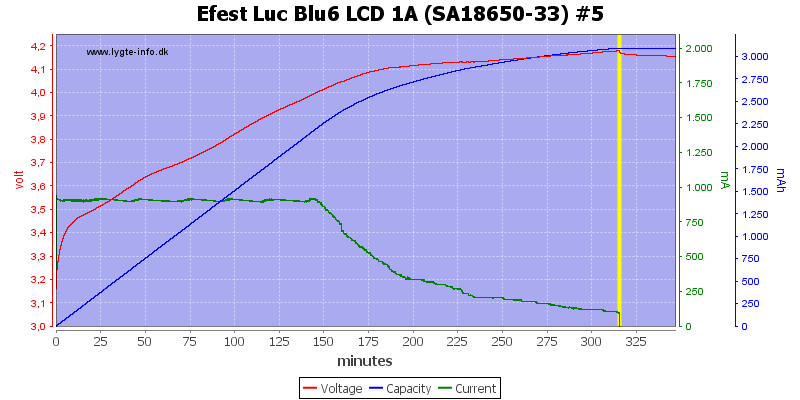 1A in the four center slots, there is some variation in the voltage.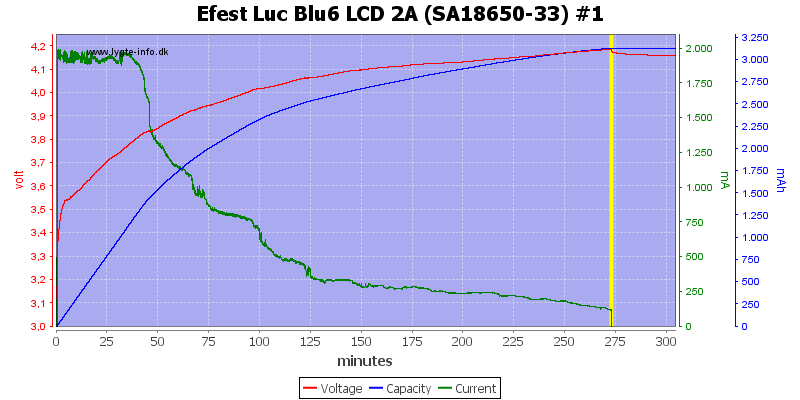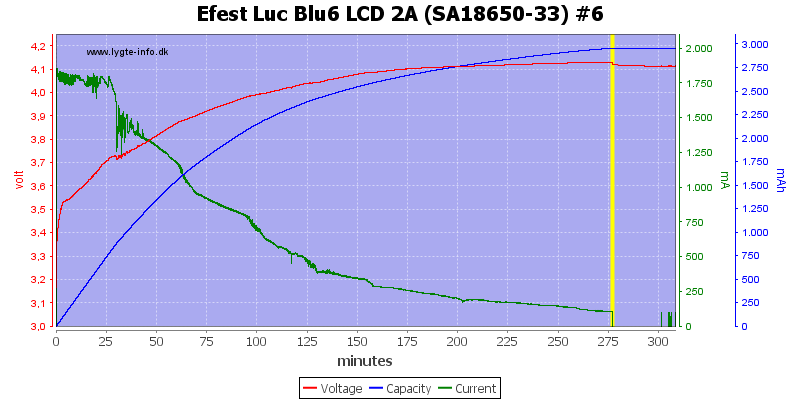 2A in slot #1 and #6, it works, but slot #6 is a bit low on in voltage.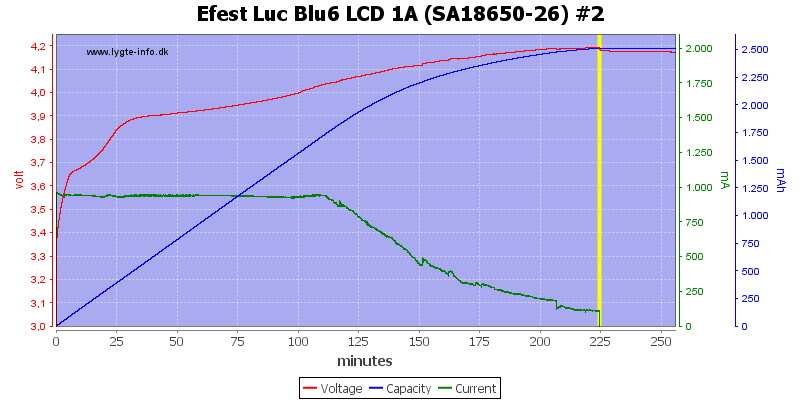 This time slot #2 was fine with voltage and did a good job on both batteries.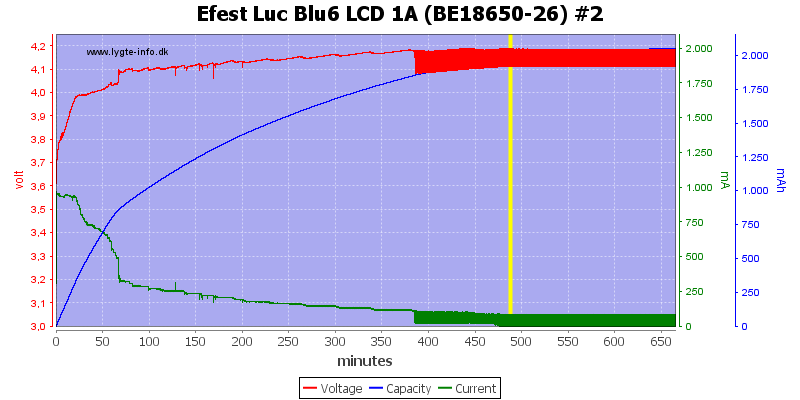 But the older cell did not work as fine.




A smaller cell at 0.5A work find.




The charger can charge 6 cells at 0.5A, but this time there was a problem with voltage on the slot I measured on.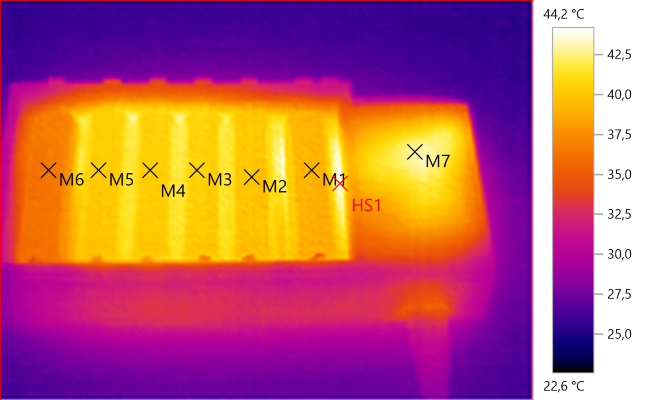 M1: 39,1°C, M2: 40,1°C, M3: 40,6°C, M4: 40,4°C, M5: 40,2°C, M6: 36,5°C, M7: 43,0°C, HS1: 44,2°C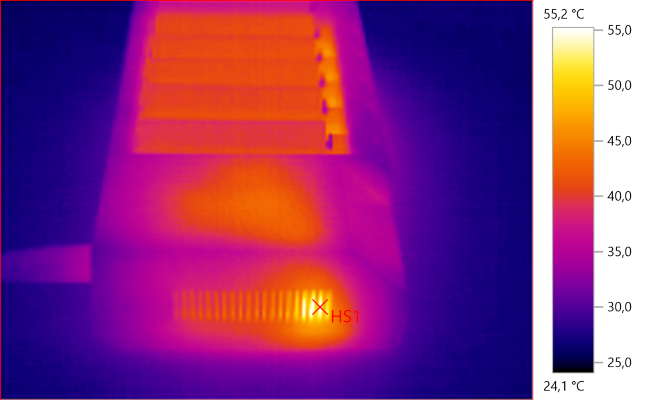 HS1: 55,2°C




Sweeping the battery voltage from zero to 4.25 shows charge current at the different charge levels.
I did also add a curve to show how much heat is generated in the charger, most of the time the voltage will be between 3.5V and 4V, i.e. around 1.5 watt with one cell at 0.5A.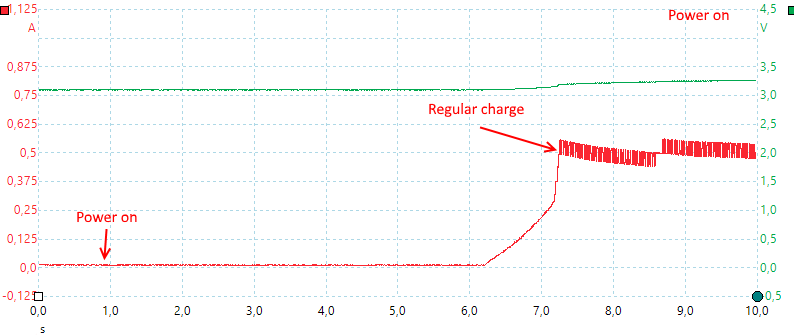 The charger need about 5 seconds to start.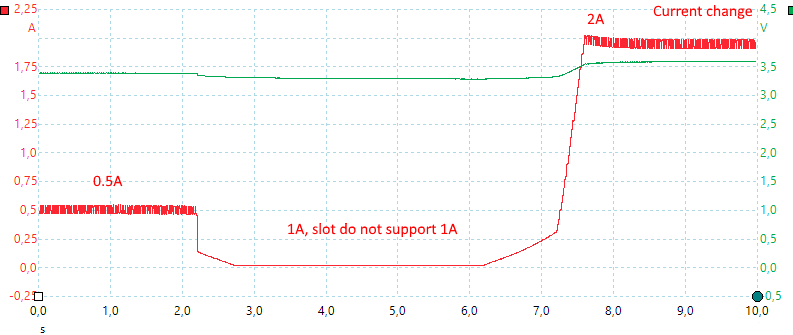 It is possible to change current at any time.



Testing with 2830 volt and 4242 volt between mains and low volt side, did not show any safety problems.





Conclusion



I am not impressed with this charger, there is way to much tolerance on the charge voltage. It looks to be something in the logic, because it can sometimes do it right and sometimes wrong on the same slot.
The Bluetooth application for Andriod is not working on my phone and is not the the Android app. store.

I will only call it acceptable.




Notes



The charger was supplied by Efest for review.

Here is an explanation on how I did the above charge curves: How do I test a charger

Compare to other chargers