Vapcell S4+ fast charger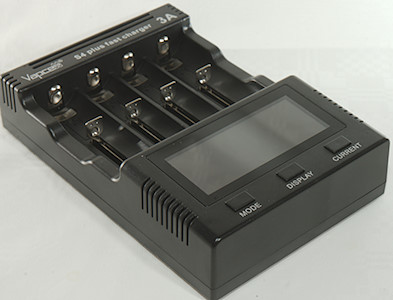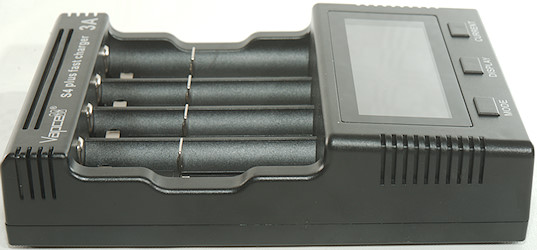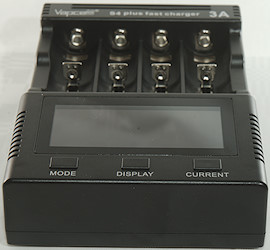 This is a advanced 4 channel charger for LiIon and NiMH with multiple current settings and USB output.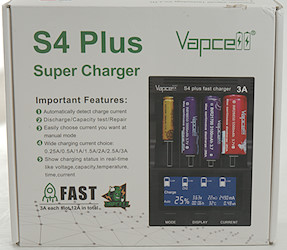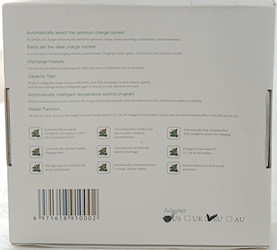 It arrived in a white cardboard box with lots of specifications on it.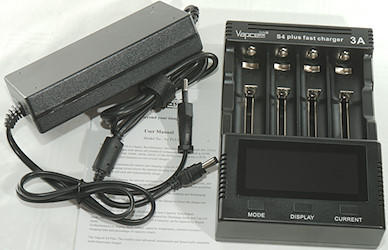 The box contained the charger, power adapter, and a instruction sheet.
The supplied power adapter is a universal voltage (100-240VAC 50/60Hz) with 12V 3A output.





The charger is clearly marked with maximum charge current.





The charger has a DC power input for the mains adapter and a 1A usb output.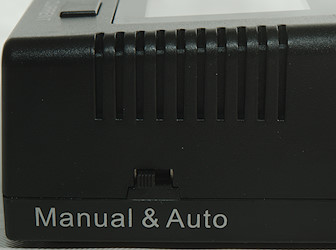 The current can be either manually selected or selected based on a internal resistance analysis of the batteries (Auto).
I like it is a switch, this makes it very easy to select mode.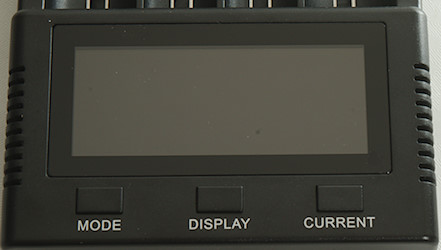 The general user interface is a LCD display and 3 button:
MODE: Select between Charge, Discharge, Cap Test and Repair (cycle 3 times)
DISPLAY: Select battery to display data for.
CURRENT: Select charge current from 0.25A to 3A (1A for NiMH).
The MODE and CURRENT buttons are locked during operation, but holding down MODE will unlock them and allow changing of mode and current.
The display will turn off fairly fast when no buttons are used.
When putting multiple batteries into the charger the mode and current is selected for all batteries simultaneous (There is no display indication of this), using the display button it is possible to set parameters for a single battery.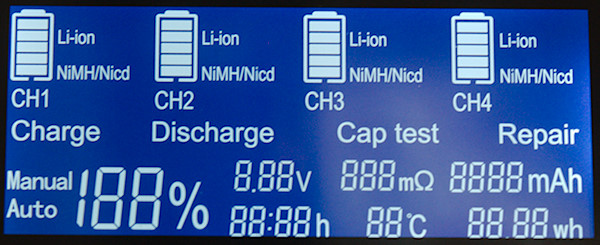 During power on the charger will turn all segments in the display on. It will show a lot of information for a battery, but only for one slot at a time.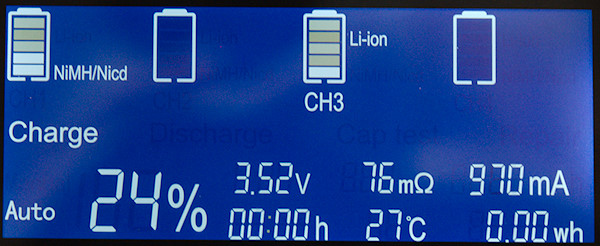 Charging two batteries, the display shows information for slot #1, but one item is missing.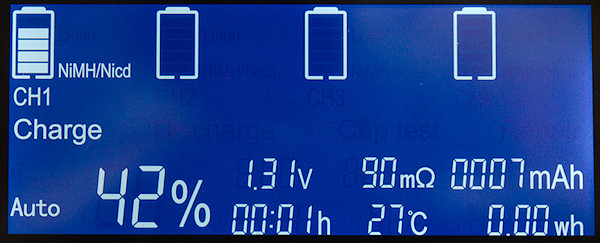 Waiting a bit and the current will be replaced with capacity.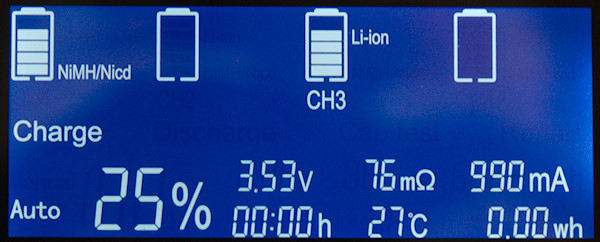 Pressing display once changes to slot #3 and shows the data for the LiIon battery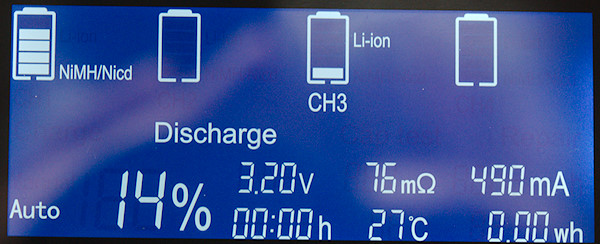 Here the mode button has been used to select discharge for the LiIon battery.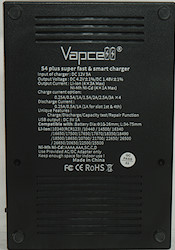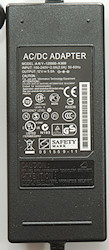 Both charger and power supply has easy readable markings on the bottom.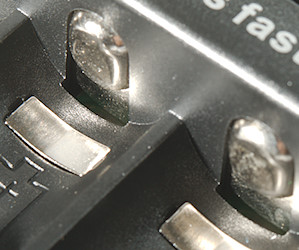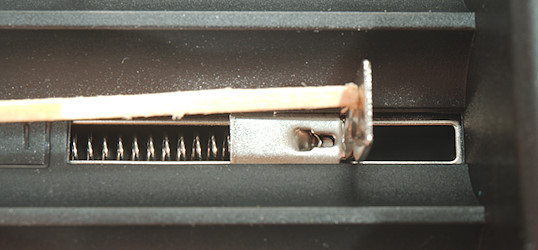 The slots uses the classical slider construction and it works fine.
The slots can work from 32.5mm to 76.9mm. This means that it will handle all protected 18650, 21700 and 26650 cells.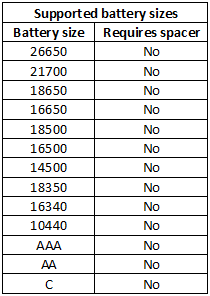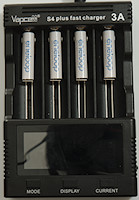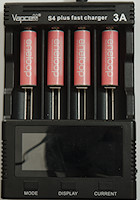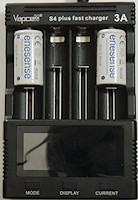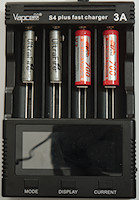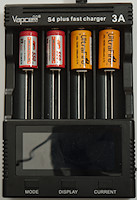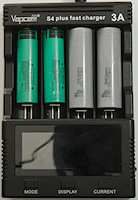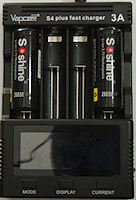 Measurements
Contents
Charge LiIon
Charge NiMH
Discharge LiIon
Discharge NiMH
Auto LiIon & NiMH
Cap Test LiIon & NiMH
Repair LiIon & NiMH
Internal resistance measurement
USB output
Power consumption when idle is 0.45 watt, the power supply alone is 0.15 watt.
Display turns off after 25 seconds without button presses
There is no charge done indication, it is necessary to press a button to see status.
When not powered the charger will drain LiIon batteries with 2.2mA
When not powered the charger will drain NiMH batteries with 0.4mA
When powered the charger will charge a full LiIon battery with about 0.5mA
Charger will not restart if battery voltage drops.
Charger will restart charging after power loss, or battery insertion.
Below 0.4V the charger reports error.
Up to 1.8V the charger assumes NiMH
Between 1.8V and 2.2V the charger will not detect a battery.
Above 2.2V the charger assumes LiIon
Below 3.0V the charger will use 200mA charge current for LiIon
At low voltages the meter shows 0.80V
Between 0.9V and 1.5V the meter is within 0.01V
Between 2.2V and 4.2V the meter is within 0.01V
In NiMH the voltmeter is limited to 1.53V
In LiIon the voltmeter is limited to 4.20V
Voltmeter do not update when charging is finished.

Charge LiIon

Charge support 0.25A, 0.5A, 1A, 1.5A, 2A, 2.5A and 3A charge rates for LiIon.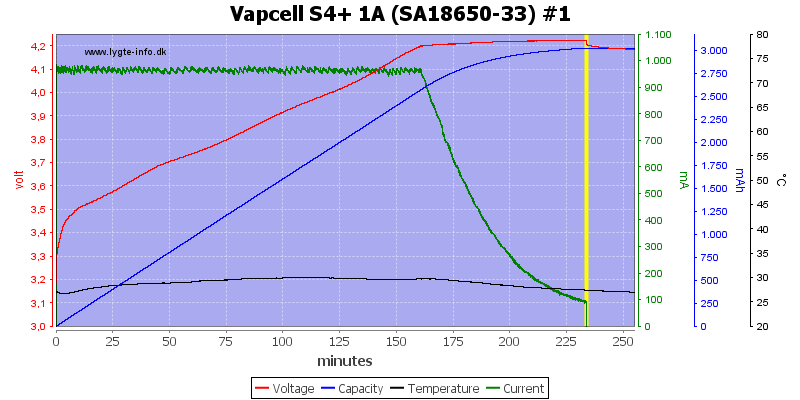 The charger use a very nice CC/CV charge current with a termination current of abut 100mA.
Display shows 3082mAh 11.09Wh 54mOhm 3:54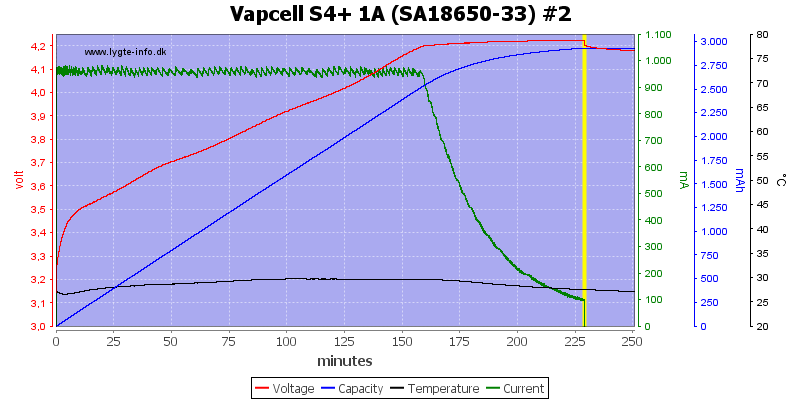 Display shows 3022mAh 10.87Wh 141mOhm 3:49




Display shows 3068mAh 11.04Wh 76mOhm 3:57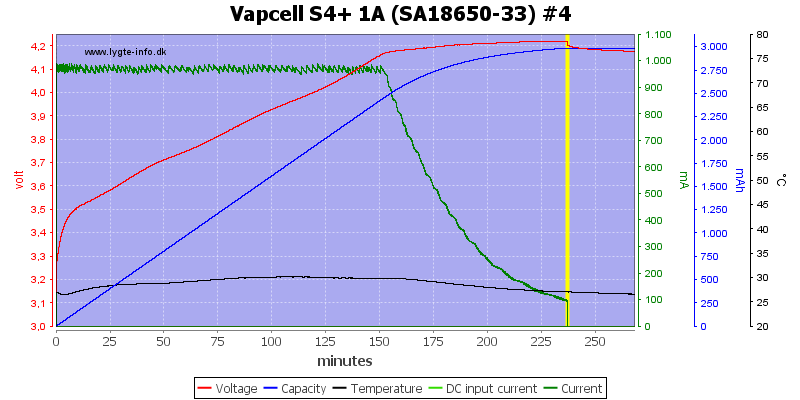 All the four slots looks similar.
Display shows 3055mAh 10.98Wh 75mOhm 3:57




Display shows 2550mAh 9.18Wh 108mOhm 3:23




Display shows 2736mAh 9.84Wh 87mOhm 3:47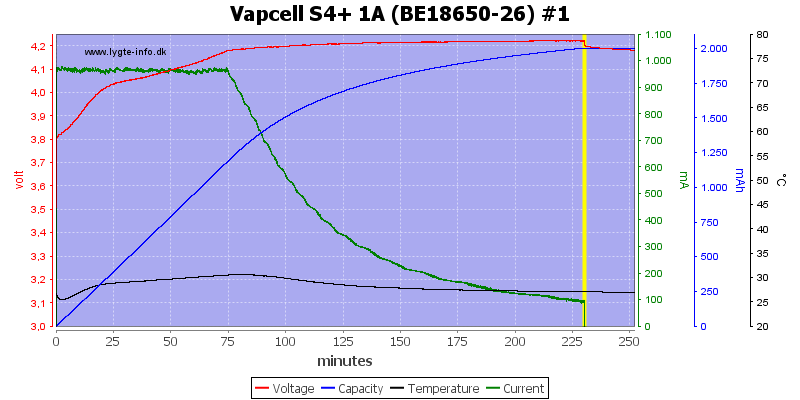 Other capacities also looks similar.
Display shows 2051mAh 7.38Wh 148mOhm 3:50




At 0.5A the terminations current is also 100mA.
Display shows 3198mAh 11.51Wh 76mOhm 6:58




This works with the 14500 cell.
Display shows 720mAh 2.61Wh 267mOhm 1:49




The lowest charge current is 0.25A and it still maintains the 100mA termination current, a lower current would have been nice.




The 2A curve is fine.
Display shows 2807mAh 10.10Wh 72mOhm 1:42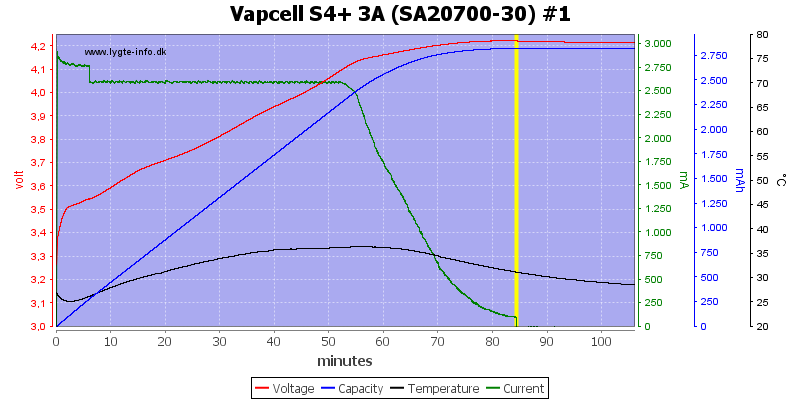 The 3A is also fine, but I wonder about the drop in current at the start, this means the effective charge rate is a bit below 3A.
Display shows 3049mAh 10.97Wh 37mOhm 1:24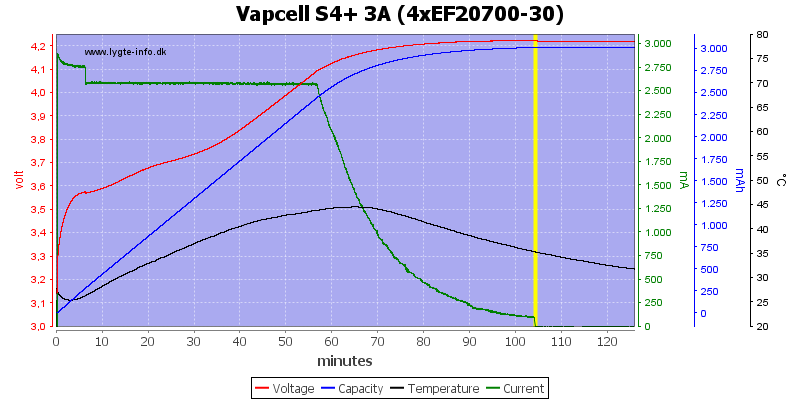 With four batteries the charger works the same way and with the same current drop.
Display shows 3070mAh 11.05Wh 45mOhm 1:38
Display shows 3067mAh 11.04Wh 30mOhm 1:25
Display shows 2965mAh 10.67Wh 46mOhm 1:14
Display shows 2898mAh 10.42Wh 42mOhm 1:10




With my own 12V power supply I can see that it draws about 4.5A while charging 4 batteries at 3A.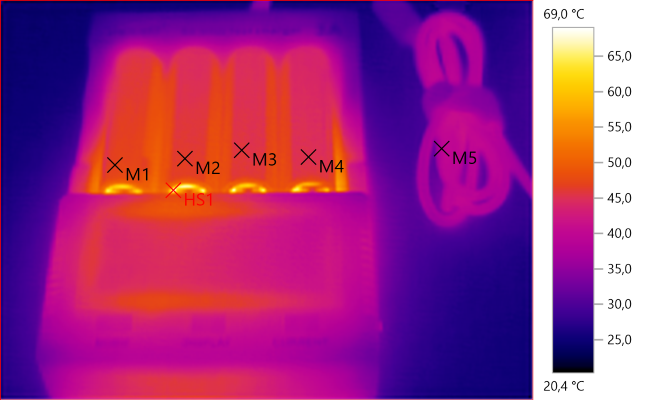 M1: 47.1°C, M2: 46.4°C, M3: 45.9°C, M4: 45.1°C, M5: 38.9°C, HS1: 69.0°C
At 3A the batteries gets warm, but not too warm. The cable also heats up a bit, but nothing problematic.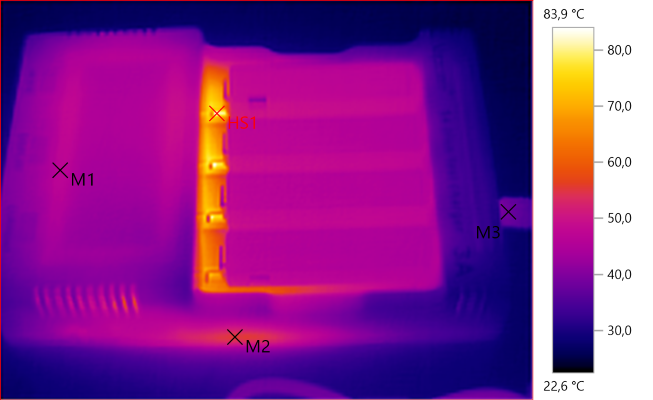 M1: 46.9°C, M2: 55.3°C, M3: 38.1°C, HS1: 83.9°C
The electronic do get a bit warm, but 85°C is acceptable for power electronic.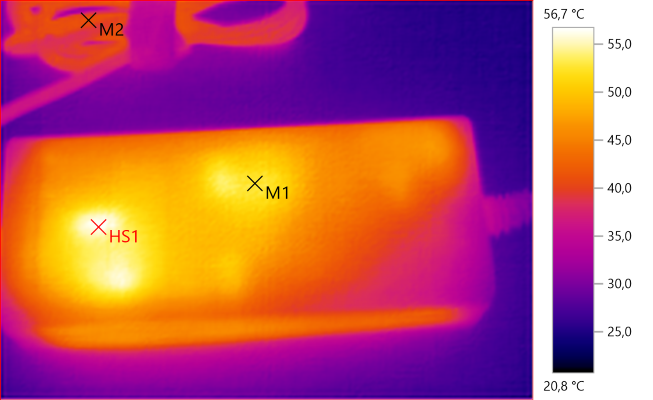 M1: 52.7°C, M2: 41.2°C, HS1: 56.7°C





The charger is slow to start, because it waits for user input.



Charge NiMH

Charge support 0.25A, 0.5A and 1A charge rates for NiMH.




The NiMH charging looks like a -dv/dt termination and it is fairly fast. There is a low level trickle charge.
Display shows 1863mAh 2.23Wh 88mOhm 2:18




Display shows 1874mAh 2.25Wh 76mOhm 2:19




Display shows 1862mAh 2.23Wh 160mOhm 2:17




The other slots shows a similar termination.
Display shows 1932mAh 2.31Wh 70mOhm 2:23




Display shows 2348mAh 2.81Wh 109mOhm




Display shows 2397mAh 2.87Wh 72mOhm 2:57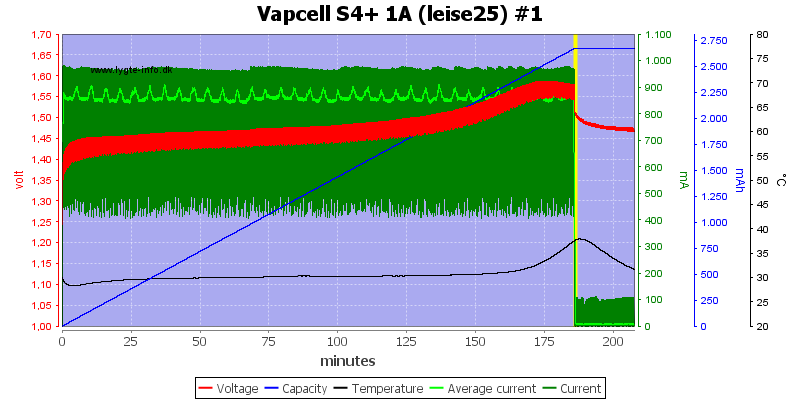 The 3 high capacity cells also has a nice -dv/dt termination.
Display shows 2512mAh 3.01Wh 90mOhm 3:06




At 0.5A it also terminates nicely.
Display shows 2051mAh 2.46Wh 81mOhm 5:04




Here with a AAA cell.
Display shows 934mAh 0.88Wh 138mOhm 1:48




At 0.25A charge current a -dv/dt termination will not work for a AA cell. The charger has a backup termination that kicks in after some time (Very nice).
Display shows 1987Ah 2.38Wh 78mOhm 9:49




A full cell termination in about 15 minutes, that is a good speed for a -dv/dt termination.
Display shows 202mAh 0.24Wh 55mOhm 0:14




Charging four NiMH at a time is no problem.
Display shows 1938mAh 2.32Wh 84mOhm 2:23
Display shows 1918mAh 2.30Wh 79mOhm 2:22
Display shows 1989mAh 2.38Wh 117mOhm 2:27
Display shows 1892mAh 2.27Wh 76mOhm 2:28




The current from 12V is about 0.8A while doing it.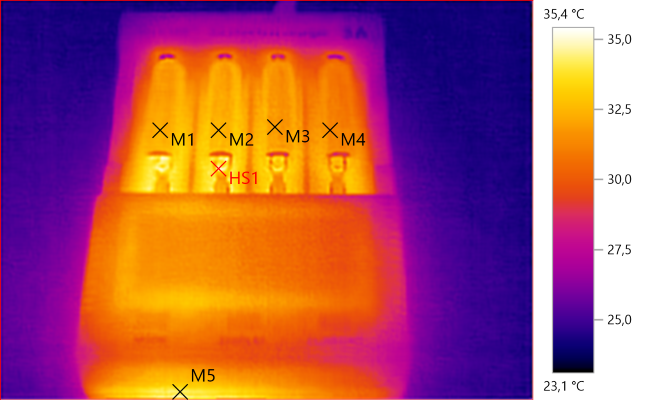 M1: 32.3°C, M2: 32.5°C, M3: 31.9°C, M4: 31.3°C, M5: 34.2°C, HS1: 35.4°C
There is very little heat at these low charge rates (Low for this charger).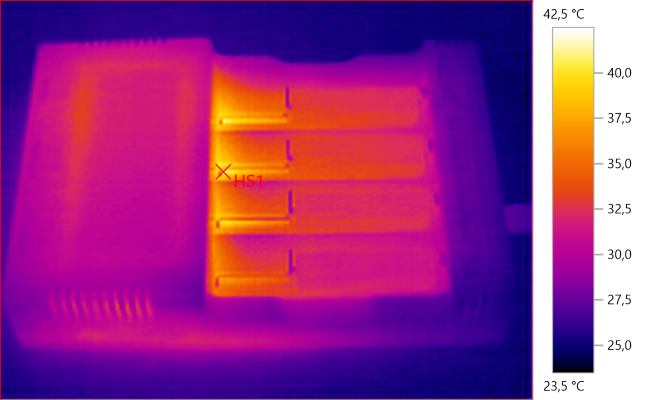 HS1: 42.5°C





The same slow startup as with LiIon. As usually the charger turns current off to measure voltage.





The trickle charge is about 0.12A independent of selected charge current, it is a 1.4 second pulse every 20 second, giving an average 8.4mA trickle current.



Discharge LiIon

Discharge support 0.25A, 0.5A, 1A discharge rates for LiIon, 1A is only supported in slot #1 and #4. Current regulation is real regulation, not PWM.




The charger will discharge down to about 2.6V while measuring capacity and energy.
Display shows 3153mAh 11.34Wh 63mOhm 3:22




This slot only support up to 0.5A discharge.
Display shows 3115mAh 11.18Wh 88mOhm 6:20




Display shows 3075mAh 10.90Wh 184mOhm 6:18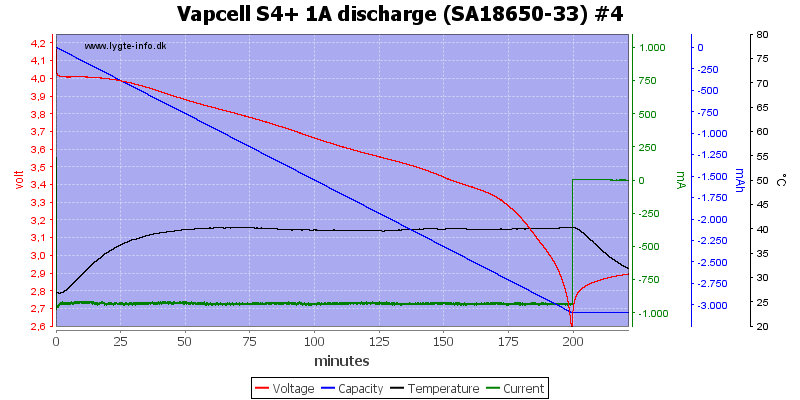 Except for current settings the slots are similar.
Display shows 3142mAh 11.22Wh 66mOhm 3:20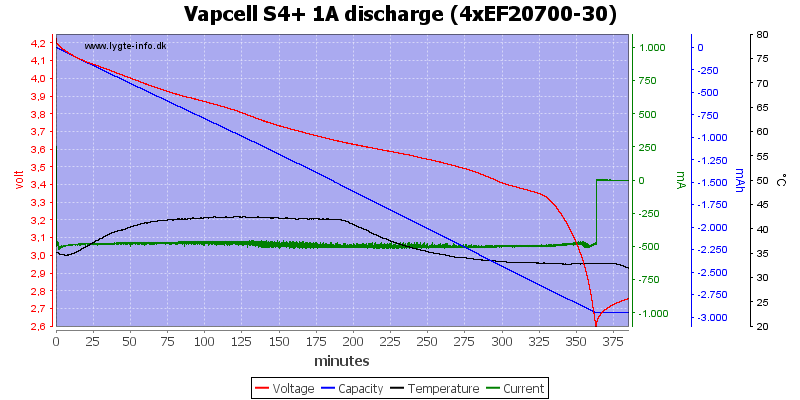 During discharge my logging was connected to slot #2, on the temperature curve it is easy to see when the two 1A discharges are finished.
Display shows 3086mAh 11.11Wh 16mOhm 3:18
Display shows 2982mAh 10.71Wh 24mOhm 6:00
Display shows 3062mAh 10.85Wh 19mOhm 6:12
Display shows 2891mAh 10.32Wh 16mOhm 3:04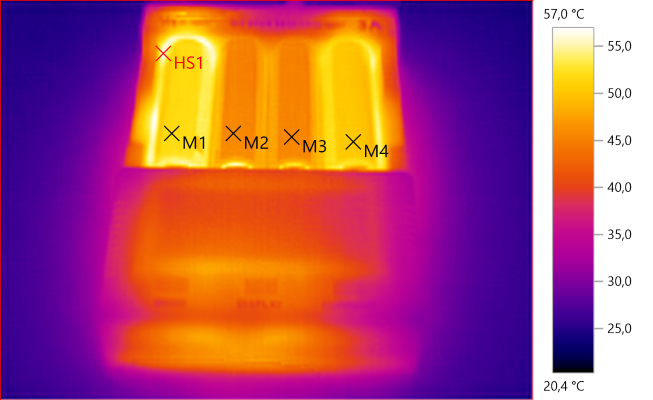 M1: 51.8°C, M2: 45.7°C, M3: 45.7°C, M4: 50.4°C, HS1: 57.0°C
During discharge there will be a lot of heat.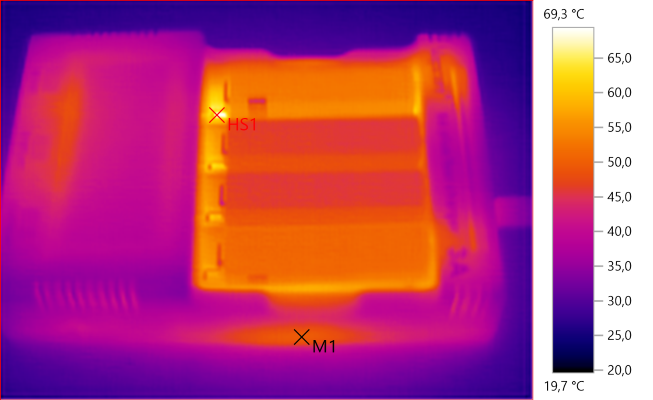 M1: 49.5°C, HS1: 69.3°C



Discharge NiMH

Discharge support 0.25A, 0.5A, 1A discharge rates for NiMH, 1A is only supported in slot #1 and #4. Current regulation is real regulation, not PWM.




The NiMH discharge goes down to about 0.9V.
Display shows 1534mAh 1.76h 160mOhm 1:38




Display shows 1787mAh 2.14h 90mOhm 3:36




Display shows 1799mAh 2.16h 55mOhm 3:39




Display shows 1777mAh 2.15h 51mOhm 1:53




I measured on slot #2 and again it is easy to see when slot #1 6 ¤4 was finished on the temperature.
Display shows 1847mAh 2.12h 81mOhm 1:58
Display shows 1873mAh 2.26h 45mOhm 3:49
Display shows 1883mAh 2.27h 61mOhm 3:49
Display shows 1841mAh 2.23h 37mOhm 1:57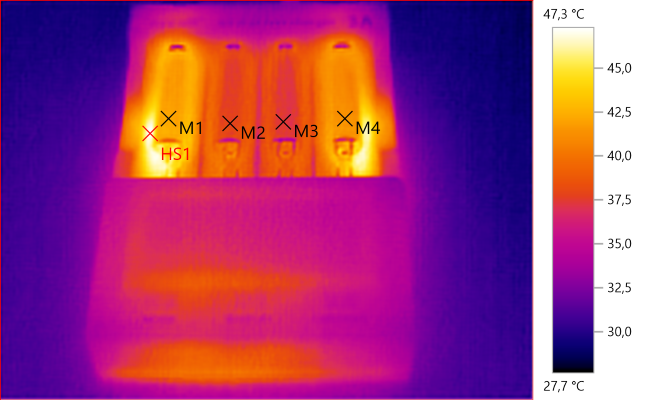 M1: 42.3°C, M2: 37.9°C, M3: 37.5°C, M4: 41.5°C, HS1: 47.3°C
There is also some heat when discharging NiMH, but it is much less than for LiIon.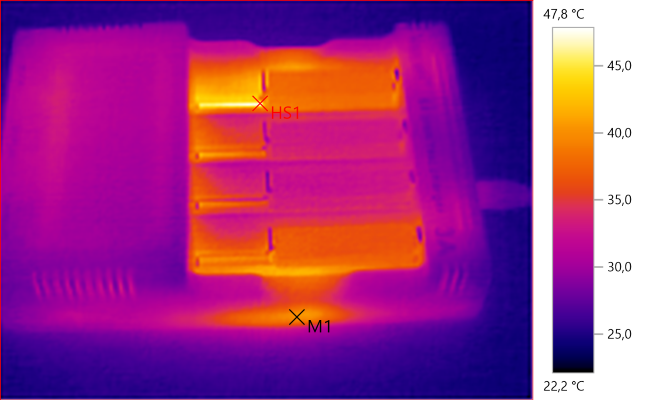 M1: 40.1°C, HS1: 47.8°C



Auto LiIon & NiMH

I did not test much in auto mode, but here are a few curves. It looks like the charger uses the same current settings in auto as can be manually selected.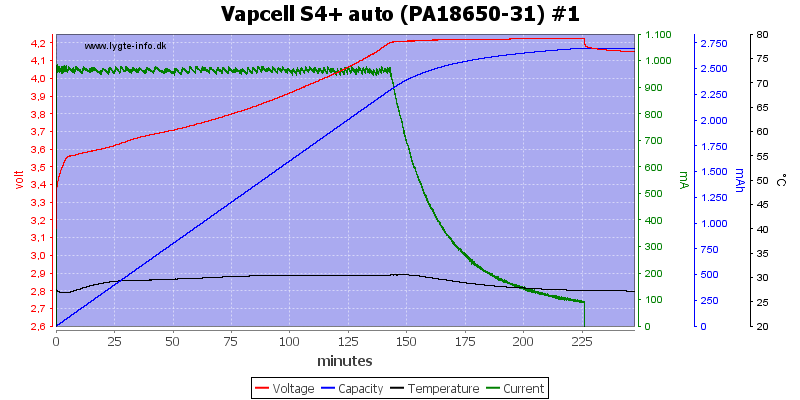 Display shows 2745mAh 9.88h 73mOhm 3:46




Display shows 2960mAh 10.68h 55mOhm 2:13




A old cell with high internal resistance, the charger drops to 0.25A
Display shows 665mAh 2.39h 129mOhm 2:52




Display shows 2038mAh 2.44h 97mOhm 5:02




This NiMH is also a old cell with fairly high internal resistance, again I get 0.25A charging current and with a good termination.
Display shows 2452mAh 2.94h 145mOhm 12:00



Cap Test LiIon & NiMH

Testing consist of a charge, a discharge and a final charge, the display shows the result from the discharge. The user select the charge current in manual mode, but the charger always select the discharge current.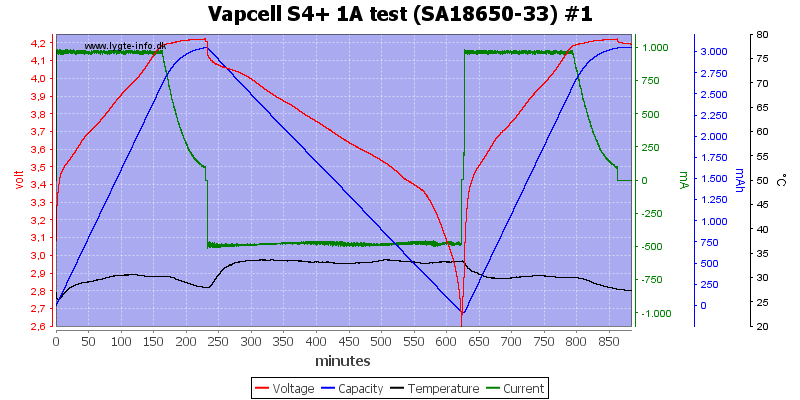 Display shows 3142mAh 11731 61mOhm 14:24




The battery is only charged halfway after the test?
Display shows 1920mAh 2.30h 69mOhm 8:11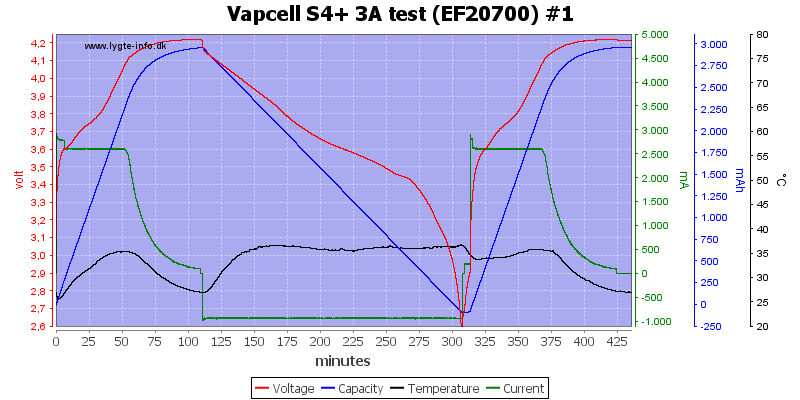 One slot #1 & #4 the 1A discharge may be used during a test.



Repair LiIon & NiMH

Repair runs 3 charges and 3 discharges, this means batteries ends up discharged. This mode do not allow selection of current.




Display shows 3125mAh 11.32h 76mOhm 32:57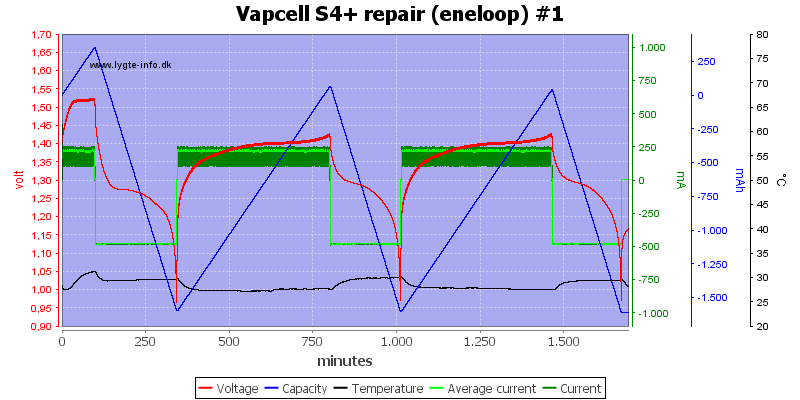 Display shows 1648mAh 1.97h 46mOhm 13:22



Internal resistance measurement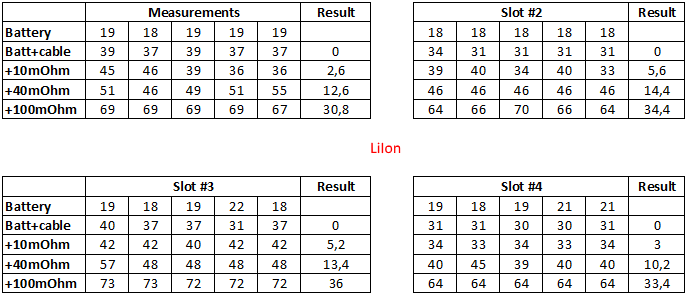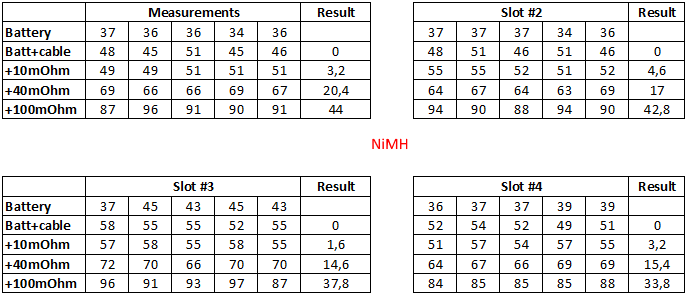 The internal resistance values are only about half of actual resistance, but they are fairly consistent.

How the above test is done and how to read the schema



USB output
When not powered the charger will drain LiIon batteries with 2.3mA (Display off)
When display is on the charger will drain LiIon batteries with 64mA (Total for all loaded batteries)
MODE or CURRENT button will turn display and USB on
USB output is coded as Apple 1A
When power is connected, USB output is forced off.
USB output will turn off when loaded with less than 150mA.
Automatic turn off was 10 seconds unloaded and 60 seconds just below 150mA
USB output will automatic turn on when something is connected and is very sensitive.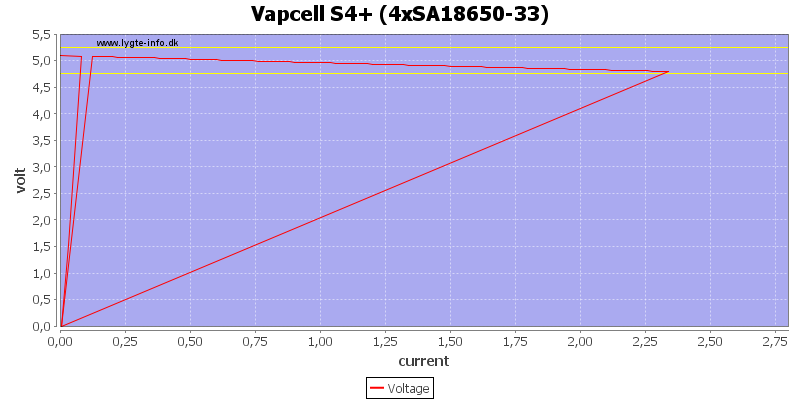 USB output is rated for 1A, but as can be seen above it can deliver about 2.3A (The short off was from automatic turnoff, until I hit the MODE button to turn on again).




The USB output handles both 0.5A and 1A output nicely until the battery is empty at about 2.75V




With four batteries the runtime is a bit above 4 times as long. With the 10ohm load it turns the output off/on a couple of times when the battery is empty.





There is 10mV rms and 136mVpp noise.





There is 15mV rms and 168mVpp noise. This is very good values.


The chargers power supply passed the 2830 volt and 4242 volt test, this means it is it is fairly safe.






Conclusion



This charger is fairly advanced and versatile. It can charge LiIon from 10440 to 21700 and 26650 and charge high current batteries very fast. With NiMH it worked perfectly for charging. It can also discharge, test batteries and repair batteries, but there are a few inconvenience in some of these modes. A slide switch is used to select between manual or automatic current selection, I like this solution.
The USB output uses a old Apple coding and not the new standard DCP coding (This may prevent some phones from charging), it works fine and can easily deliver the rated 1A.
I found one error: The internal resistance calculation is wrong.
And a major inconvenience: It is not possible to see when the charger is done, without pressing a button (It emits a discrete beep when done).

I will rate it as a good charger for just about any size batteries. I am not a fan of automatic current selection and like the switch to disable it.





Notes



The charger was supplied by a Vapcell for review.

Here is an explanation on how I did the above charge curves: How do I test a charger
Read more about how I test USB power supplies/charger