Xtar PB2S Charger & power bank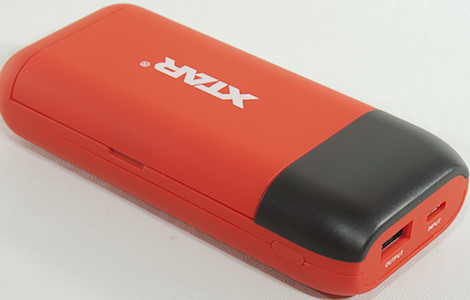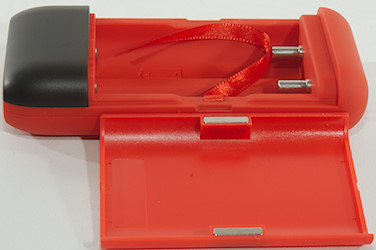 This is a 18650/21700 LiIon charger and power bank from Xtar with support for QC.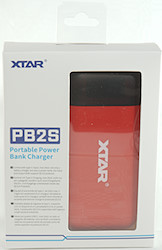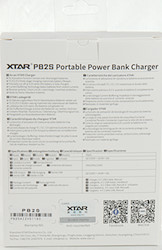 It arrived in a white cardboard box with specification on it.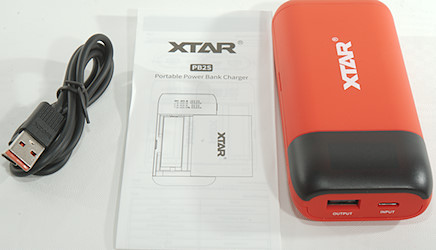 The box contained the charger, a usb cable (A to C) and a instruction sheet.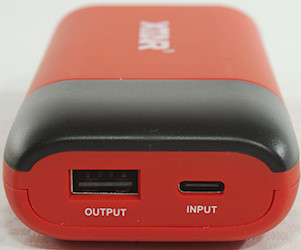 The charger is usb powered with a USB-C input and a USB-A output for the power bank function. With the supplied cable it can be charger from a USB-A charger and charge a phone that uses USB-C input. What is not specified is that the USB-C input can also works as a 5V output (With USB-C direction can be automatic selected). On some PB2S the USB-C is marked "in/out".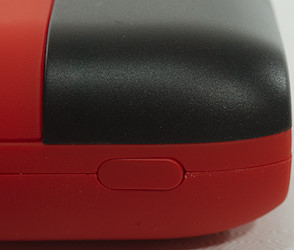 This button is can be used to turn the power bank on and to change between different information on the display. When used as a power bank the display can be turned off by holding the button down.
Holding the button down (instead of a short press) to turn the power bank on will enter low current mode, i.e. disable automatic power off when not loaded.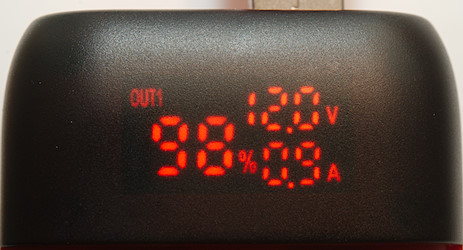 Default display, here I am using QC at 12V.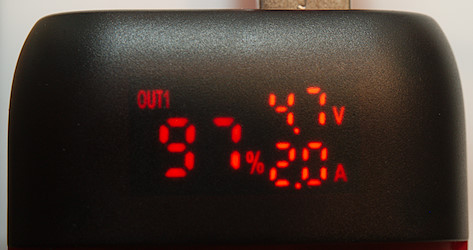 And 5V, I am loading with above 2A.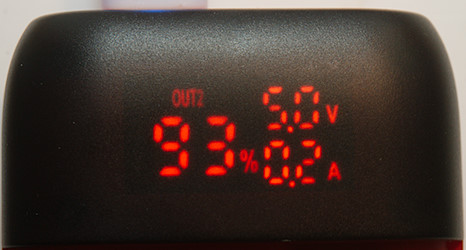 Here I am using the USB-C for output (OUT2).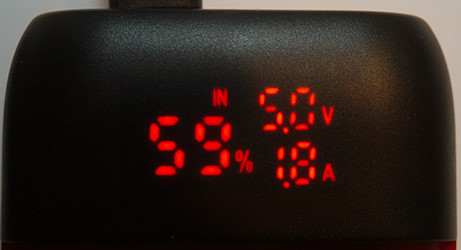 Charging, display shows input voltage and current.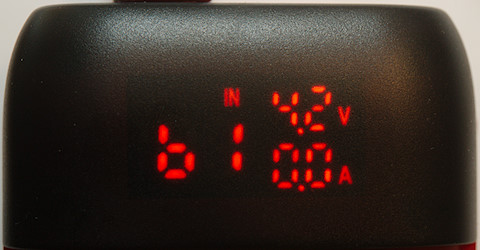 First battery (B1) is full.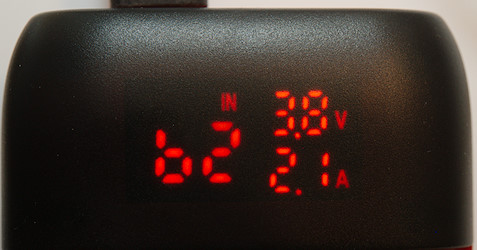 Second battery (B2) is charging with 2.1A.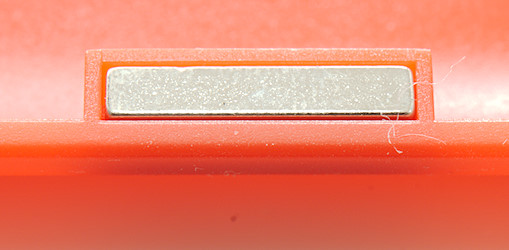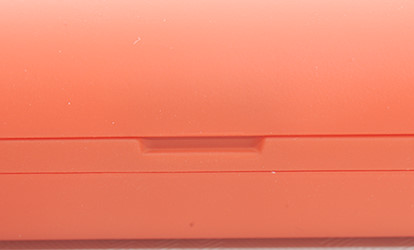 The lid uses magnets, this makes it fairly easy to open when you stick you nail into a small slot. The magnets are strong enough that you can easily lift the box in the lid, when it is filled with batteries.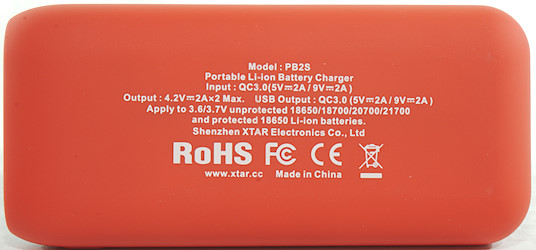 The specifications are listed on the bottom, but are not fully correct, the box can also deliver QC 12V output, but has trouble maintaining that voltage when loaded, the USB-C connector can supply 5V.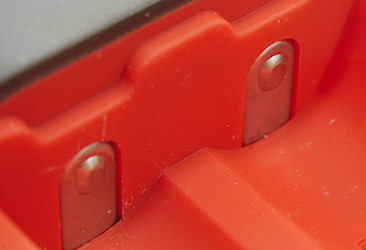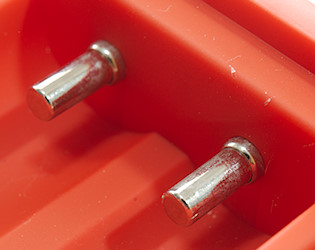 The slots are only designed for 18650, 20700 and 21700. The negative end is spring loaded and handles lengths from 63mm to 71.5mm.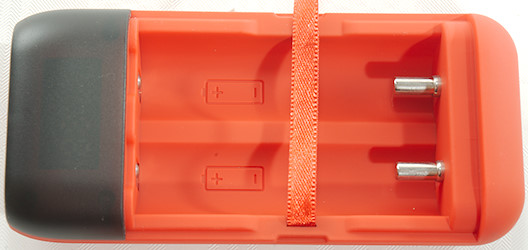 There is a strip to put below the batteries, this makes it easy to get the batteries out.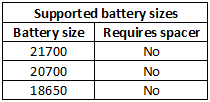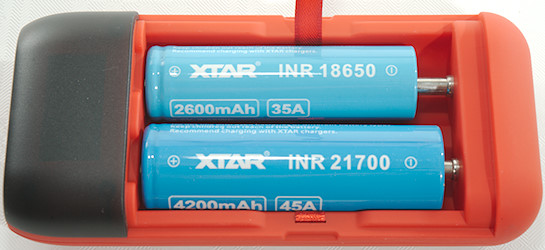 Xtar gave me two batteries, I can use them here to show the battery space, but with only one of each I cannot test them.





Measurements



Power consumption from USB when idle with no batteries is 37mA with display on.
Display uses about 50mA from the batteries when on and no external power is connected.
Will charge one battery with up to 2.5A
Will discharge a full battery with less than 0.1mA when powered.
Will discharge a full battery with about 0.1mA when not powered, but has a peak of 5mA at 2.4V
Below 0.6V the charger will not charge
Displayed charge current is within 0.2A.
Displayed battery voltage is within 0.2V.
The charger will only increase QC voltage when it needs the power.
Will not always restart charging if voltage drops.
Will restart charging if battery is inserted or power cycled.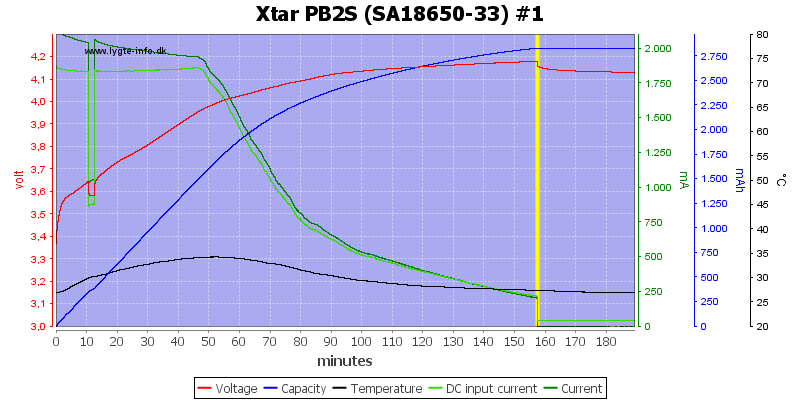 The charger uses a CC/CV charge curve and it looks like it do some sort of test after 10 minutes.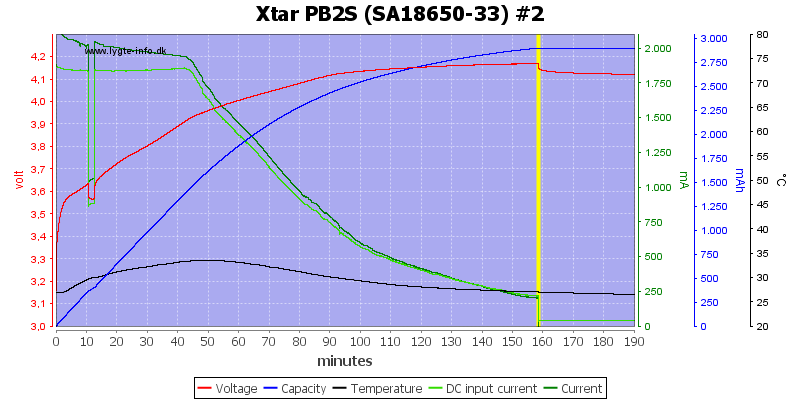 The charger generally starts at a fairly high current, this may be fine for 21700 and high current 18650, but it not ideal for high capacity 18650.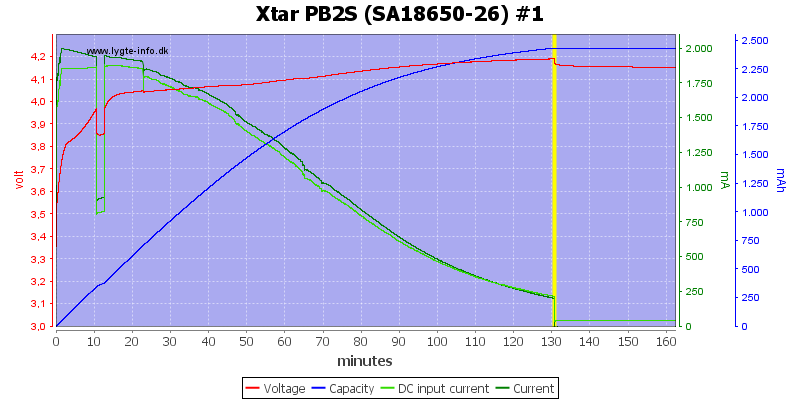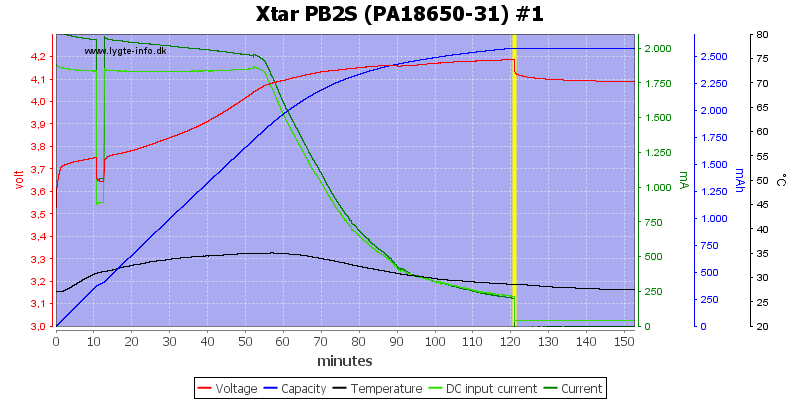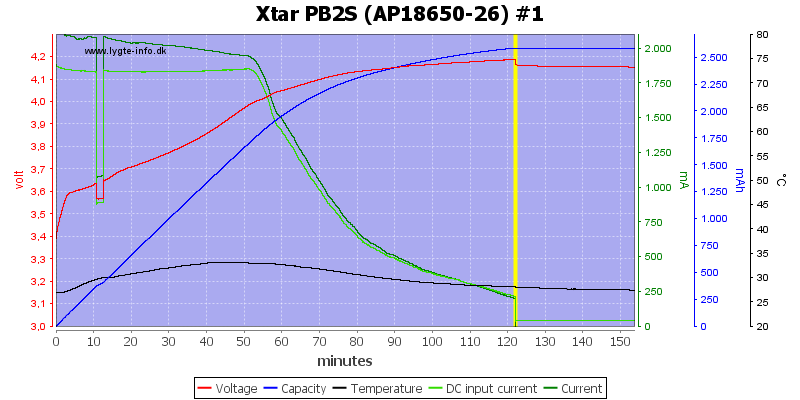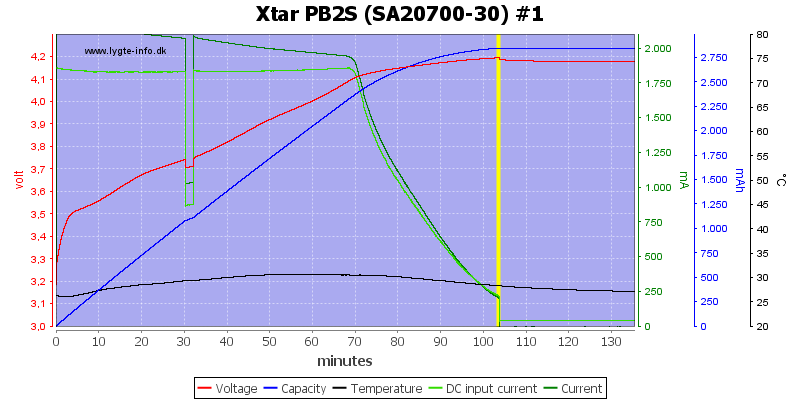 There is not much to say about the charging, it works nicely for all tested batteries.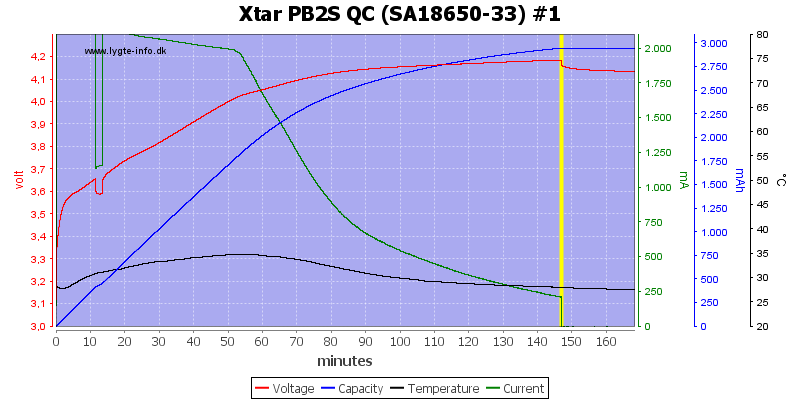 Using a QC charger and a single battery did not change anything.




Adding 0.5ohm resistance in series with the power supply to simulate a long cable or weak supply shows that the charger will reduce usb and charge current, but the charging works fine.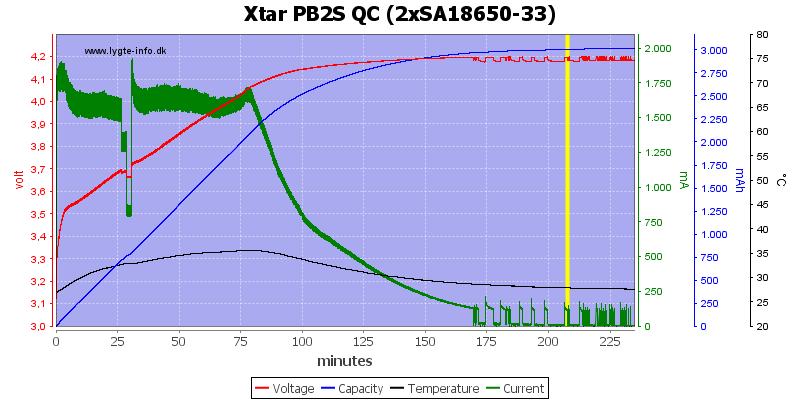 With two batteries the charger increased the input QC voltage to 9V and maintained a high charge current.
The charger do a couple of on/off cycles at the end of charging.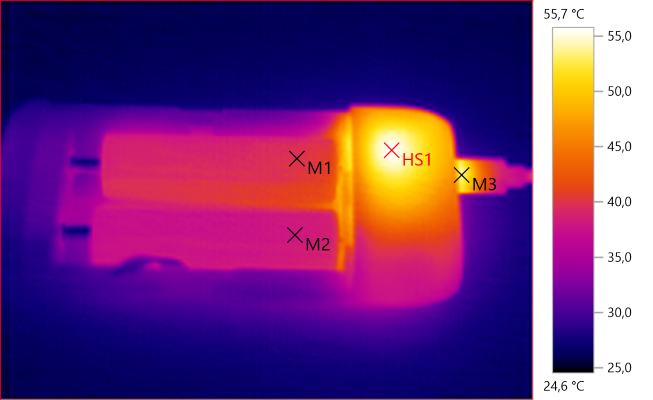 M1: 40.0°C, M2: 38.1°C, M3: 53.8°C, HS1: 55.7°C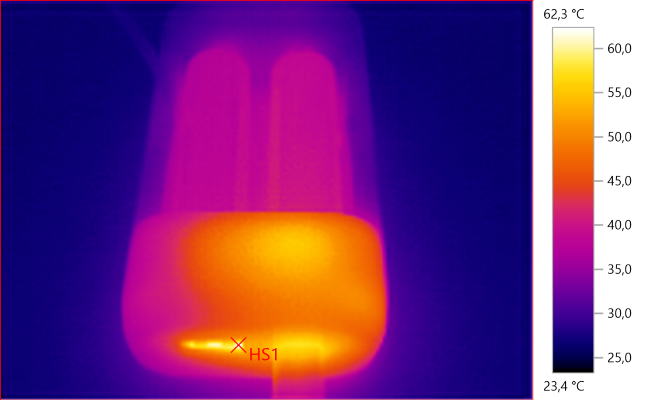 HS1: 62.3°C
There is some electronic inside the charger that gets a bit warm.





The charger starts in about a second.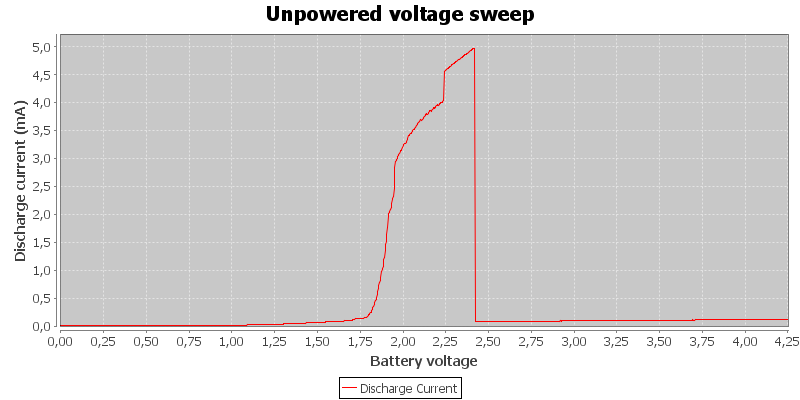 The charger has a very low discharge current when not used, except if the batteries are completely empty, then it will drain them too much. This means it is a bad idea to leave batteries in the charger/power bank when not used.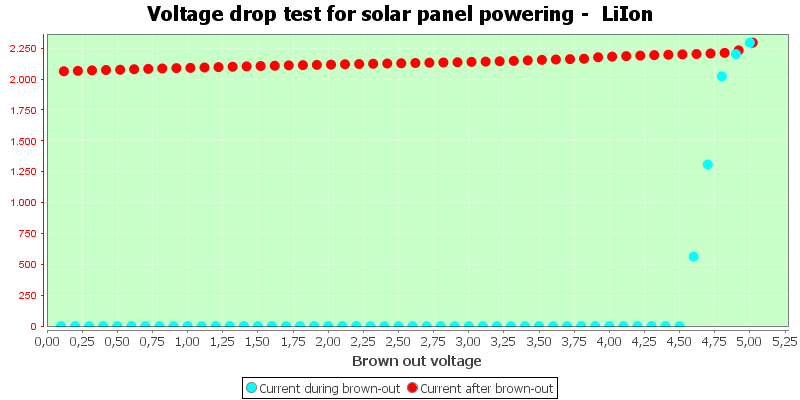 This charger works fine with a unstable input voltage.





Power bank
Will discharge a full battery with about 0.1mA when not powered, but has a peak of 5mA at 2.4V
Display uses about 50mA from the batteries when on and no external power is connected.
USB output turns off after 90 seconds with load below 50mA
Low power mode do not turn off when current is below 50mA and it will slowly flash the display.
In low current mode the power bank uses 23mA average (15mA to 52mA) for its electronic.
Supported coding on USB-A: Apple 2.4A, DCP, QC3, Samsung-AFC, Huawei-FCP
Supported coding on USB-C: Only resistor coding with 5V
Higher voltages are disabled when USB-C output is active.
It looks like QC and USB-C is sharing a single voltage converter.
USB output is partially off when charging (Voltage varies, but is well below 5V when loaded)
The two batteries are handled independently.
Minimum QC3 voltage is 5V
Weight: 86g without batteries (2x18650 batteries will add about 90g, 2x21700 is 140g).
Size: 125 x 58 x 27.7mm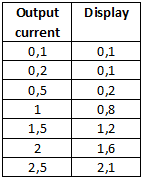 The output current display is not very well calibrated, but it gives an idea about the current consumption or the connected device.
The output voltage display is also be too low with heavy loads on the output.




The power bank can easily deliver the rated 2A with fresh batteries and it has overload protection around 2.7A.




At 9V it can "only" deliver about 1.7A, not the rated 2A.




At 12V the output is down to 1.2A, but as can be seen below the output is depend on battery charge state.




USB-C can deliver about the same current as USB-A (QC) output on 5V.




With a single 18650 battery the charger can easily deliver 0.5A for nearly 4 hours. It shunts down the output when the battery is down to 3V




Using two batteries the time is nearly 8 hours.




It can even deliver 2A from one battery, but only for about 45 minutes. The output voltage is stable, there is no drop when the battery is nearly empty.




With two 18650 batteries it will run for nearly two hours with 2A output.




QC9V is also stable until the battery is nearly empty.




The box can also do QC12V, but here the converter has some trouble with a 10ohm (1.2A @ 12V) load, maybe that is the reason it is not listed in the specifications. It maintains the voltage above 11V, this means it will work with most (if not all) devices requiring QC12V and not using more than 1.2A.




USB-C output at 2A works fine.





There is 8mV rms noise and 76mVpp noise.





There is 24mV rms noise and 248mVpp noise.





There is 24mV rms noise and 262mVpp noise.





There is 39mV rms noise and 307mVpp noise.





There is 71mV rms noise and 556mVpp noise.







Conclusion



This is a very nice upgrade to the PB2 charger and power bank with QC and USB-C support.
I like the size of the charger and the magnetic lid is easy to open. The charging looks good, but batteries must be able to handle 2A charge current. The voltage and current values are not that precise, but good enough to give an idea.

The power bank can deliver a fair amount of power, but not the full QC2/QC3 18W, more like 15W, the coding is fairly universal, this means most device will be able to fast charge from it With support for both 18650 and 21700 batteries it is possible to configure it for light weight or high capacity very easily (50g and 3000mAh difference).

I will rate is as a good power bank and charger.





Notes



Review of USB charger

The charger was supplied by XTAR for a review.

Here is an explanation on how I did the above charge curves: How do I test a charger