Status for 2017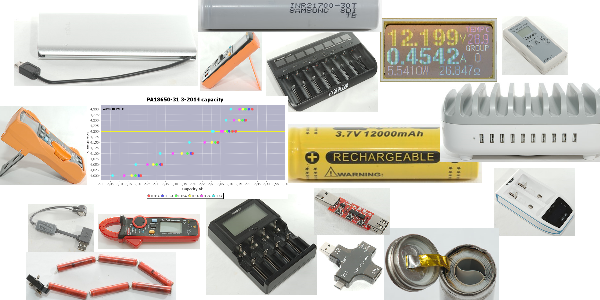 I have published many reviews this year, I believe the total is about 300 and as usual I did not review everything I wanted to review. This means that the total amount of reviews on my website is around 1500. I have collected some highlights from 2017 in this article.

To keep up to date on my reviews it is a good idea to check the "Last additions" section on my front page, it will list the last couple of reviews/test/articles I have done, just below it there might also be information about good offers, coupon codes, etc. for stuff I have just reviewed (When present it will be from the dealer that gave me the review item).

Index
Batteries
Battery chargers
USB chargers
USB test equipment
Digital multimeter reviews
Anything else
What to expect in 2018



Batteries

The biggest news for 2017 is a new battery sizes that are slightly larger than 18650, that is 2 or 3 mm larger diameter and maybe 5mm longer. The sizes are: 20650, 20700 and 21700.
These batteries are not from second tier factories, but from the best factories around, this means premium performance for the size.

Samsung INR21700-30T 3000mAh (Gray)




3000mAh is nothing new, but i did a discharge curve at 40A (I did also try 50A, but that melted part of my equipment).

Vapcell NCR21700 4800mAh (Purple)




4800mAh, that is nearly the same capacity as a 26650 cell, but this high capacity means that the maximum current is a bit limited (I have only tested this rewrap in 2017, but a test of the original will be published at the start of 2018).

The above is only two of the cells, there are many more, I have put them in the 26650 list on my website.

Batteries with ridiculous ratings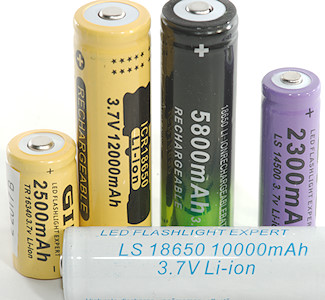 This year I was running out of batteries to test and decided to get a lot of the cheap batteries to test. In addition to the test I also made an article about it.

Aspire INR18350 1300mAh (Black-yellow)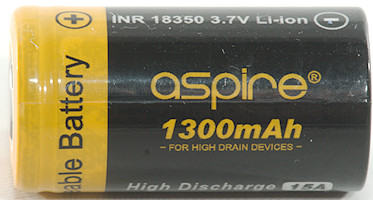 A super 18350, at least compare to anything else on the market. That did not last, I have later see a few other with the same good performance:

Keeppower 18350 1200mAh UH1835P (Black) 2017

UltraFire 18350 1100mAh (Black-red)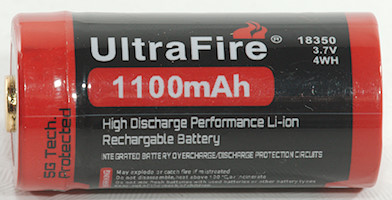 The others are from Keeppower and UltraFire (This is a good battery from UltraFire) and I expect more brands will arrive in 2018.

Vapcell INR18650 2000mAh (Black)




Vapers and their demands for high current has put some special batteries on the market, who would expect to see a 2000mA 18650 in 2017? But this cell can easily deliver 30A:

For AA/AAA batteries I have tested some more, but the technology is mature and no new exiting batteries have shown up.
Sofirn AAA 1800mAh (White-Black)




This battery is only 900mAh, like all other AAA batteries.

For 9V batteries I have added a few more tests and opened a lot of Alkaline and Carbon-Zinc batteries.

I also got time to do a few articles about batteries, in addition to the two I have already included above:

Battery charge termination test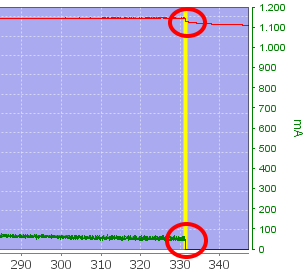 How much do final voltage and termination current matter, I have tested some batteries with a lot of different termination conditions (Voltage and current).

Disassembly of GTL batteries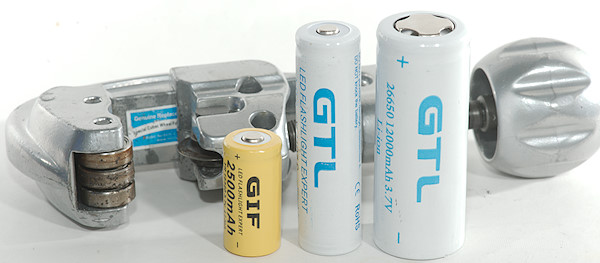 Here I open some of the lightweight LiIon batteries, to see what is inside.




Battery chargers

This year I have tested about 45 chargers for round cells. I have listed a few of the more interesting chargers here, but there are many more. The total list of charger can be found on my website.


Miboxer C2 4000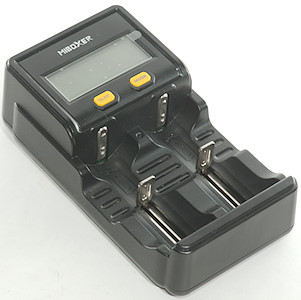 The Miboxer brand has released a lot of chargers that use the cells internal impedance to select charger current and it looks like other brands also will try this. In my opinion the method is not perfect, new cells may be charger with too high current and old cell will take a long time to charger

Miboxer C4-12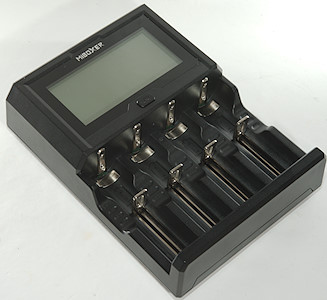 Another trend is higher charging current, in this charger Miboxer goes up to 3A on all 4 slots.

Xtar Over 4 slim (O4S)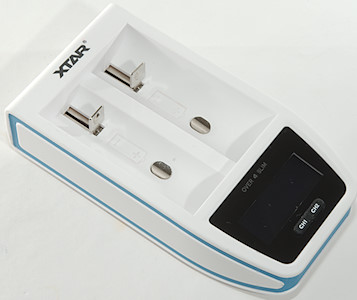 And Xtar went all the way to 4.1A, but only on two slots.

Nitecore SC4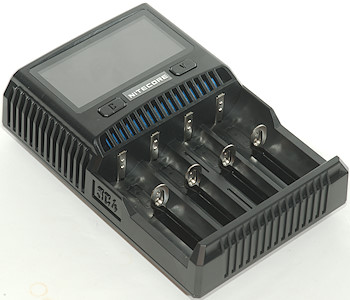 Nitecore also wanted to have a high current charger, this charger can do 3A in one slot, but when charging on all slots the average charger current is 1A (Display shows 2A).

Folomov A1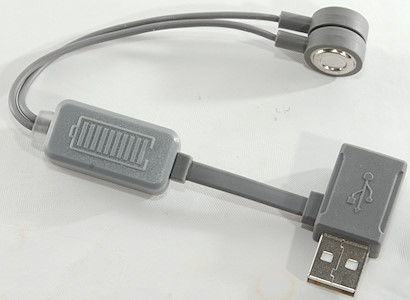 Folomov has done a more minimalist charger and power bank.

In addition to charger I also got a meter to measure internal resistance

Vapcell Internal Resistance Tester YR1030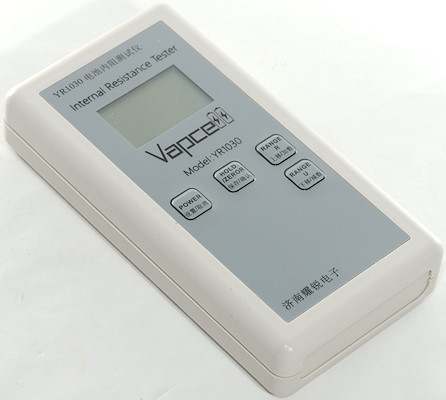 This meter do not work like chargers, but uses a 1000Hz AC and 4 terminals to test the batteries, this is the same way the values in the datasheet are measured. The tester can also be used as a general low resistance meter.


Battery tester ZTS Mini-MBT



Somebody gave me this for testing and looking inside.

Index of reviewed round cell chargers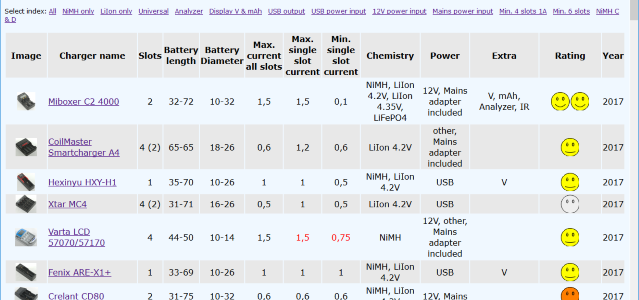 I got time to make an index of all (or nearly all) chargers I have reviewed where it is possible to select chargers based on a couple of parameters.


USB chargers

I tested 44 mains powered usb chargers and 5 car usb charges this year and about 10 power banks, in addition to some usb meters and other stuff. For a complete list see my usb charger index (With skull ratings) or my usb index.
Usb-C has not really shown up yet, there has only been a few devices with support for it.

Tronsmart C24 Dual USB compact car charger



Car charges has gone really small, now they can be difficult to remove from the car again. This is two outputs, each with 2.4A and automatic coding.

Fury Universal PSU Doctor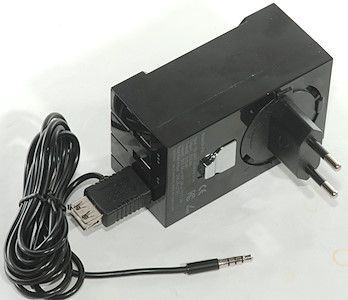 Somebody combined a usb charger and usb meter. This can be a good idea, but there the output is a audio jack to a mobile phone (I would have preferred Bluetooth) and the precision is not very good.

10 port usb charger Ntonpower NUK-10P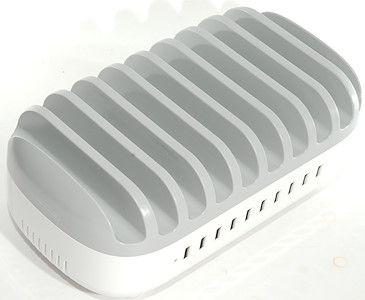 This is the most powerful usb charger I have tested to date, it has 10 ports and can deliver 2.4A on each simultaneous. The strange look is because phones and tablets can be placed on top of it.

justMobile AluCharge 4xUSB 6.4A charger PA-188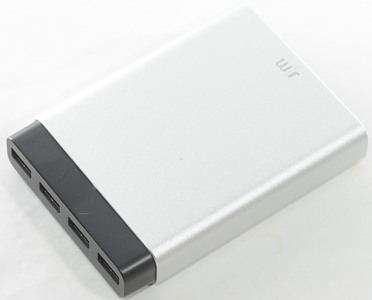 A nicely designed usb charger.

LEORY Wall outlet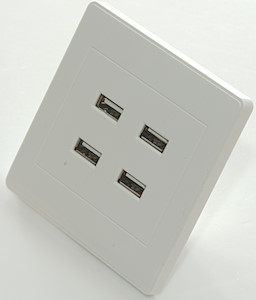 inCharge 2USB Wall Power Outlet



I did also check a few wall outlets with usb power, some good, some bad.





USB test equipment

I have tested a few pieces of usb test equipment this year.

YZXStudio USB meter ZY1271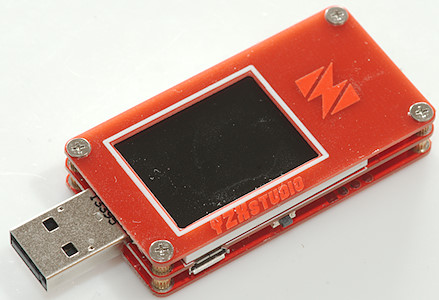 YZX studio makes new versions of their usb meters frequently and they are usual good and precise

QC3.0/2.0 trigger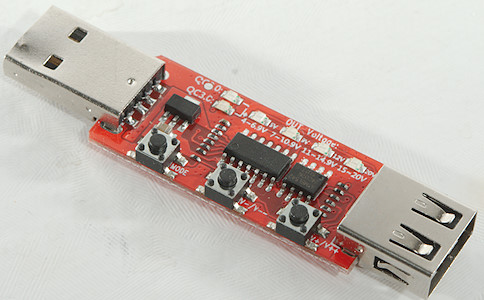 A simple QC trigger where it is possible to solder wires on for low resistance.

USB Load resistor Juwei 2.5-5-10ohm



A "all on one", usb load, usb distributor, light, usb coding, connector conversion. It is not very good and can get very hot (278,9°C).



Digital multimeter reviews

This is a new section I have started on and have already tested 16 meters. The plan is to test one or two meters each month, but here at the start I am closer to one meter each week. I will try to include a wide variety of prices and qualities.

Multimeter (DMM) selection table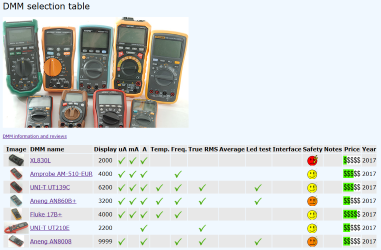 To select a meter use this table, it includes a lot of information, especially if you have a mouse pointer and can be sorted.
For now there is only one table, but later on (When I have tested more meters) I will also make some more specific tables like "Cheap meters", "Good meters", "Top end meters". I have not decided exactly how to split it up yet and am open for suggestions.

DT-830B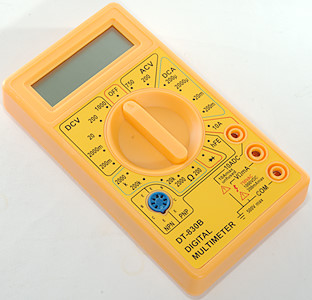 This is probably the cheapest meter I will test.

Aneng AN8009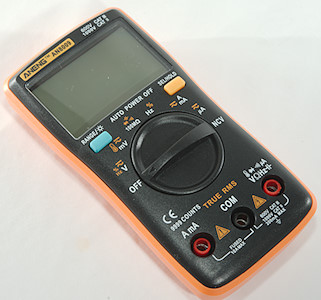 This is a much better low end meter.

Mastech MS8229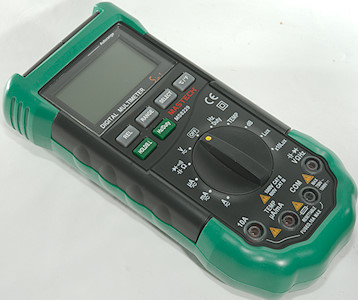 Some DMM's includes lux and sound meters, this really makes them multi.

Fluke 17B+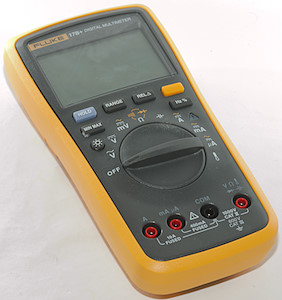 A low end Fluke meter, that is not very low end.




Anything else

I wanted to do more in this category this year and I have, including starting a new category.

Power supply frontend DPH3205 32V/5A with buck/boost converter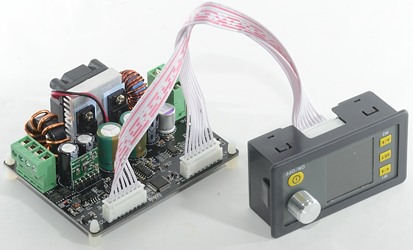 I tested another power supply frontend, this time with a boost/buck converter.

Zhurui Power Recorder PR10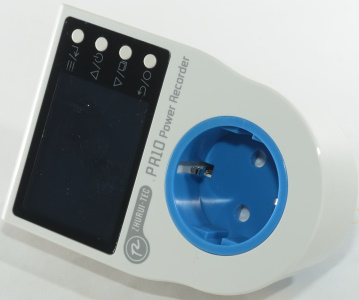 I checked 3 different power meters, this one is the most advanced.

Component tester Multifunction Tester T1



A component tester that is in a box.



What to expect in 2018

I do not expect any major changed in 2018. For now I have a lot of batteries to test, many of them low capacity tool batteries, but also a lot of the new size batteries. Depending on how many new chargers that are introduced during the year, I may have to skip a charger review some weeks. This may also be the case with usb chargers, not because there is a lack of new chargers, but because there is a limit to how many chargers I will buy.
I expect to do some articles about multimeters in 2018 in addition to testing them, these articles will be very basic stuff about multimeters. I will probably also open some batteries during the summer.


To discuss or ask questions about specific reviews they can usual be found on CPF, BLF and fonarevka (Not all reviews are posted everywhere).

Suggestions about what to test are welcome. When sending suggestion remember to include a link to a shop that ships to EU (Denmark). It is also possible to ask dealers/manufactures if they will send stuff for review.