Index of reviewed round cell chargers (Min. 6 slots)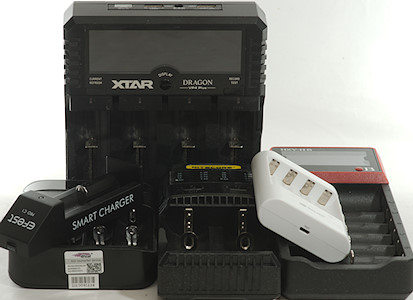 Select index: All NiMH only LiIon only Universal Analyzer Display V & mAh USB output USB power input 12V power input Mains power input Min. 4 slots 1A Min. 6 slots NiMH C & D


Image
Charger name
Slots
Battery
length
Battery
Diameter
Max. current
all slots
Max. single
slot current
Min. single
slot current
Chemistry
Power
Extra
Rating
Year
Vapex VTE8000 8xNiMH charger
8
44-50
10-14
0.5
2
2
NiMH
12V, Mains adapter included
2018
Nitecore Intellicharger i8
8 (4)
28-70
10-32
0.45
1.5
0.5
NiMH, LiIon 4.2V
12V, Mains
USB charger
2018
Sofirn 8 slots AA/AAA
8
44-50
10-14
0.2
0.2
0.14
NiMH
Mains
2018
Japcell BC-800S
8
55-50
10-14
0.3
0.5
0.25
NiMH
12V, Mains adapter included
2018
Efest LUC V6 2017
6 (2)
30-69
10-26
0.68
2
0.68
LiIon 4.2V
12V, Mains adapter included
V, Power Bank
2018
Xtar MC6 II Queen Ant II
6 (2)
31-72
10-26
0.5
0.5
0.5
LiIon 4.2V
other, Mains adapter included
2017
GyrFalcon All-88 2017 (Enova)
8
30-71
10-32
1
1
0.1
NiMH, LiIon 4.2V, LiIon 4.35V, LiFePO4
12V, Mains adapter included
V, LiIon 4.3V
2017
Efest LUC Blu6 2017
6 (2)
26-70
10-26
0.5
2
0.5
LiIon 4.2V
Mains
V, (Bluetooth)
2017
HXY (Hexinyu) HXY-H6
6 (2)
32-73
10-26
1
1
0.5
NiMH, LiIon 4.2V
12V
V
2017
Ikea Storhögen 603.306.50
12
44-50
10-14
0.3
0.3
0.3
NiMH
12V
2017
Xtar MC6 Queen Ant
6 (2)
30-72
10-26
0.5
1
0.5
LiIon 4.2V
2xUSB
2016
E-SYB S6
6 (2)
32-71
10-26
0.5
1
0.35
NiMH, LiIon 4.2V
other, Mains adapter included
2016
GyrFalcon All-88 (Enova)
8 (4)
30-71
10-32
1
1
0.1
NiMH, LiIon 4.2V, LiIon 4.35V, LiFePO4
12V, Mains adapter included
V
2016
Efest LUC Blu6 OLED
6 (2)
32-71
10-26
0.5
2
0.5
LiIon 4.2V
Mains
V, Bluetooth
2016
Enova All-80
8 (4)
32-72
10-32
0.6
0.6
0.6
NiMH, LiIon 4.2V
12V, Mains adapter included
USB charger
2014
Columns
Slots: Number of charger slots in the charger, a second number will specify the number of slots that can handle the maximum battery size.
Battery length: Minimum and maximum length of battery. See note about typical NiMH chargers.
Battery diameter: Minimum and maximum diameter of battery, the min size is the smallest cell that will usual be used in the charger. Not all slots may take the maximum diameter.
Max. current all slots: Maximum slot current with all slots filled
Max. single slot current: Maximum current with one battery in the charger (Two for a few NiMH chargers). If the digits are red the charger cannot charge a single cell.
Min. single slot current: Minimum current with a single battery in the charger. For chargers with adjustable current this will be different from max..
Chemistry: What chemistries the charger supports.

NiMH: The common AA/AAA rechargeable batteries, sometimes also C and D cells
LiIon 4.2V: The common 3.6V/3.7V LiIon cells with a 4.2V charging voltage.
LiFePO4: 3V/3.2V LiIon cells with a 3.6V charging voltage.
LiIon 4.35V: Some brands of LiIon cells must be charged with a higher voltage to reach maximum capacity.

Power: How the charger is powered.

USB: The charger can be powered from usb, either directly or with a supplied cable. A 5V input will not qualify as USB.
12V: The charger can be powered form 12V, this usual means it can be used with a car adapter.
Mains: The charger has a main input socket.
Other: Any other power options than the above will be listed as other.
Mains adapter included: Chargers without mains and usb input usual includes a mains adapter, but not always.

Extra: Other functions the charger can do besides charging.

V: Charger display voltage
mAh: Charger displays how many mAh that is filled into the battery
IR: Measure internal resistance, check the review for how good it is.
USB charger: It has a usb output powered from its power input.
Power bank: It has a usb output powered from batteries.
Analyzer: Is has a discharge function that can measure the capacity (mAh) or batteries.
Bluetooth: Charger has build in bluetooth and can be used with a smartphone app.
PC: Charger can be connected to a PC for data readout and/or control.
9V charger: Charger can charge one or more 9V batteries.
User calibration: The user can calibrate the charger.
External pack charging: The charger can charge some LiIon packs
EGO charger: Charger has a connection for this type of ecig batteries.

Max. discharge current: How high current an analyzer can discharge with, this is only shown when analyzer index is selected.
USB out current: Output current on usb connector, this is only shown when usb output index is selected.
Rating: How I rate the charger, see below.
Year: The year I published the review, this will not always match the year the charger was put on the market.



Ratings



My ratings will not always match the one in the review, this is because I can only use a single rating here, without any comments.

| | |
| --- | --- |
| | Bad, this means completey hopeless. Any charger that significantly overcharge LiIon or fail the safety checks will get this rating |
| | Usable, the charger works, but there are some serious problems |
| | Acceptable, the charger do a decent job |
| | Fairly good, there is a few hassles |
| | Good, everything basically works as it is supposed to |
| | Very good, just about perfect |
| | Something is good, something not, check the review |
| | No rating |






Notes



For a typical NiMH charger the min. current will be for a AAA cell and the two other currents will be for AA cells. Red numbers in the current fields means the slots works in pairs. The size specifications will always be 50-44 and 14-10 (AA is 50x14 and AAA is 44x10). Timer based chargers will always get a low rating

With reviews from 2013 and before battery length may be estimated, not measured.