Index of tested USB power supplies/chargers (1-2 port 2.4A)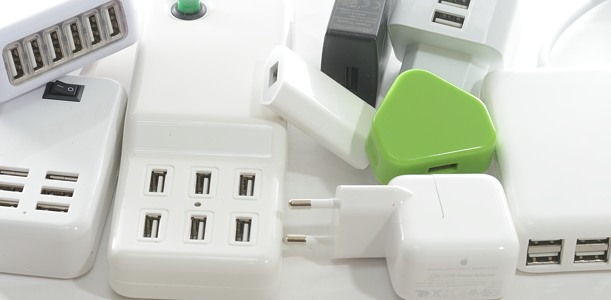 Select index: All 1-2 port 2.4A Min. 3 port 4A Auto Quick Charge Plugable Loose cable Wall mount USB-C PD


Charger name: If the charger has brand name I will use this, for chargers without a brand name I will use something else.
USB ports: How many usb ports the charger has.
Port current: The maximum current that can be drawn from a single port. This is the tested value when it is lower than specified. USB connectors are not rated for more than 3A (This is for 5V output).
PD current: In the PD (USB-C Power Delivery) list there is columns for currents at each voltage.
Total current: Total current the charger can deliver when all ports are used at the same time at 5V output.
Standard: What charger standard the usb outputs are coded for. When multiple standards are listed it will depend on port used.

Apple 0.5A: Not used anymore
Apple 1A: Not used anymore
Apple 2.1A: Charger can deliver 2.1A
Apple 2.4A: Charger can deliver 2.4A
DCP: USB defined standard for 1.5A and more.
QC: Quick Charger, makes it possible to increase voltage to 9V or 12V
PD: USB-C Power delivery, this can have voltages from 5 to 20V and current up to 5A at 20V
Auto: Port contains a chip to automatic select the best standard (Usual Samsung, Apple and DCP).

Noise: The format is rms/pp, lower numbers are best. Values below 30/300 are good, 15/150 very good.
Extra: Charger has some extra functions:

Active display: There is an indication when usb output draws current.
V & A display: The charger has build a usb voltmeter and ammeter.
Mains output: There are mains outputs together with the usb outputs.
Bluetooth audio output: A bluetooth audio module is build in, this can be connected to some loudspeakers.

Mains input: How is mains connected to the usb charger:

Loose cable: Charger has a socket for mains input, usual C5 and a loose cable.
Plugable: Charger plugs directly into mains outlet.
Flying lead: Charger has a attached main cable.
Wall mount: Charger is for wall mount like mains outlets and will often include a mains outlet.
External power supply: Charger do not have mains input but uses an external power supply.

Safety: How safe is the charger. I cannot verify that the charger follows the safety standards, but I can sometimes see when it does not follow the standard.
Year: The year I tested (published) the charger review.
Safety
| | |
| --- | --- |
| | The isolation fails at 2830 volt, non safety capacitor or very low distances |
| | The isolation fails at 4242 volt |
| | Isolation distance a bit low, but it did not fail safety tests |
| | There is no failed safety checks in my test and inspection |
| | I have seen a passed safety test report (This happens very seldom) |
Notes
How does a usb charger work?
USB power information